Black Bear Black Demon Stout
| The Bear Brew Pub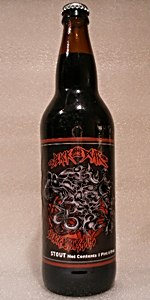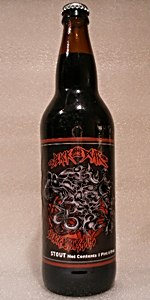 BEER INFO
Brewed by:
The Bear Brew Pub
Maine
,
United States
Style:
American Stout
Alcohol by volume (ABV):
5.10%
Availability:
Year-round
Notes / Commercial Description:
No notes at this time.
Added by MrHurmateeowish on 01-02-2007
This beer is retired; no longer brewed.
HISTOGRAM
Ratings: 8 | Reviews: 7
Reviews by huxcrunner:
4.05
/5
rDev
+12.8%
look: 3.5 | smell: 3.5 | taste: 4.5 | feel: 4 | overall: 4
Beer was severed on-tap at woodmans,
Dark black in color with a tan/cream color head with minium retention and average lacing
the aromas are of caramel malts that a pleasant and sweet
the taste is excellent, coffee and dark chocolate bitterness that is very balanced and clean and refreshing.
mouthfeel is full bodied and pretty refreshing. it is not harsh at all it drinks very smooth
overall this is a great beer and im glad i had it on tap and would recommend to try if you like stouts and you have the opportunity to try this one
540 characters
More User Reviews:
3.11
/5
rDev
-13.4%
look: 4 | smell: 3 | taste: 3 | feel: 3.5 | overall: 3
22oz brown bomber with no freshness date.
Dark espresso-like head crowns the top of the black brew. Malt sweetness in the nose under a charred burnt grain, some fruitiness and yeast as well. Smooth and crisp with a medium body, very fruity with black currant tones. Burnt malt layers thick on the palate, some malt sweetness comes into play but is knocked back down but the burnt flavors and a yeasty finish.
Decent, probably would come across better if it was not sitting on so much yeast in the bottle. Worth a try if you can get it fresh.
543 characters
3.72
/5
rDev
+3.6%
look: 3.5 | smell: 4 | taste: 3.5 | feel: 3.5 | overall: 4
Served into a pint glass at the brew pub.
Appearance: black in color with a 1/4 inch head, opaque, moderate carbonation
Smell: charred malt and dark chocolate
Taste: dark chocolate, coffee, and roasted malt
Mouthfeel: medium-light bodied, medium carbonation, sweet with a slightly bitter end
Overall: Nicely crafted, not overly complex coffee stout. Nothing extraordinary, but a nice sipper that I could have a couple of during a cold day.
444 characters
3.55
/5
rDev
-1.1%
look: 3.5 | smell: 3.5 | taste: 3.5 | feel: 3 | overall: 4
thanks to deltatauhobbit for the opportunity to try this one.
A. very dark brown with a tan head that quickly dissipates leaving no lacing
S. Dark malts with hints of bitter chocloate, coffee and fruits.
T. mildly bitter chocolate, light fruit and coffee taste.
M. thin for a stout. not bad, just thin.
D. very drinkable. definitely could session this one
361 characters
3.58
/5
rDev
-0.3%
look: 4 | smell: 3.5 | taste: 3.5 | feel: 3 | overall: 4
On tap at Paddy Murphy's in Bangor, ME
A: Dark blackish brown. Little head but good lacing.
S: Dark roasted malts. Some coffee and hints of bitter chocolate.
T: Tastes the way it smells, with coffee way up front, and a chocolate presence that is more noticeable than I would've thought based on the smell. Noticeable alcohol presence. Not overwhelming, but it feels like a solid 7-8% ABV.
M: Seems a bit thin, almost more like a porter.
D: Pretty drinkable for a stout. "Black Demon?" More like "Brown Cherub."
515 characters
3.68
/5
rDev
+2.5%
look: 4 | smell: 3.5 | taste: 3.5 | feel: 4 | overall: 4
A: The beer poured out a lighter black but quite dark. There was a lot of light brown head and about two fingers thick.
S: Could smell the faint smell of chocolate and a little coffee, but mostly a lot of hops.
T: The taste was not bad. The taste of faint and flat chocolate first came up but in the long run, the taste of hops are what took control.
M: Pretty thick in the mouth but not too bad. The beer had a nice mouthfeel that made drinking the growler easy to drink.
D: Easy to drink, especially from a growler. This beer is quite good for a Friday night get together or just to share with friends.
608 characters
3.58
/5
rDev
-0.3%
look: 4 | smell: 3.5 | taste: 3.5 | feel: 4 | overall: 3.5
22 oz bomber from Lou's in Augusta. Black body with just slight ruby-red highlights and an inch of tan head that dissipates slowly. Smells chocolatey and grainy. Tastes chocolatey/coffee, toasty, with hints of hop. Almost has a tobacco smoke quality to the flavor, which is typical of a Maine stout... Full-bodied. Tasty, but not as flavorful as its competitors like Cadillac Mountain Stout and Lake Trout Stout. Has an astringent quality that hurts the drinkability and flavor... An okay stout, but not my favorite.
517 characters
3.48
/5
rDev
-3.1%
look: 3.75 | smell: 3.75 | taste: 3.25 | feel: 3.5 | overall: 3.5
Black Bear Black Demon Stout from The Bear Brew Pub
Beer rating:
3.59
out of
5
with
8
ratings