Beachside Sunlight
| Florida Beer Company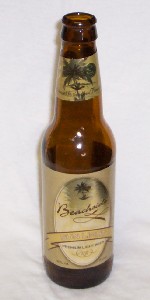 BEER INFO
Brewed by:
Florida Beer Company
Florida
,
United States
floridabeer.com
Style:
Light Lager
Alcohol by volume (ABV):
not listed
Availability:
Year-round
Notes / Commercial Description:
No notes at this time.
Added by goodbyeohio on 04-05-2006
Reviews: 5 | Ratings: 7
Reviews by nick76:

2.57
/5
rDev
+2.4%
look: 2 | smell: 2.5 | taste: 2.5 | feel: 2.5 | overall: 3
The aroma is pretty average for alight beer. It's very light with corn like adjuncts and a hint of metallic-grass hops. The taste is better than the aroma however. It is very malty even thought it's a light beer. It is a bit watery however and the palate is slightly better than average for a light beer but it's not very smooth. Overall this is a better than average light.
374 characters
More User Reviews:

1.97
/5
rDev
-21.5%
look: 1 | smell: 1.5 | taste: 2 | feel: 1.5 | overall: 3
Pours the lightest pale yellow color I have ever seen, it is not many shades away from being completely clear. Aroma is faint corn and the slightest hint of grassy hops. Not much going on in the taste either. This brew has got to be the closest beer to water I have ever tried.
277 characters

2.96
/5
rDev
+17.9%
look: 1.5 | smell: 3 | taste: 2 | feel: 3.5 | overall: 5
12oz beer consumed at jimmy buffett's margaritaville @ univ studios, orlando, as it was the only microbrew on the menu. didn't know it was light until it was already open and served to me.
poured a very neutral color, like water pushed through slightly rusted pipes. carbonation wasn't visually evident despite the beer's clarity.. small bubbles moved in confined areas. aroma was there, and combined the sweetness of raw, yet fresh adjunct brew and something slightly grassy.. hops? it was very light, refreshing, and airy. had almost no flavor.. it had no time to warm and draw anything else out either, as ease of drinking put down this 32 degree light beer in less than 5 minutes.
at 96 calories per 12oz, a great alternative to BMC light beers if you find yourself in florida. this doesn't have any sour off flavors that you might find in some of those alternatives. and from what the bartender told me, this brewery makes other substantial beers that have actually won awards. gimme, ill try em.
not bad for a light beer, but like other lights, this is barely beer.
1,080 characters

2.3
/5
rDev
-8.4%
look: 2 | smell: 2 | taste: 2 | feel: 3 | overall: 3
Beachside Sun Light pours a very pale hay color with a small white head from brown twelve ounce bottle. The aroma is grainy or grassy. Very light in flavor as well. Okay I guess, better than drinking a bud light, but not by a lot. Decent by lawnmower beer standards.
266 characters
2.77
/5
rDev
+10.4%
look: 2.5 | smell: 3 | taste: 2.5 | feel: 3 | overall: 3
Highs: None
Lows: Flat, weak light beer
Picked this one up at Jimmy Buffett's Margaritaville in Orlando, FL. It's from the Indian River brewing company, a brewery that seems to be making inroads recently in the Florida area (I had also tried their Honey Amber Rose, which despite its name is actually halfway decent.)
Pours from the 12 oz. bottle an extremely pale Champaign-like color, nearly transparent with no bubbles whatsoever. Thin white "spit" head fades away faster than you can say "macro lager light," leaving nothing behind. Nose is musty, malty, with some barley and grass and maybe some sweet grapes. Tastes malty and dry, bland, but worse, flat. Definitely not my favorite "light" macro. Mouth is wet, refreshing, yet flat, which detracts from enjoyability. This is a total lawnmowing beer. Finishes dry and malty. Drinkability is average… but why?
Overall: A very weak, light beer that would benefit from a lime or lemon. Lighter than a Corona light… I would avoid it.
1,005 characters
Beachside Sunlight from Florida Beer Company
2.51
out of
5
based on
7
ratings.