Suzanne Marceau
| Microbrasserie de l'ile d'Orléans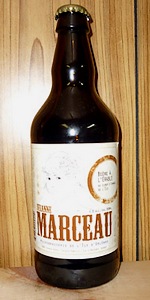 BEER INFO
Brewed by:
Microbrasserie de l'ile d'Orléans
Quebec
,
Canada
microorleans.com
Style:
American Amber / Red Ale
Alcohol by volume (ABV):
6.00%
Availability:
Year-round
Notes / Commercial Description:
No notes at this time.
Added by ReFill31 on 02-20-2010
Reviews: 5 | Ratings: 18
4.15
/5
rDev
+22.1%
look: 3.75 | smell: 3.75 | taste: 4.5 | feel: 4.25 | overall: 4
I have tried many maple syrup beers and Suzanne Marceau is the best of them. It is well-balanced, not too sweet like most maple syrup beer tends to be, but you still do taste the maple syrup.
191 characters

3.33
/5
rDev
-2.1%
look: 4 | smell: 3.5 | taste: 3.25 | feel: 3 | overall: 3.25
There was a quick and semi-concerning "pfft" sound upon prying off the cap of Suzanne Marceau. Amber ales aren't exactly a style suited to that kind of carbonation and, to the best of my knowledge, this isn't bottle-conditioned. Sure enough, the mountain of foam that erupted proved difficult to sip around. It's frustrating because the glossy, clear, deep amber liquid beneath it is incredibly seductive.
The aroma, on the other hand, isn't at all alluring; aside from a pleasant, if vague maple syrup flavour there's really nothing in this bouquet to be overly enticed by (and, if anything, the presence and strength of raisiny esters is of mild concern, especially considering what's observed in the appearance).
My anxieties prove well-founded - what did I ever do to these bubbles that they're attacking my tongue? It's apparent something went wrong at bottling; the flavour is untarnished (though painfully plain) but the texture is completely thrown off by an irksomely combative carbonation and slight tartness.
Mind you, it's not the like the beer offered much to begin with. The maple syrup taste is subtle and short-lived. The apple and dried fruit esters, though almost certainly unintended, are actually well-suited to a fall seasonal but the malt needs to kick in more nutty, caramelly notes to pull off the profile.
I set low expectation for Suzanne Marceau given previous experiences with Microbrasserie de l'ile d'Orléans (see: Jean Dit Laforge, Louis Gaborit, Monseigneur D'Esgly). Their cast of characters amount to community theater quality production at best. This isn't the first borderline infected bottle I've come across. The best I can say about their ales is they're mediocre - and that's being courteous.
1,739 characters

3.34
/5
rDev
-1.8%
look: 3.75 | smell: 3.5 | taste: 3.25 | feel: 3.25 | overall: 3.25
Last reviewed this in August 2011 with an overall score of 3.7 and thought I'd give this another taste:
(3.75) A: Dark reddish-brown with a two fingers of fuzzy head. Recedes to a ring that lasts awhile with some retention present as well.
(3.5) S: Caramel malt, maple syrup, plums, dried fruits (figs, raisins), and spices. Pleasing straightforward aroma with a maple syrup quality that is noticeable but gets a bit lost in the other aromas.
(3.25) T: Caramel, dried fruits, faint maple syrup, and a bit smoky on the backend. Was really hoping for a solid maple syrup taste but it's just not there. Fairly straightforward and simple taste profile with caramel the most dominant flavour.
(3.25) M: Lighter bodied with moderate carbonation. Slightly slick with a nice smoothness.
(3.25) D: This is an okay red ale but a bit disappointed with this one, most of all with the lack of a pronounced maple syrup taste. Easy-drinking and pleasant but not something I would seek out again.
988 characters
3.32
/5
rDev
-2.4%
look: 3 | smell: 3.5 | taste: 3.5 | feel: 3 | overall: 3
The smoke made it taste somewhat stouty, the maple, its high carbonation. Some spice, nuts, not so hoppy. Too sweet in finish. Various ideas sort of fitting together but not so drinkable. Light amber coloured, with minimal lasting head. Love it or hate it.
256 characters
3.57
/5
rDev
+5%
look: 3 | smell: 3.5 | taste: 3.5 | feel: 3.5 | overall: 4
500ml bottle poured into a pint glass
This is a beer brewed with maple syrup.
A : Nice dark brown color, great head but goes down fast.
S : We can smell the maple syrup a little bit, in the background. Otherwise, the smell is not that strong.
T : Taste a little bit sweet from the maple syrup. We do not taste it first but it comes out in aftertaste.
M : Enjoyable but not too much carbonation
D : Really easy drinking, not too sweet, as expected first. I'm surprised. Another one would be easy!
516 characters
Suzanne Marceau from Microbrasserie de l'ile d'Orléans
3.4
out of
5
based on
18
ratings.