RT Lager

Rivertowne Pourhouse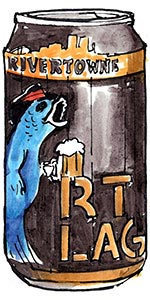 Write a Review
Beer Geek Stats:
| Print Shelf Talker
Style:

ABV:

5.4%

Score:

79

Avg:

3.46

| pDev:

13.58%

Reviews:

9

Ratings:

From:

Avail:

Retired (no longer brewed)

Wants

Gots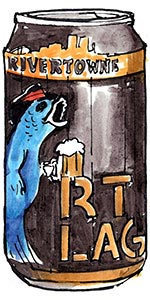 Notes: Bridging together 7 different varieties of malt with moderate additions of cascade hops, RT Lager is a perfectly balanced amber for any occasion. In true Pittsburgh fashion, there is no need to be flashy when you deliver consistent excellence!

2.48
/5
rDev
-28.3%
look: 3 | smell: 2.5 | taste: 2 | feel: 3.5 | overall: 2.75
Undated can at 40 degrees into shaker
Aroma weak, no hops, slight maltiness
Head average (4 cm, aggressive pour), off white, frothy
Lacing poor – several small islands of tiny bubbles
Body medium yellow, hazy
Flavor – not good – tastes like a bruise on an apple. Starts sweet then turns bitter/sour. No hope flavor, no alcohol, no diacetyl.
Palate medium, watery, soft carbonation
Appearance 3, Aroma 2.5, Flavor 2, Palate 3.5, Overall 2.75
450 characters
3.58
/5
rDev
+3.5%
look: 4 | smell: 3.5 | taste: 3.5 | feel: 4 | overall: 3.5
12 ounce can into lager glass, no canning date. Pours slightly hazy orange/copper color with a 1 finger dense off white head with good retention, that reduces to a thin cap that lingers. Light spotty lacing clings on the glass, with some moderate streaming carbonation. Aromas of caramel, toast, biscuit, brown bread, nuttiness, light roast, herbal, floral, light fruitiness, and yeast/toasted earthiness. Nice and pleasant aromas with good balance and complexity of dark/bready malt and light hop notes; with solid strength. Taste of caramel, toast, biscuit, brown bread, nuttiness, light roast, herbal, floral, light fruitiness, and yeast/toasted earthiness. Minimal bitterness on the finish; with lingering notes of caramel, toast, biscuit, brown bread, nuttiness, light roast, herbal, and yeast earthiness on the finish for a short bit. Nice complexity and balance of dark/bready malt and light hop flavors; with good robustness and no cloying flavors after the finish. Very clean tasting as well. Medium carbonation and body; with a smooth, fairly crisp, and lightly bready mouthfeel that is good. Alcohol is well hidden with minimal warming present after the finish. Overall this is a very solid Vienna lager. Good balance, complexity, and robustness of dark/bready malts and light hop flavors; and very smooth and crisp to drink. A pleasant and enjoyable offering.
1,371 characters

3.78
/5
rDev
+9.2%
look: 3.75 | smell: 3.75 | taste: 3.75 | feel: 4 | overall: 3.75
12 oz can
Pours amber to light brown, mostly clear, with a half inch of fine off-white head which retains as a lacing.
Smells of biscuity caramel malts and dry nutty hop bitterness.
The taste is exactly like the smell, biscuity malts with a caramel sweetness and a dry bitter hopiness with a nutty profile.
Medium body with some tingling carbonation on the roof of the mouth.
A solid enjoyable lager, very easy to drink and good, somewhat unique flavor. Basically exactly what you want out of a standard amber lager but different enough from other ambers to be interesting. Worth trying.
595 characters

3.48
/5
rDev
+0.6%
look: 3.5 | smell: 3 | taste: 3.75 | feel: 3.5 | overall: 3.5
Poured from can into a pint glass
Appearance – The beer pours a deep amber, almost copper, color with a foamy one finger just off white head. The head has a decent level of retention, fading over time to leave a very little lace on the sides of the glass and a bit of a foamy film atop the brew.
Smell – The aroma is very light overall but has notes of a caramel sweetness as well a bit of an apple and other light fruits.
Taste – The taste starts with a bready and caramel sweetness mixed with some flavors of apple and notes of roasted malt. The roasted malt and apple grow a bit stronger while the caramel fades ever so slightly overall crisping up the brew. Toward the end some lighter hop flavors of a citrus nature comes to the tongue leaving a very lightly hopped, bready and slightly sweet flavor on the tongue.
Mouthfeel – The body of the beer is on the average side in terms of thickness and creaminess with a carbonation level that is rather average. Both create a very easy drinking brew.
Overall – A rather tasty and easy drinking brew that doesn't take a lot of concentration. A nice brew for just sitting and sipping with friends in conversation.
1,179 characters
3.75
/5
rDev
+8.4%
look: 3.75 | smell: 3.75 | taste: 3.75 | feel: 3.75 | overall: 3.75
A - Looks decent has just a 1/4 inch of head that pulls back to a light lace ring. Color is a somewhat hazy amber brown.
S - Well I can smell some good house malts and yeast. Has a nice caramel tone to it not skunky very malty.
T - Very malty sweet but not much else. No noticeable hops I do detect some similar malts with the Scottish ale. Taste is sweet, balanced, and flavorful.
M - Light to medium easy to quaff. Much smoother than a Ying.
Overall I don't know why I avoided this one for so long. Possibly I thought it was a regular lager but I found it to be quite a tasty amber lager. Worth picking up!
609 characters

3.47
/5
rDev
+0.3%
look: 4 | smell: 3.25 | taste: 3.5 | feel: 3.5 | overall: 3.5
Serving Type - Can
Appearance - Tannish brown with a red tent. 1/2 inch creamy head and decent lacing.
Smell - Roasty, caramel malts, nuts, grainy, light hops , malts are main aroma.
Taste - Up front malts mixed with some bitter hops at first sip. Very roasty, has a English feel to it. Has a crisp lager flavor finally appears near the finish. Some minor yeasty sugars, and a little brown sugar/molasses mix thrown in.
Mouthfeel - Tongue gets the malts and some hops, palate gets the crisp lager and yeasty sugars. The aftertaste is malty, crisp and dry.
Overall - Not bad, a little unbalanced, almost like two beers in one, first u get the malts , then hops, then crisp lager malts. If your a fan of English style ales then you should enjoy this. Worth a drink since it is a unique beer.
795 characters

3.15
/5
rDev
-9%
look: 3 | smell: 3.5 | taste: 3 | feel: 2.75 | overall: 3.25
Rusty copper color. Turns out to be an amber lager. Head is a little disappointing.
Toasty grains in the nose with a unique fruitiness reminiscent of English ales. A little citrusy with floral aspects to the hops. Strange notes of apple, pith, and paper. Even some light pine.
Tastes too papery. Too much alcohol present, too toasty and fruity. Missing crispness. Some grapefruit and brown apple flesh. Floral qualities have disappeared. Would have loved that or some grassiness. Messy.
Needs a little more carbonation to stir things up. Boring feel. And, why can I taste and almost feel alcohol?
Interesting aroma. Too much going on in the flavor. Needs simplified. It's nothing I'd ever seek out again, but it's not anything to steer clear from. Form your own opinion.
774 characters
3.63
/5
rDev
+4.9%
look: 4 | smell: 3.5 | taste: 3.5 | feel: 3.5 | overall: 4
Nice to see this North Versailles collaboration spread into so many unique bottling brands for Rivertowne, Full Pint, and North Country. Pours a slightly hazed bright copper color with a light khaki tan head forming thick and dimpled, big bubbles slowly dwindling the sides of my glass. Aroma is crips with a mild citric hop note, and wide ranged biscuit to light caramel malt notes. A refined breadiness that just smells like clean well made amber lager. Easy to drain a glass a nice breadiness with some caramelized malts and dry nutty yeast character with just a hint of floral/citrus hops in the background...very thin hop addition but well balanced and crisp lager definitely not overly sweet. Carbonation is a bit heavy with some serious hop burps coming in within a few sips, a very well made enjoyable lager that could be enjoyed in number. Light to medium bodied with a crisp balanced mouthfeel with ample flavors keeping complex with 7 malt varieties and a touch of cascades.
Correction from Myrivertowne.com: "A new Rivertowne standard, this American Amber Lager was designed to have the perfect balance between 9 different varieties of malt! With a cascade aroma and hop bite balancing this act we are proud to add this to our taps!"
1,246 characters
3.38
/5
rDev
-2.3%
look: 3.5 | smell: 3 | taste: 3.5 | feel: 3.5 | overall: 3.5
Rivertowne RT Lager
Pours a clear copper color, small head forms and recedes away. Aroma of toasted grain, some alcohol, and a hint of hops. In the taste, more grainy malts, fusel alcohol, some mild tea like hops and a pretty even finish. Kind of has a euro strong lager thing going on for it, as the body is medium and somewhat crisp. Kind of strong to be considered a sessionable lager. This was decent brew, somewhere between American Amber, Oktoberfest, and Strong Lager territory.
486 characters
RT Lager from Rivertowne Pourhouse
Beer rating:
79
out of
100
with
43
ratings