Stone Cat Blonde Ale
| Ipswich Ale Brewery
BA SCORE
81
good
14
Reviews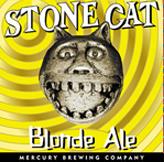 BEER INFO
Brewed by:
Ipswich Ale Brewery
Massachusetts
,
United States
ipswichalebrewery.com
Style:
American Blonde Ale
Alcohol by volume (ABV):
not listed
Availability:
Year-round
Notes / Commercial Description:
No notes at this time.
Added by BeerAdvocate on 10-22-2001
Reviews: 14 | Ratings: 15
3.97
/5
rDev
+16.1%
look: 3.5 | smell: 4 | taste: 4 | feel: 4 | overall: 4
Poured from a 12oz bottle into a US tumbler pint glass.
A: The beer is a deep gold color, with a short white head that fades slowly and leaves a thick lace on the glass.
S: The aroma is of light caramelized malts, citrus, and a good amount of hops.
T: The taste starts out with sweet flavors of citrus and caramel that are quickly followed by a hops bitterness which is stronger than most in the style. The malt character is light but still hearty and provides a good balance. The after-taste is slightly bready and slightly hoppy.
M: Smooth and very crisp, medium body, medium carbonation, finish is slightly sticky.
D: Tasty, goes down easily, not too filling, mild kick, good representation of style, I wasn't expecting a lot from this beer but was pleasantly surprised to find that it was a very solid beer with a decent amount of flavor and substance making it worth drinking for a while.
898 characters
4.03
/5
rDev
+17.8%
look: 4.5 | smell: 4 | taste: 4 | feel: 4 | overall: 4
Big, fluffy head; recedes with a center dome. Cloudy, but solid gold color.
Nice soft floral hop aroma. Attractive in a mild way.
Slightly sour which is distracting. Otherwise, this is a pleasant, if soft, beer with a light malt flavor. Good hop balance. A touch of fruitiness. Rich body for the style.
304 characters
3.63
/5
rDev
+6.1%
look: 4 | smell: 3.5 | taste: 3.5 | feel: 3.5 | overall: 4
- massive nearly perfectly white head, beer is a golden amber not quite totally clear but close.
- smell has slight orange (coriander?), light bready malts
- taste sweet clean light bready malts, slight hop bite in the middle, more coriander, tasty but slightly single-dimensional
- light but not simple mouthfeel, finishes pretty clean only small hops on palate
Nothing to run out and get, but a good session beer overall.
427 characters
4.05
/5
rDev
+18.4%
look: 4 | smell: 4 | taste: 4 | feel: 3.5 | overall: 4.5
in a US pint glass. hazy blond, small, quickly fading head.
Smells very nice. Natural fresh grain and hops. Almost lager-like.
Taste is nice clean barley and a lot more hops than I expected based on the nose. Awesome balance. Smooth taste. Mellower than a standard American pale ale, but bolder than non-bock lager.
Mouthfeel is good. Not too thin, good carbonation.
Drinkability is huge. Tastier than a lager but just as drinkable. I guess I am assuming that the style is meant to be this mellow tasting. I'm definitely going to look into blond ales. This is not a great, must-have beer, but if you want a balanced, mellow ale to replace lagers for a session brew, this is it.
681 characters
3.28
/5
rDev
-4.1%
look: 3.5 | smell: 3 | taste: 3.5 | feel: 3.5 | overall: 3
Appearance: Hazy yellow/brown body, thick white bubbly head. Quite a bit of effervescence. Head dissipates quickly.
Smell: Tarty sweet citrusy hops, with a bit of banana and a hint of grapefruit. A bit cloying.
Taste: Very yeasty, lots of banana flavors with a cloying orange finish and aftertaste.
Mouthfeel: Thin but somehow chewy. Lots of yeast. Lots of carbonation.
Drinkability: It's an okay quaffer, nothing more. A bit heavy for a blonde for my taste. Those who like lots of citrus will probably find a lot to like here.
532 characters
3.41
/5
rDev
-0.3%
look: 4 | smell: 3 | taste: 3 | feel: 3.5 | overall: 4.5
BOTM shipment arrival:
A - Nice orange color, not "blonde" per se, but I still enjoyed the cloudy, almost rusty yellow of this beer. Small but present lacing, weak head.
S - Not much here. It didn't offend me or anything, slight hops, but also a bit of alcohol, slightly bitter.
T - Hops are present, and the taste is overall not very complex. I'm having a hard time getting any prominent notes at all. A step above PBR in this department.
M - Nice carbonation, good and creamy. The hops hang in there for a couple seconds after the liquid disappears.
D - No complaints. I'm sure I'd have no problem enjoying this as a session beer on a hot day.
Not great, but far from bad. I'd buy it if it was on sale or something.
723 characters
3
/5
rDev
-12.3%
look: 3 | smell: 3 | taste: 3 | feel: 3 | overall: 3
Got this from my Beer of the Month Club package, poured into a standard Troeg's pint glass. Not much going on here in here as far as appearence, little or no head and minimal lacing. Pours a much darker amber than I would expect from a Blonde.
Smell is basically -meh. Again, not much going on, a touch of citrus. that's about it.
Taste follows appearence and smell - not much to it.
Mouthfeel is ok.
Drinkability is ok.
Not something I would buy for myself.
463 characters

3.1
/5
rDev
-9.4%
look: 3 | smell: 3 | taste: 3 | feel: 4 | overall: 3
Another brew courtesy of the Beer of the Month Club...
Appearance: Pours a somewhat cloudy bronzish color. Starts off with about a half inch of head, but that fades very very quickly. Little lacing.
Smell: Nothing really stands out. Sure, there is a very very slight malty citrus smell...but I'm stretching it.
Taste: Like the smell, average...nothing stands out. A bit of citrus and malt, no hoppy bitterness at all.
Mouthfeel: Mouthfeel is the best part of the beer. Mild carbonation, very smooth and creamy texture.
Drinkability: Average at best...not a bad beer, but rather average for the style. I've had worse...but I've also had much better.
653 characters

2.81
/5
rDev
-17.8%
look: 4 | smell: 3 | taste: 2.5 | feel: 2.5 | overall: 3
12 fl oz brown bottle; served in a nonic.
Pale copper with very active carbonation. Dense, white foam with great strength that recedes outside-in. Slowly fading lacing around all sides of the nonic.
Stiff, musty wheat and toasted malts. Bright, artificial citrus aromas: lemon, lime.
Notes of citrus along with a very bland and musty wheat flavor; astringent. The carbonation is intense and long-lasting. Metal accompanied by a burnt-wheat bitterness.
Light bodied; filmy and over-carbonated. Annoying texturally.
Light and easy to drink, but one I wouldn't want to have again.
592 characters

3.35
/5
rDev
-2%
look: 3 | smell: 3 | taste: 3.5 | feel: 3.5 | overall: 3.5
My friend bought a mixed case of Stone Cat beers and split them with me the other night. This beer poured a hazy golden with a thick white head that didn't last very long. The aroma was malty and had a touch of hops in the back. There was a touch of sweetness that ran through the aroms. The taste was more of the same. A bit sweet but mainly dominated by the malt. The body is medium and the mouthfeel was pretty crisp.
420 characters

3.91
/5
rDev
+14.3%
look: 4.5 | smell: 3.5 | taste: 4 | feel: 4 | overall: 4
Wow! I can't believe I'm the first person to review this beer in over 2 years. Living close to the Mercury Brewery I can often find very fresh beers distributed in the past couple of days. Stone Cat Blonde happens to be one of these beers.
The beer pours a slightly hazy straw yellow color with a somewhat stiff white head on top. The foam fades quickly to a sheet on the surface leaving behind a good amount of netted lace. A mildly fruity aroma of blueberries and lemon with some hints of toasted malt wafts on top of the glass.
Each sip of this light to medium bodied beer gives a firm carbonated tingle on the middle of the palate. The flavor is slightly fruity with some dry malt and hops mixed in. Notes of lemon and toasted malt dominate. Towards the end the citrus hops take over. It finishes rather dry with a hint of yeast.
This is a nice easy drinking light flavored beer. Would be great on a hot summer day.
928 characters

3.33
/5
rDev
-2.6%
look: 4 | smell: 3.5 | taste: 3 | feel: 3.5 | overall: 3.5
12 oz, brown, longneck bottle, capped, no date.
This blonde ale poured a hazy, golden color with tall, pillowy, white foam that clung to the glass. The smell was a fragrant, fruity hop aroma with some malt, citrus, and a slight vegetable smell thrown in. The taste was dominated by floral hops with a bit of hop bitterness. Other flavors included malt, yeast, and citrus. The mouthfeel was smooth and hoppy with medium body and good carbonation. There was a lingering hoppy flavor. This was an OK ale, and tasted better cold.
528 characters

3.36
/5
rDev
-1.8%
look: 4 | smell: 3 | taste: 3.5 | feel: 3 | overall: 3.5
I really like the crazy ass label on this beer..the 6th and final sent by Uncle Jimbo....Looks like a Mayan stone jaguar head..in the center of some pshycodelic..thing.
I liked the appearance of this beer..its a nice hazy golden colour..large frothy white head..
Smell is lackluster though theres a faint lemony scent..
Taste is pleasant but nothing stellar..mostly sweet..malts a small bitterness at the end.
Average mouthfeel
Quite drinkable but I don't think blondes are my style.
488 characters
2.94
/5
rDev
-14%
look: 2 | smell: 3 | taste: 3 | feel: 3 | overall: 3
Presentation: 12 oz brown long neck bottle with no freshness date, same Stone Cat label with a yellow back ground. Sediment is noticeable on the bottom of the bottle.
Appearance: Hazy golden yellow brew, thin white lace. Yeast in the bottle was not very compact and ended up in the sample even with great care taken while decanting.
Smell: Sweet and fruity with hints of pears and papaya, sweet pale malt aroma with a mildly coarse flowery hop in the nose. Touch of earthiness is shown from the yeast in the brew also.
Taste: Moderately sized body, even level of carbonation and a semi-crisp mouth feel. Big biscuit malt flavour full of husk and grain, sweet malt and fruitiness intermingle. Yeast is apparent with an earthened nuttiness which pairs well with the huskiness of the grain until the huskiness turns astringent. Hops are coarse and loosely blanket the beer gently with its bitterness, some hop flavour is evident with an oily flowery back ground. Somewhat balanced flavours come to an abrupt stop and fade to an astringent finish.
Notes: Not a bad little blonde, hate to say it but this would be better if it was filtered or perhaps cold conditioned for a few weeks more. Certainly has that Ipswich character for sure though.
1,250 characters
Stone Cat Blonde Ale from Ipswich Ale Brewery
3.42
out of
5
based on
15
ratings.