Local Harvest Five Mile Stock Ale
| Ipswich Ale Brewery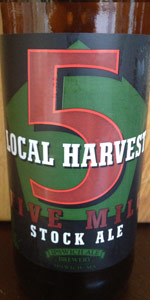 BEER INFO
Brewed by:
Ipswich Ale Brewery
Massachusetts
,
United States
ipswichalebrewery.com
Style:
Old Ale
Alcohol by volume (ABV):
6.40%
Availability:
Fall
Notes / Commercial Description:
No notes at this time.
Added by mduncan on 10-30-2011
Reviews: 7 | Ratings: 17
4
/5
rDev
+2%
look: 4 | smell: 4 | taste: 4 | feel: 4 | overall: 4
22 oz bottle was poured into a tulip.
Appearance: The beer poured a two finger head. A burnt orange rust haze with some clarity and bubbles coming up throughout the glass. Head has partially reduced and left some clumpy and spotty lacing on the glass.
Smell: super grapefruit and tangerine on the nose, caramel and bready malts
Taste: Same as above. Trying to think that this should be classified as an IPA and not an old ale. Lots of citrus still and great balance of bready and caramel malts.
Mouthfeel: medium carbonation, medium bodied, smooth, slight bitterness, and easy to drink.
Overall: I have to say homegrown and local is the way to go, too bad it is not as popular as it was in NE as it was in the colonial days when this region was among the top hops and malts produsers. Very enjoyable beer whether you want to call it an old ale or IPA, still worth it to buy a bottle or two.
895 characters

2.2
/5
rDev
-43.9%
look: 2 | smell: 2 | taste: 2 | feel: 3 | overall: 2.5
Big fan of Ipswich beers usually. Love the Original Ale & the Oatmeal Stout is one of my fave beers period. Thought Id give their new foray into specialty bombers a try.
Whoa this one's a gusher! Made a mess on my counter. Ugh.
Pours a dark copper with a ton of foam. Waited a bit for it to settle.
Smell is slightly metallic. Not very appealing. Maybe some faint smoky malt.
First taste was taken aback. Unpleasant mustiness & metallic flavor overwhelmed anything else that might have been going on. As it warmed up got slightly better but not much. Struggle to finish.
Perhaps this was a bad bottle, but I'll give Ipswich the benefit of the doubt. Will try their next special release but I'm done with this one.
718 characters

4.23
/5
rDev
+7.9%
look: 4.5 | smell: 4 | taste: 4.5 | feel: 4 | overall: 4
Local 5 pours an opaque copper color with a medium sized, frothy head on top. The foam dissolves quickly leaving behind some lines and spots of lace on the glass.
The aroma is rather faint, but malty with hints of spice. Bread and caramel malt blend nicely with pine and pepper.
Each sip of this light to medium bodied beer is watery on the palate with firm carbonation. The flavor is malty with floral hops and a touch of pepper. It begins with bread and caramel malt. In the middle floral hops and a touch of pine appear. It finishes with a little bit of peppery spice. Once gone the bread and floral hops linger on the palate.
A nicely balanced beer with a touch of spice at the end. Very drinkable. I look forward to the next beer in the 5 mile series.
759 characters
4.47
/5
rDev
+14%
look: 4 | smell: 4.5 | taste: 4.5 | feel: 4.5 | overall: 4.5
Poured from a 22oz. bottle into a tulip glass.
The color is a cloudy dark orange with two fingers of foamy off-white head and some nice lacing left on the glass.
The smell is hoppy with some nice piney aroma that is giving off some floral hops in the nose. There is a bit of citrus aroma with a touch of mango and spices.
The taste is hoppy but not as big hops as I was expected. There is some interesting bitterness but the light citrus flavor is there with a lesser pine flavor then in the nose. There is some nice juicy fruit flavor. Orange, mango, and some passion fruit are all mixed into the flavor if this beer. There is a nice sweetness that is there in the middle, setting aside the bitterness and giving off some soft dough-like flavor.
The feel of this beer is medium bodied and is a good structured beer with a mellow aftertaste. One of the best beers I have from this brewery.
893 characters
4.42
/5
rDev
+12.8%
look: 4 | smell: 4.5 | taste: 4.5 | feel: 4 | overall: 4.5
Pours a nice two-finger head. Good lasting time. Leaves some webby lace on the glass. Cloudy, dark amber color.
Big malt smell with a nice natural sweetness. Floral hop in the background and the presence of alcohol is noted but not pronounced.
Better hop taste than the smell indicates. It could pass as an American IPA except for the higher (dry-ish) malt. Powerful hop in the swallow with a long lasting aftertaste. Very nice balance with a slightly greater nod to the hop side--my kind of Old Ale.
502 characters

4.04
/5
rDev
+3.1%
look: 3.5 | smell: 4.5 | taste: 4 | feel: 3.5 | overall: 4
Amber hued beer pours into the glass with strong shades of orange, in certain light takes on a brilliant orange glow. Standard dense, creamy white head firmly planted on top, lacing the sides as it slowly falls.
Juicy citrus hop aroma greets the nose, intensely aromatic like an IPA. Sweet malty tones round out the hop scent, giving the bright citrus a smooth and sweet ride. Aroma is very fresh and deliciously strong.
Firm bitterness greets the first sip. Hop-forward flavor of sticky pine dominates and the bitter bite continues throughout each swallow. Balance between malt and hops maintains itself though, no hint of astringent dryness. As the beer warms the hop bitterness starts to subside and a bright sweetness creeps in - more caramel than malty. Not much malt flavor to be found here.
Mouthfeel is smooth and creamy, full bodied but washes away cleanly and doesn't stick to the roof of my mouth. Clean bitterness as well in the aftertaste mixes with the caramel and leaves a juicy flavor behind that tastes very much like the initial smell.
Much more strongly hopped than I expected from this style, but the balance achieved is spot on. Just enough body and sweetness to counteract the piney hop flavors. Maybe some age will bring the malty flavors out but at this point the fresh hoppy aroma and taste is taking center stage.
1,343 characters

4.12
/5
rDev
+5.1%
look: 4 | smell: 4.5 | taste: 4 | feel: 4 | overall: 4
Poured a 1" off-white head. Hazy copper apricot colored body. Smell is delightful with piney and citrusy hops in abundance, grass, and malt. Taste follows the smells similar to a DIPA and also includes a sort of nutty crispness common to lagers. Medium body and medium length finish. This is a quite nice local product to be proud of, as well as fairly unique.
360 characters
Local Harvest Five Mile Stock Ale from Ipswich Ale Brewery
3.92
out of
5
based on
17
ratings.