Local Harvest Five Mile Pumpernickel Rye Porter
| Ipswich Ale Brewery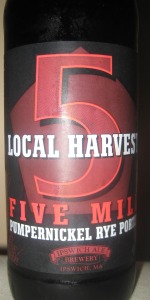 BEER INFO
Brewed by:
Ipswich Ale Brewery
Massachusetts
,
United States
ipswichalebrewery.com
Style:
American Porter
Alcohol by volume (ABV):
8.00%
Availability:
Limited (brewed once)
Notes / Commercial Description:
No notes at this time.
Added by hudsonvalleyslim on 02-11-2012
This beer is retired; no longer brewed.
Reviews: 10 | Ratings: 18

3.87
/5
rDev
-4.9%
look: 4.75 | smell: 4 | taste: 3.75 | feel: 3.75 | overall: 3.75
Only bottling info I can find is a statement on the label asking the reader to "check out our 2011 rye harvest on You Tube," but that might refer to an old video posted by the malt producer. Bought this towards the end of February.
Poured from the 22 oz. bomber into a Samuel Adams nonick.
a: Opaque black, a finger and a half thick tan head receded to persistent uneven surface foam and dense lacing.
s; Dark chocolate.
t: Rather bitter black coffee and chocolate over some breadiness, which lingers in the mouth. High ABV is well covered.
m; Light to moderate. Hints of wateriness.
o: A good porter with a killer look and a slightly unusual taste.
656 characters
3.48
/5
rDev
-14.5%
look: 3.5 | smell: 3.5 | taste: 3.5 | feel: 3.25 | overall: 3.5
Poured from a 1 pint 6 oz. bottle into a Blue Hills Brewery pint glass.
The color is a dark black with a finger of brownish/tan head and some slight lacing left on the glass.
The smell is giving off some nice dark malt aroma. There is a nice roasted malt aroma with some peppery aroma in the nose gives this beer a distinct character.
The taste is like a London porter with dark malts but then toward the end the taste takes a sharp turn with a rye flavor that was not expected after tasting that porter flavor. The is a nice dark chocolate flavor that melds well with the dark malts flavor and leads into a slight bready flavor that could be the pumpernickel.
The feel of this beer is medium bodied and drinkable with a nice smooth feel that has a nice silk-like feel. The aftertaste stays with you for some time and makes you thirsty for more.
849 characters

4.61
/5
rDev
+13.3%
look: 3.5 | smell: 5 | taste: 5 | feel: 4 | overall: 4
Wow, I'm so proud this is a local product. Poured a 1/8" muddy mocha head with reasonable life for the size. The body is dark as motor oil even when held to the light. The smell is a rich cocophany of cocoa, coffee, and rich roasted malts. The taste is bready, reflects everything in the smell, and has dark chocolate in the forefront. Yet despite all that the body is surprisingly lightweight and easy to drink. A very satisfying and long finish. Really folks if you like dark beers this is your wet dream. I really loved it.
526 characters

4.03
/5
rDev
-1%
look: 4.5 | smell: 4 | taste: 4 | feel: 4 | overall: 4
A: Pours pitch black with a beautiful, huge, dense dark brown head. Looks more like a 15% imperial stout than an 8% porter. Fades extremely slowly. Only a small amount of lacing. Excellent head retention.
S: Surprisingly spicy, almost like chile pepper but I assume it is the rye (and maybe the pumpernickel). Nice rich chocolate, almost like brownies. A bit of char to boot.
T: Again, surprisingly spicy. Nice and spicy throughout, clearly rye but almost tastes a bit cinnamony sometimes. Up front is the rye, then some nice dark chocolate and char kicks in. Gets a fairly bitter towards the finish with some more char as the chocolate fades away - especially once it warms. Touch of that pumpernickel in the finish with some more spicy rye. Long lingering bitter and chalky aftertaste.
M: Surprisingly thick and full feeling. Very smooth up front. A touch chalky in the aftertaste with the char.
O: A very unique flavor combination. Loads of spice in this one for sure, from start to finish. Like drinking rye and pumpernickel bread in a nice roasty porter.
1,064 characters

4
/5
rDev
-1.7%
look: 4 | smell: 4 | taste: 4 | feel: 4 | overall: 4
Pumpernickel Rye Porter pours black into the glass with a big, frothy tan head. As the foam dissolves it leaves behind spots and lines of lace on the glass.
The aroma is chocolaty with roasted notes and some peppery spice. The spice reminds me of hot peppers. A little earthy nuttiness is also present.
Each sip of this medium to full bodied beer is silky, with mild carbonation. The flavor is roasty with sweet chocolate, dark fruit and nuts. It finishes dry and bitter. A little grassy with a peppery spice at the end. Once gone the roast malt and spice lingers on the palate.
This beer has lots of flavor with a great mouthfeel. I hope they make another batch of this sometime soon.
688 characters

3.9
/5
rDev
-4.2%
look: 3.5 | smell: 3.5 | taste: 4 | feel: 4.5 | overall: 4
Managed to score of bottle of this porter and am glad I did. Pouring it into a pint glass produced a huge, pillow of khaki head atop a completely opaque, ebony body. Darkness incarnate. The aroma is extremely roasty—pumpernickel and cocoa powder mingle with black and/or chocolate malts (Ipswich says Carabohemian) in an inviting way.
This is a full-bodied and full-flavored beer. It's bitter, malty, and chewy, falling somewhere between rye bread and mocha cake. I picked up some astringency in the long finish, but nothing off-putting. A beer I would certainly recommend and try again.
590 characters
4.3
/5
rDev
+5.7%
look: 4 | smell: 4 | taste: 4.5 | feel: 4 | overall: 4.5
22 oz bomber poured into a tulip (two pours obviously).
Really dark brown with brown highlights and dark tan foam. Head quickly recedes but remains as a light covering for the duration. Good lacing too.
Roasty nose with a spicy backdrop.
The flavor is where this one shines. Chocolate taste up front, quite strong. Other dark roast flavors back that up. After that its spicy rye flavors and a bit of balancing hops. Great flavor. A lot to think about.
The mouthfeel shows what mouthfeel is all about. Its thick and rich with just a few bubbles of carbonation to cut through it. Much thicker than a run of the mill brew.
Love it. Ive got two in the closet and I'm going to get more before the next local 5 comes out.
720 characters

3.93
/5
rDev
-3.4%
look: 4 | smell: 3.5 | taste: 4 | feel: 4.5 | overall: 4
Pours a solid black with a creamy tan head that shows moderate retention. Smells of chocolate and caramel mostly with a nondescript earthy spicy component. Hints of rye do come out a bit as she warms. Taste is pretty straight forward for a porter, lots of chocolate and caramel with a bit of earthy hops for balance. There is a long lingering spice component in the finish that is subtle, but it is there. Medium to thick body with a creamy smooth mouthfeel and a light to moderate level of carbonation. This is a nice porter great if you consider the sub 6 dollar price tag. The Rye is there, but very subtle and adds a bit of complexity but could be a little more present.
674 characters
3.96
/5
rDev
-2.7%
look: 4 | smell: 3 | taste: 4.5 | feel: 4 | overall: 4
Poured into a pint glass.
Appeared dark black with a coffee colored head that was about 3 fingers tall. Head stayed around for a while and left some nice lacing down my glass.
Smell was the one area that I knocked down this beer. I am not sure if it is the rye content that adds a slightly off smell, but there is something definetely strange.
Taste is awesome. Very rich chocolates, some nice roastiness and bready-ness. Might have rated it a five if the roastiness was toned down a tad to let the chocolate shine.
Mouthfeel was thicker than expected, which was a nice suprise. Enjoyable to drink.
Overall I am very impressed. Will definetely seek out more bottles. At 6 bucks for a 22oz, I find this to be a steal. Am looking forward to more of the Ipswich Local Harvest Five Mile series.
796 characters
4.35
/5
rDev
+6.9%
look: 4 | smell: 4 | taste: 4.5 | feel: 4.5 | overall: 4.5
Just back from the release party at the Ipswich Brewery. Very nice event, I was free to wander around the brewery that made the beer I've loved for 20 years.
This is a superb porter, 7% abv according to the folks there. So almost an imperial porter or maybe a baltic porter. Thick and chewy, chocolaty. Hats off to Valley Malt and Ipswich - this is a damn fine beer.
370 characters
Local Harvest Five Mile Pumpernickel Rye Porter from Ipswich Ale Brewery
4.07
out of
5
based on
18
ratings.