Ipswich 21st Anniversary Imperial Dark Ale
| Ipswich Ale Brewery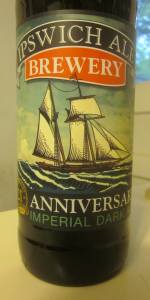 BEER INFO
Brewed by:
Ipswich Ale Brewery
Massachusetts
,
United States
ipswichalebrewery.com
Style:
American Strong Ale
Alcohol by volume (ABV):
8.00%
Availability:
Limited (brewed once)
Notes / Commercial Description:
No notes at this time.
Added by Jason on 04-22-2012
This beer is retired; no longer brewed.
Reviews: 15 | Ratings: 29
1.59
/5
rDev
-57.7%
look: 3.5 | smell: 2 | taste: 1 | feel: 3 | overall: 1
Extremely bitter. This is my least favorite beer. All of my friends who have tried it agree that it is terrible. Not even worth the dollar a bottle I paid for it. Seriously considering pouring it out. Why do reviews have to be so long? It seems silly.
251 characters

3.92
/5
rDev
+4.3%
look: 4 | smell: 3.75 | taste: 4 | feel: 3.75 | overall: 4
Appearance:
The beer pours a nice off white head that lasts a while and leaves some nice lacing. The beer itself is an obscure and dark purple grape color with hints of dark red.
Smell:
The beer has a strong caramel malt smell that dominates the hops. Apparently, hints of alcohol also makes an appearance. One might pick up a little bit of chocolate but very rare including slight hints of dark fruits.
Taste:
The taste is a bit more complex than the smell. While a strong malt presence exists, the malt taste mixes with an even stronger and bitter hops taste. The malts vary from caramel to roasted and toasty that dominate the taste. The beer has a nice toasty aftertaste.
Mouthfeel:
Very little carbonation. Heavy bodied with a thick feel to the beer with a dry finish.
Overall:
A pretty good ale that I hope that they bring back again.
844 characters
3.84
/5
rDev
+2.1%
look: 4 | smell: 3.75 | taste: 3.75 | feel: 4 | overall: 4
1 pint, 6 fl. oz. bottle
Served in a Detroit Tigers mug circa 1985 in honor of the start of the ALDS
The label says the ABV is 8.2%
A - It is a murky brown with about a foot of tan head. I think a lot of that has to due with the shape of the mug. It is narrower at the top than at the base.
S - The smell is malt with some tea aroma. It has a molasses and brown sugar smell.
T - It has a tea-like quality to it. The finish has some mild hop bitterness. It is just enough to know that there is hops in it.
M - Moderate
O - It is a pretty good beer. They pretty much nailed an "imperial dark ale." It was pretty much what I expected. The 8.2% ABV makes it hit the spot.
675 characters
3.46
/5
rDev
-8%
look: 4 | smell: 3.5 | taste: 3.25 | feel: 3.75 | overall: 3.5
Consumed 6/8/13
Split with Goblinmunkey7
Appearance: Yes, this is dark - dark brown, with dark reddish highlights - some clarity around the edges - pours with a decent size, light beige head, retains a wispy cap
Smell: Dark malts and some dark fruits - toasted, cooked malts - some caramelized malts - lightly caramelized malts - some dark fruits, like raisins - some grassy, herbal hops
Taste: Lightly roasty, dark malts - plenty of malt sweetness, with a lot of dark fruits - mostly raisins and plums - cooked, caramelized grains - herbal and grassy hops - more bitter than expected - very earthy, some chocolate
Mouthfeel: Medium body, nice carbonation, pretty smooth
Overall: Good, not particularly great
Maybe I sat a little too long? The dark malts, fruits, and chocolate flavors are interesting, but the whole thing doesn't quite come together for me. It's a little too sweet and earthy. Probably worth a try, if you can still find a bottle.
955 characters
2.57
/5
rDev
-31.6%
look: 3 | smell: 2.75 | taste: 2.5 | feel: 2.25 | overall: 2.5
Thanks to angrybabboon for sharing the bottle.
Appearance: Dark brown. Slight haze. Rocky and cream light tan head. Drops to a small clumpy cap and collar. No lacing.
Smell: Toasty and roasty. Sharp smack of booze in the back. Sweet caramelized malts. Slightly phenolic. Nutty. Some chocolate malt. Sweet bready booze. Raisins.
Taste: Boozy roasted nutty grass. Some cocoa and dark chocolate. Caramel malt sweetness. A bit burnt. Phenols run across the back. Dark brown bread. Aspirin bitterness. Roasty bordering on burnt. Overcooked popcorn. Vodka raisins. Earthy, seriously.
Mouthfeel: Medium body with a slightly above average carbonation. A slight lingering dryness on the finish.
Overall: Stick with the original.
Imperializing Dark Ale was not a success. Too boozy and earthy. Missing women of the charm I expect from Ipswich.
844 characters

4.35
/5
rDev
+15.7%
look: 4.25 | smell: 4.25 | taste: 4.25 | feel: 4.75 | overall: 4.5
22oz from Haxtons. 5 bucks or so.
A
Dark brown into the glass. Big huge rocky head. Sandy tan. Mountainous crags peaks and valleys.
Smell is malty, mildly toasty. Grassy too. Pleasant. Smells like there's a good amount of hops in this one.
Hops are not as prominent as I expected. Slightly toasty malt. Not really strong. Like an arrogant bastard with a restrained hop profile. Very nutty too
Smooth for the ABV. REALLY TASTY. ACCIDENTAL CAPS LOCK. Quaffable. Me gusta.
I am not a normal Ipswich buyer, but last years and this years anniversary beers have been outstanding, both in price and in quality. A no-brainer buy.
Great got-damn beer.
654 characters
3.93
/5
rDev
+4.5%
look: 4 | smell: 3.5 | taste: 4 | feel: 4.5 | overall: 4
A: Poured from a bomber into a pint glass. Cloudy, medium-dark colored with a quarter-inch tan head. Good retention and lacing. Appearance makes me want to taste now, but first...
S: Strong presence of pine and citrus hops; almost metallic in effect. Also sensed delicious, somewhat sweet mix of malt and fruit. Latter reminded of raisins or even prunes.
T: Very similar to smell. Metallic, earthy hops first, but quickly replaced by sweet, fruity, malty flavors. Wish that had lingered a bit longer before the drier hop finish took over. Nicely balanced on whole.
M: Fairly thick and creamy with little carbonation. What I want when drinking a darker beer such as this.
O: I live in Ipswich, but am not a huge fan of the local brew, as most varieties are too hoppy for my taste. The regular Ipswich Dark Ale has always been my favorite of the lot. This Imperial edition is head and shoulders above that. They did a very good job upgrading the standard Dark into a complex, enjoyable anniversary brew. Yay for the home team!
1,028 characters

4.08
/5
rDev
+8.5%
look: 4.5 | smell: 4 | taste: 4 | feel: 4.5 | overall: 4
Ipswich 21st Anniversary Imperial Dark Ale pours a cloudy dark amber with a big, rocky light tan head on top. The foam dissolves very slowly leaving behind a coating of lace on the glass.
The aroma is has nice notes of orange citrus, caramel malt and some dark fruit (raisin).
Each sip of this medium bodied beer is soft and smooth on the palate. Carbonation is light. The flavor is a nice balance of caramel malt, toast, dark fruit (raisin, plum?), and orange citrus. It finishes mildly bitter with lingering malt sweetness when gone.
This is a tasty, easy drinking beer. The aroma tends to fade shortly after being poured and the flavor leans towards the malty side. Overall a great beer to go with a hearty dinner.
721 characters
3.75
/5
rDev
-0.3%
look: 4 | smell: 4 | taste: 3.5 | feel: 3.5 | overall: 4
Moderate head, but it lasts. Leaves some blanket and some web lace. The brew is solid brown with a bit of opaque light shining through.
Wonderful caramel malt smell start. There's a very pleasant hop flower nose in the background.
Starts off with a Scotch Ale warmth with plenty of sweeter, toasted malt. Definitive alcohol warmth. The finish has a dash of bitterness--great balance. Not as rich as a typical strong ale.
422 characters

4.47
/5
rDev
+18.9%
look: 4 | smell: 4.5 | taste: 4.5 | feel: 4.5 | overall: 4.5
A: Brown-amber in color with a big off-white, fluffy, bubbly head. Nice lacing and a bit of head retention.
S: Plenty of sweet, roasted malt. Molasses. Caramelized sugar. Brown sugar.
T: Tons of great, complex flavors from the roasted malt with a hint of hops in the finish. Sweet, earthy, malty, and enough hops in the finish to make you smile and make this one balanced brew.
M: Smooth, sweet, delicious. An easy drinker for the style, ABV, and heavy malt bill.
O: A damn good beer and very enjoyable drinking experience.
527 characters
4
/5
rDev
+6.4%
look: 4 | smell: 4 | taste: 4 | feel: 4 | overall: 4
Well it's a really hot summer day/night, but I usually let my son help me randomly pick out a beer to taste/review, which helps with the randomness of what to have. However, tonight being hot he decides to pick out a couple big sweet hoppy malty and higher abv beers, and 22ozers... well at least it's fairly random. Hopefully this isn't too overpowering.
Pours a larger slightly bigger than 1 finger head that fades fairly slowly with good lacing, nice for a 8% abv, over dark caramel coppery reddish colored beer.
Nose has plenty of darker malts but not black malts, more like dark crystal, etc, with a light creamy aroma, light toasty reddish malts, caramel, hint of toffee, juicy malt, and even a fruity aroma that I could mistake for a lager yeast, with some light floral hops and hint of a citrusy like hops. Lighter than I expected.
Taste starts with some light hops actually, a bit grassy and earthy, chewy, slight citrusy and floral, and even a hint of tropical fruits, with a light pineapple coming to mind. It has a pineapple soaked in a dark molasses based rum/brandy or something like flavor. Sweetness and malts kick in quickly with bready grainy malts, reddish malts with caramel and molasses, a hint of brown sugar and even a slight cinnamon like taste which is a bit strange. Fruits bring light raisin and fig like flavor, as well as creamy malts with a hint of a darker malt flavor. Just a light bitterness and booze is hidden well if it really is 8% as it brings just a light warmth that drinks like 6.5-7%. Finish is fairly more bitter, earthy slight spicy hops, as well as the grassy kind really come out on the finish, with a light sweet caramely malt and stickiness, but a bit drier than initially. A light warming booze comes out this time as well.
Mouth is med to slightly fuller bodied, even a bit creamy, with decent carb.
Overall pretty good, nice blend of hops, malts, fruit flavors, and fairly lighter than I expected but rich in flavor. Drinks pretty well, and I wouldn't mind pounding back a huge bottle or a few of these in a pub sometime. Maybe a good candidate for rotating beer as it's not too crazy big, and fairly tasty.
2,163 characters

4.32
/5
rDev
+14.9%
look: 4 | smell: 4.5 | taste: 4.5 | feel: 4 | overall: 4
Sample: 1 bottle 2011
A: Dark brown in color, pours nice lacing, moderate internal carbonation, very hazy
S: Complex nose, seems to be a combination of dried fruits, citrus, and caramel/vanilla, very fragrant, herbal traces
T: Complex flavor as well, same dried fruit/citrus/caramel combination, but cocoa and espresso are also apparent, touch of alcohol, quite nice
M: Well balanced and smooth, moderately strong citrus/hops aftertaste, but not drying or overpowering on the palate
O: A powerful strong all-around, fragrant, flavorful, and smooth, definitely worth the buy, can't wait to try with some age
611 characters
4.05
/5
rDev
+7.7%
look: 3.5 | smell: 3.5 | taste: 4.5 | feel: 4 | overall: 4
I went to the release event for this one time brew. Ipswich runs a good place with some friendly people.
I bought a case of bombers and this is the first ive opened.
Appearance is pretty good. A nice dark brown in a big snifter glass. Not too much head but it lasts and is a nice white color. Its unfiltered and cloudy.
The smell ishard to place. Its got clear alcohol up front with heavy but balanced hop and malt characteristics too. I guess it lets you know you're in for a ride.
Very tasty. Not wicked hoppy but definitely more so than the standard darkale. Its sweet too with kind of bready flavors that linger a while after each sip. The alcohol that was so forward in the nose is all but gone in the taste.
A full mouth feel with good carbonation and smooth finish make this a quality beer.
I really like most of Ipswich 's stuff, and I think I like this more than the 20th imperial pale. I'm glad I got a case of this stuff and I have a feeling I will be grabbing a few more over the next year.
1,010 characters
4.55
/5
rDev
+21%
look: 4.5 | smell: 4.5 | taste: 4.5 | feel: 5 | overall: 4.5
i agree with the above review of hudson valley slim for the most part. the alcohol flavor quickly dissipates after the first few sips. hops abound after a glass rest.
a good and heavy black imperial. one bomber's enough for one sitting i'd say though.
i commend ipswich for this straightup strong brew. an honest not tryin' too hard solid brew.
346 characters
3.43
/5
rDev
-8.8%
look: 3.5 | smell: 3 | taste: 3.5 | feel: 4 | overall: 3.5
Every now and again Ipswich has these nice low-key brewery events - this was the second I'd attended. (On Saturday). Kind of feel they don't get their due, which in my opinion is one of the Northeast's finest breweries.
Had a coupla samples of the Imperial Dark on draft at the brewery, very fine. One of the brewers confirmed that it was a riff on the famous Ipswich Dark Ale. I will now review a 22oz bomber as we speak!
Served up in a standard issue Ipswich pint glass that I've had for many years. Pours a nice dark brown, smelling a tinge of alcohol (which I don't really like, but hey, it says imperial...) and malt.
Alcohol in the taste as well (still not a fan) but a solid malt body and definitely some hoppage. (I like.) Towards the end of my pint now. Flavors are sitting on my tongue. I think they're telling my tongue to have another sip. So I do. Tastin' pretty fine.
Overall, a fine brew. I might prefer the original dark (as I practically grew up with it) but for those who like the stronger stuff (8%), this might be what you need. Like most Ipswich offerings, there's no skimpin' on the hops.
1,116 characters
Ipswich 21st Anniversary Imperial Dark Ale from Ipswich Ale Brewery
3.76
out of
5
based on
29
ratings.