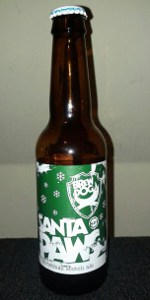 BEER INFO
Brewed by:
BrewDog
Scotland
,
United Kingdom
brewdog.com
Style:
Scotch Ale / Wee Heavy
Alcohol by volume (ABV):
4.50%
Availability:
Limited (brewed once)
Notes / Commercial Description:
A 4.5% decadent scotch ale brewed with Scottish Heather Honey. A robust malty beer packed with flavour and at a strength you can drink all (Christmas) day long.
A baby scotch ale which is perfect with Christmas pudding or whilst playing Pictionary with your gran. This is our antidote to the chaos of the upcoming festive season. Raise a glass of this Christmas beer, share it with friends, family and strangers, and sit back and enjoy the view as the world descends into a fairy light fuelled frenzy. And, if all else fails, just blame Santa.
Added by MasterSki on 11-20-2013
This beer is retired; no longer brewed.
Reviews: 9 | Ratings: 62
3.4
/5
rDev
-4%
look: 4.25 | smell: 3.5 | taste: 3.25 | feel: 3 | overall: 3.5
330ml bottle into a large snifter. Paid £1.65 for a single.
Pours an opaque, very dark, mahogany body that appears almost black once settled in the glass. A dense, creamy, one-finger in height, ivory coloured head with excellent retention slowly condenses to a thick, foamy cap, leaving behind substantial bands of sticky lace.
The dark and bittersweet nose predominantly comprises of heavily roasted malts, charred grains, brown sugar, burnt caramel and stone fruit. Herbal and leafy hop profiles become apparent towards the back-end, while hints of alcohol and an overall robustness give the impression of a gravity bigger than 4.5% ABV. Taste roughly follows suit, leading for the most part with heavily roasted dark malts and lighter traces of burnt caramel. Mid-palate, faint impressions of toasted rye bread and raisin-like dried fruits provide modest sweetness and a change of pace, before dark roasted profiles begin to re-build towards the back-end. In the mouth, a light body paired with a modest amount of fine carbonation gives a feel that despite being disappointingly thin, remains reasonably smooth and easy-drinking. Towards the back-end, traces of spice and hints of herbal hops become very faintly perceptible. Roast derived bitterness however comprises the majority of the finish, leaving coarse roasted barley, coffee and ash to linger on the palate with a touch of lightly drying astringency.
Overall this is a decent but unremarkable beer. Despite starting strong with an attractive appearance and inviting aroma, its weak body and one-dimensional roast-forward taste soon become a little tiresome. Granted, it's easy drinking and reasonably complex for the low 4.5% ABV, but the rich feel, sweet toasty malts, and peaty smoke characters I enjoy in the style are noticeably absent, while any input from the 'Scottish Heather Honey' the label promises also fails to make an appearance.
1,916 characters
3.47
/5
rDev
-2%
look: 4 | smell: 3.25 | taste: 3.5 | feel: 3.5 | overall: 3.5
Very dark brown. Tan head. Thick but dissipates quickly.
Aroma of toasted bread and stewed veg'.
Improves with the taste. Forward roasted malt but a bit harsh.
Decent depth of taste and feel.
191 characters

3.6
/5
rDev
+1.7%
look: 3.5 | smell: 3.5 | taste: 3.75 | feel: 3.5 | overall: 3.5
From bottle, pours Brown black but when held to light looks a ruby red with almost no head. Aroma roasted nuts, coffee, chocolate, dark fruit. Taste follows the aroma just that the aroma seems stronger. Very nice.
213 characters

4.49
/5
rDev
+26.8%
look: 4.25 | smell: 4.5 | taste: 4.5 | feel: 4.5 | overall: 4.5
Pours clear mahogany beer with decent tan head. Smell of coffee, roasted malts and chocolate. Flavour - roasted malts, coffee ans so on, close to good robust porter or stout - unexpectedly. Smooth and drinkable, but not scotch ale.
231 characters
3.83
/5
rDev
+8.2%
look: 4.5 | smell: 3.25 | taste: 4 | feel: 3.75 | overall: 4
The colour is deep brown (60 EBC), the liquid is clear. The three finger head is beige and compact; it sinks slowly leaving some very fine coffee-like lacing.
The smell is loaded with cocoa, figs, raisins and hints of metal. It gives an impression of being stronger than 4.5%.
The taste is smooth and semi-dry. Figs, roasted malt, mild coffee, rye bread and hints of charcoal. Light to medium body. The aftertaste got some clean bitterness, chocolate, citric peels, smoked ham and brown sugar. The finish is somewhat bitter and roasted.
The carbonation is medium strong; the many small bubbles are smooth and long-lived. The liquid is somewhat light and smooth.
A highly drinkable dark beer with interesting fruity flavours going on.
740 characters

3.08
/5
rDev
-13%
look: 4.25 | smell: 3 | taste: 3 | feel: 3 | overall: 3
Format: a stumpy little blue 330mL can with the typically funky Brewdog label.
Appearance: pours out dark brown in colour high only hints of ruby against the light. An inch of creamy tan head hangs about for some time before slowly dropping down the glass to a finger of amazingly rich, creamy and rocky deliciousness. Fantastic lace down the glass as usual from Brewdog.
Aroma: a very light aroma of roast malts and light sweet milk chocolate. Too demure for me.
Taste: roasted malts again with a touch of cocoa and that's about it. Not particularly strong or interesting.
Aftertaste: a sharp bitterness hangs about in the mouth before fading away. Not much flavour - just bitterness.
Mouth feel: moderate in feel with a lower to moderate carbonation that fails to bring those big roast malt flavours forward.
Overall: not a particularly brilliant Scotch Ale from Brewdog. A bit weak on the nose and in the mouth - a bit of a boring beer to be honest.
958 characters
3.5
/5
rDev
-1.1%
Tried 20 November 2014. Styled as Scotch Ale though tastes as weak slightly bitter porter. Malty, burnt caramel. Decent head but evaporates quickly. Not much aroma. All in all a poor enough Scotch Ale that wouldn't be seeking out again
235 characters
3
/5
rDev
-15.3%
330ml bottle from Good Spirits Co, Glasgow - review from Christmas, I forgot to upload here.
A fairly average beer from Brewdog here, although that might be a good thing when one considers it is a Christmas beer and I've not had the best of luck with some of them. There was some roasted malts, earthy flavours and sweetness but nothing that was all that enjoyable or interesting when it comes down to it. Not the best and not the worst but certainly not one worth picking up again
484 characters

3.33
/5
rDev
-5.9%
look: 3.5 | smell: 3.5 | taste: 3.25 | feel: 3.25 | overall: 3.25
A 330ml bottle with a BB of Oct 2014. Acquired a little while back from the Brewdog webshop. The label describes it as a Christmas Scotch ale with heather honey included in the ingredients. Better late than never....
Poured into a tulip pint glass. A very dark ruby-brown hue with light carbonation. Yields a large head of creamy beige foam that lasts for a few minutes before reducing to a thick surface layer. Slight lacing. Aroma of roasted malt with hints of burnt grain, mild coffee, faint caramel, a twinge of molasses, ale yeast and stewed leaves. The honey isn't discernible. Rather one-dimensional.
Tastes of dark malt with a lingering bitter finish. Notes of roasted malt, burnt grain, coffee, mild molasses/caramel, earthy yeast, stewed leaves and a hint of ash. Well-attenuated, followed by a strident, malt-driven bitterness upon swallowing. Mouthfeel is smooth and tingly, with decent carbonation and an insubstantial body (though the low ABV partly accounts for this). Lightly astringent, accompanied by an aftertaste of roasted malt, burnt grain and a whisper of caramel.
Meh - OK but far from stunning. Looks alright, while the aroma and flavour are dominated by roasted malt and little else. I was expecting a lighter, more caramel-laden brew with a degree of sweetness. The honey doesn't show up either. So-so body; too thin. It has more character than a lot of brews, but comes across as closer to a baby porter than a Scotch ale. Not to 'style' and not all that festive either. Not Brewdog's best effort - no need to seek it out.
1,553 characters
Santa Paws from BrewDog
3.54
out of
5
based on
62
ratings.