Coffee Imperial Stout
| BrewDog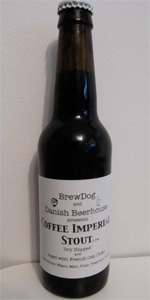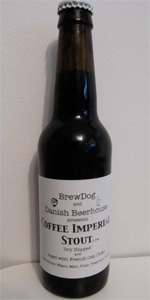 BEER INFO
Brewed by:
BrewDog
Scotland
,
United Kingdom
brewdog.com
Style:
American Double / Imperial Stout
Alcohol by volume (ABV):
9.50%
Availability:
Limited (brewed once)
Notes / Commercial Description:
This beer was a collaboration between BrewDog and their Danish Importer - Danish Beer House and brewed exclusively for him. The 9% Imperial stout is brewed with coffee added in the kettle and is then dry hopped and aged on toasted oak chips after fermentation.
Added by Beer-Zombie on 03-31-2009
This beer is retired; no longer brewed.
HISTOGRAM
Ratings: 7 | Reviews: 6
Reviews by thepeter:
2.94
/5
rDev
-9.5%
look: 3 | smell: 4 | taste: 2.5 | feel: 3 | overall: 2.5
Let me start by saying I love Brewdog! I just did not love this particular offering. Maybe I have been spoiled with the amount of Founders BS and KBS I have had over the last few years, I'm not sure.
A- Black as night slides from the bottle to the glass without making even a thin head. I can just about see my reflexion in the beer . . . I'd much rather see head! (insert joke here!)
S- Coffee, roasted malt, LOTS of Hop aroma
T- Burned, bitter day old coffee. roasted malts, a bit of smoke. Like the smell, there is a significant hop presence and more burnt coffee. You can barely taste the 9% alc in this, I am guessing it is just covered up by the bitterness.
M&D - low carbonation and an almost slippery feel to it, not an unpleasant feel to it but not what i am usually looking for. I drink one and I am done, this may have more to do with the aftertaste though as I will say that for a 9% beer They hide the Alcohol very well.
Will definitely not stop me from trying anything and everything else Brewdog put on the shelves.
1,036 characters
More User Reviews:
3.33
/5
rDev
+2.5%
look: 4 | smell: 3.5 | taste: 3 | feel: 3.5 | overall: 3.5
Thanks to bu11zeye for sharing this bottle.
The beer pours a dark brown color with red highlights and a white head. The aroma is chocolate, coffee and roasted malt with something that slightly resembles trash. The flavor is coffee, chocolate and something that resembles the trash that I got in the smell. Medium mouthfeel and low carbonation. Not one of my favorite coffee beers.
381 characters
3.09
/5
rDev
-4.9%
look: 2.5 | smell: 3.5 | taste: 3 | feel: 3 | overall: 3
Received this 12oz'er in a trade. Poured into a pint glass.
Appearance: Pours black. Not quite opaque, but almost. No head to speak of. No lacing.
Smell: Two very distinct smells intertwined here, coffee and hops. Not much else involved, but it's a good aroma for what it is.
Taste: Kind of like drinking luke warm coffee with a hop twang at the end. I wish I could find the french oak chips in this one, that part actually had me excited. Finish is a little awkward, kind of like oily hoppiness combined with coffee, with an overpowering bitterness to it. I'm sure there is some roasted malt in here, but I'm having a hard time finding it.
Mouthfeel: A little watered down, not as viscous or chewy as I'm used to with imperial stouts, but I've probably been spoiled by some good ones. Minimal carbonation, and bitter.
Drinkability: It hides the ABV very well, but I'd probably only have one. Would've liked a little less hop bitterness and more of an oak sweetness.
Interesting beer, just not very good.
1,010 characters

3.16
/5
rDev
-2.8%
look: 2 | smell: 3.5 | taste: 3.5 | feel: 2 | overall: 3
Got this at De Bierkoning in Amsterdam.
From a bottle into a snifter. Lable is white with regular black print.
APPEARANCE: Pours a very small and thin looking tan film that quickly disappears totally, leaving a bit of a wisp and a small ring of foam. Pitch black on color and medium carbonation evident. A ring of film remains but leaves no lacing down the glass. Boring.
SMELL: Roasted malds and a touch of soapy hop notes as well. Coffee is evident but not overpowering, which shows good balance. Some black licorice and black jelly bean in the background as well. Decent strength on the nose.
TASTE: Roasted malts again and some smokiness alongside for the ride. Coffee is definitely there but, like the nose, is not overpowering. A delayed mild aftertaste has some smoky qualities again and a good dose of bitter black coffee again. Alcohol is well hidden. Pretty nice overall.
PALATE: Medium-thinner body, lower end carbonation, and somewhat light on the palate. Creamy and oily on the palate, goes down smooth and finishes slightly sticky. Just not thick and heavy enough to be a stout. Disappointing.
OVERALL: A sub-par coffee stout. The aroma and taste prfile showed promise, but the appearance and feel totally ruined what was otherwise a promising brew. If you're a fan of the style, look elsewhere for your kick.
1,335 characters

2.85
/5
rDev
-12.3%
look: 4 | smell: 4 | taste: 2.5 | feel: 2.5 | overall: 2
Had this beer in my favorite pub, the Vlaamse Reus in Wageningen. I don't know how owner Karel managed to get this limited beer, but it is certainly unique to have it here in the Netherlands!
I had the beer in a regular pint-glass. The beer pours a black color with a very tiny cappuccino head.
Smell: very clear roasted, malty coffee and some sweet caramel and chocolate.
Taste: roasted, bitter coffee, roasted malts, bitter hops some hints of caramel sugar and chocolate. It has a very bitter and very dry after taste.
Mouthfeel: Medium-thin with low carbonation. A bit too watery.
Overall: Ok, this is a coffee stout, so one can expect a coffee taste. But to be honest, this tastes more like three day old, used coffee beans. Maybe coffee stouts are supposed to taste like this, I don't know, since I never had one before. In that case, I guess it is just not my brew-style. Will for sure not have this one again, a bit disappointing.
945 characters
3.35
/5
rDev
+3.1%
look: 3.5 | smell: 3.5 | taste: 3.5 | feel: 3 | overall: 3
Thick black tarry liquid, with a very small tan head with a creamy consistency, although the head had very poor retention. Very lightly carbonated. The aroma has lots of coffee as you would expected, very roasty, and dark with a touch of soily peat and dark chocolate. There is also a light piney hoppiness behind the big coffee aromas. The taste is bitter from the start, with an obvious use of excessive hops (as is BrewDog), along with the dark slightly soily coffee, loads of roasted malts. Unfortunately, the coffee taste is not as "fresh" as some of the other coffee imperial stouts I have have, it gives a somewhat used coffee grounds kind of flavour, which isn't great. The feel is a touch thinner than I was expecting. A nice beer but not a great beer.
761 characters
Coffee Imperial Stout from BrewDog
Beer rating:
3.25
out of
5
with
7
ratings