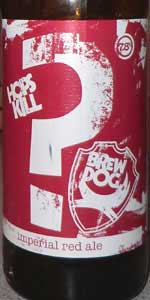 BEER INFO
Brewed by:
BrewDog
Scotland
,
United Kingdom
brewdog.com
Style:
American Amber / Red Ale
Alcohol by volume (ABV):
7.80%
Availability:
Limited (brewed once)
Notes / Commercial Description:
No notes at this time.
Added by StJamesGate on 10-15-2011
This beer is retired; no longer brewed.
Reviews: 15 | Ratings: 30

4.09
/5
rDev
+0.7%
look: 3.5 | smell: 4.5 | taste: 4 | feel: 4 | overall: 4
On-tap at the Brewdog pub in Camden Town. Served in a Lost Abbey style tulip. The chalkboard doesn't beat around the bush, calling this beer Hops Kill Nazis.
A: Clear ruby body under a thin head of ultrafine, fairly sticky foam. Delicate lacing. Nice enough.
S: Big, poweful hoppiness; dank pine and fruity citrus coexist harmoniously, with some mango for good measure. Excellent.
T: Caramel malt starts things off (a little surprisingly, given the purely hoppy aroma), with the fruity hops close behind. Very tropical. Major bitterness and significant booze on the finish. Good, not quite great.
M: Creamy, lively, and a little sticky. Appropriate.
O: The booziness was the one real drawback of this beer, although after more than a week of drinking almost nothing but 4% cask Bitters, the jolt wasn't entirely unwelcome. A good beer.
Cheers!
849 characters
3.47
/5
rDev
-14.5%
look: 3 | smell: 3.5 | taste: 3.5 | feel: 3.5 | overall: 3.5
The colour is deep red/amber (37 EBC), the liquid is clear. The finger thick head is compact and pale brown, it sinks quickly to a thin lid without leaving much lacing.
The smell is dry and very hoppy. Dried red fruits and berries, grapefruit, bitter oranges and cookies. Powerful bitterness with a touch of metal. Hints of boiled vegetables and nuts. Some alcohol, but not at disturbingly levels. It is very American.
The taste is not as dense as the smell suggested. It is, in fact, rather fresh and very hoppy. "Brown" malty flavours of biscuits and plums. Grand smooth bitter notes. Dried fruits and red berries. Bitter oranges and lemon peels. Full bodied flavours. The aftertaste is bitter with more fruity flavours, lots of semi-sweet malt with notes of cookies and biscuits. Bitterness and leather in the finish.
The carbonation is strong; the many small bubbles are short-lived. The liquid is dry and a bit sticky.
I didn't really like 5 A.M. Saint, the baby brother of this beer. This one is better: It is much fresher and lacks the musty notes I found in it.
1,082 characters
3.68
/5
rDev
-9.4%
look: 4 | smell: 3.5 | taste: 4 | feel: 4 | overall: 3
The brew is deep ruby with brown shades, an off-white head, little lacing but good curtains.
Smells hops, hops and hops. Pine, resin and glue. Floral ripeness.
Sweet brown bread with honey, black currants, grass and bitter nettles.
Medium high carbonation, a coarse dry feeling - all the way.
Well this is a beer that is very well done, but to my mind actually to hoppy.
374 characters

4
/5
rDev
-1.5%
look: 4 | smell: 4 | taste: 4 | feel: 4 | overall: 4
A: Pours is slightly hazy dark amber with a compact head that slowly dissipates into pretty nice lacings.
S: Roasted caramell malt, some sweetness. American hops, both bitter and floral. Citric and mild piney. Bitter oranges, grapefruits and faint pineapple.
T: Bitter and floral hops up front, morse piney than citric. Nice balanced sweetness in the roasted caramell malt. Buttery.
M: Creamy medium to full body, low carbonation and a lovely roasted and bitter aftertaste.
O: A nice one!
492 characters

3.9
/5
rDev
-3.9%
look: 4 | smell: 4 | taste: 4 | feel: 4 | overall: 3.5
With great thanks to dgilks.
Pours a darkish red/brown. Good head/lacing.
Nose is tropical hops, brown sugar. Bit of hydroponics. Almost a rich umami coffee smell.
Taste is rich with malt with strong bittering hops. In the 5AM Saint/Prototype 17/this trilogy, on the Irish Red/American Amber spectrum, this is the closest to an Irish Red. More like a marriage of 5AM Saint and Hardcore.
Mouthfeel and carbonation are medium.
Nice beer.
440 characters
4.5
/5
rDev
+10.8%
look: 4 | smell: 4 | taste: 5 | feel: 4 | overall: 4.5
330ml bottle bought from GapWines, Belfast...
Poured a deep amber red colour. Creamy head poured small but quite thick then faded very quickly to light wispy covering with thicker edging... light carbonation... some light lines of lacing...
Aroma - Lots of piney, peppery and grassy hops up front mixed with toasted caramel malts... lightly roasted nuts, spicy dried fruits (raisins, figs), citrus peel, some rubbery traces, toasted malty loaf, blood oranges, light liquorice, some wet hay...
Taste - Good blast of grassy and spicy hop bitterness, piney resin traces, overripe fruits (bitter oranges, apples), also some dried fruits (prunes, dates), light alcohol, brown sugar, crystal malt, toffee, rubbery traces, soapy notes...
M&D - Fairly sharp and dry initially then smooths out... full bodied... dangerously drinkable as the 7.8% is very well hidden..
Overall - An exceptionally good amber Ale and one that i would like to see Brewdog brew year round... definitely recommended..
990 characters
4.23
/5
rDev
+4.2%
look: 4 | smell: 3.5 | taste: 4.5 | feel: 4.5 | overall: 4.5
This beer was very kindly sent to me by Zimbo along with a Westvleteren 12. Poured from a 330ml bottle into a straight Congqing glass.
Pours a medium dark amber colour with a small off white head.
Smells of faint fruit and cooked sugar, cake almost. Lovely and rich but very faint.
Tastes gorgeous. It seems to be both subtle and strong at the same time. The flavours aren't massive like a double IPA and work well together, yet it has a strong hoppiness at the same time, and the overall taste though subtle, lingers in the mouth for an eternity.
A truly gorgeous beer, one that has changed my view on Brewdog beers as a whole. My only quip is, why can't they sell this in supermarkets instead of Hardcore or 5AM?
721 characters
4.13
/5
rDev
+1.7%
look: 4.5 | smell: 4 | taste: 4 | feel: 4 | overall: 4.5
A very amber red brew with a soapy head that lasted the entire time. aroma of pine and resin with a hint of sweet caramel. Tastes Like a really hopped up evenly malted IPA. A bit nutty and biscuity as well. Palate was smooth and medium bodied. Orerall a great hopped up red that kicks you in the teeth, a really great beer.
323 characters
4.42
/5
rDev
+8.9%
look: 4 | smell: 4.5 | taste: 4.5 | feel: 4 | overall: 4.5
Draft at Glasgow Brewdog... not sure why this is called Hops Kill ? clearly labeled on the board as Hops Kill Nazis. Also has it listed at 7.6% They certainly have interesting names for their beers sometimes.
Pours a dark ruby color with a finger of head.
Nose, wow. bartender says it is dry hopped with Chinook... and yeah, smells like yesterday. wow. a hint of caramel malt, but mostly chinook.
Taste is chinook, piney with a hint of citrus, damn. this is one hoppy mother. Caramel malt does nicely balance it a bit, and has a nice malt backbone to support it, but damn, this is amazing. This may be the best Brewdog beer I have had. It tastes like this was kegged yesterday.
mouthfeel is light to medium, and fine... but man, this is a surpise hop bomb, Nicely done!!
770 characters

4.08
/5
rDev
+0.5%
look: 4.5 | smell: 4 | taste: 4 | feel: 4.5 | overall: 4
Bottle shared by ygtbsm94. Thanks Brad.
The beer appears dark ruby hued with an inch of soapy beige head. The aroma brings a big bouquet of hops among a robust malt profile. Malt emerges more as the beer warms. Bread, pine, toast, biscuits. One of the tastier beers I have had from BrewDog. Medium bodied with solid carbonation. I would definitely have this again.
365 characters
4.27
/5
rDev
+5.2%
look: 4 | smell: 4.5 | taste: 4 | feel: 4.5 | overall: 4.5
Bottle straight from the brewery.
Clearish, dark amber-red colour with a smooth, billowing, tan head. Good head retention.
Dank, piney, citrussy hop aroma with plenty of spritz. Some deeply caramelised malt. Somewhat fruity.
Toasty, nutty malt with rounded sweetness. Nice, clean finish. Prominent piney hop character but the malt is definitely at the fore here. I actually really like this and find it to be a compelling beer.
Medium to medium-full body with moderately-low carbonation. Good.
A well balanced Imperial Red Ale. Great combination of hops and malt. Well done Brewdog.
587 characters
4.15
/5
rDev
+2.2%
look: 4 | smell: 4 | taste: 4 | feel: 4.5 | overall: 4.5
Tried on-tap at Brewdog Glasgow.
Dark amber with an off white finger sized head.
Tropical fruit notes (sweet & summery) with strong pine hops aroma. The end of the drink smells like a bitter one but not overly.
Very tropical, fruity taste upfront that is followed by a quite strong, pine hops taste. Alcohol content is hidden well & finish is very bitter and pine like.
Smooth feeling beer that has a medium body and incredibly drinkable. The carbonation is good and the finish is slightly dry & bitter.
Excellent beer that will hopefully become more readily available in the future as it would be a shame otherwise. One I hope to try again very soon.
1001 Beers To Try Blog:
http://abarwithnoname.wordpress.com
717 characters
4.58
/5
rDev
+12.8%
look: 4.5 | smell: 4 | taste: 5 | feel: 4.5 | overall: 4.5
On tap at Brewdog Glasgow, half pint poured from keg into a 2/3rd pint glass
a - dark amber, bright red tones where the light hits it. Some head, thin lacing on the surface and thicker lacing round the top.
s - little bit of malt, berry fruits, bit of hop, definite sweetness
t - berry tanginess, dry, bit of smoke, dry, big sweet finish, dry, delicious
m - amazing, easily finished 1/2 pint in 3 gulps for which it loses 0.5. A 7.8% beer shouldn't be this quaffable.
o - I really like Scottish Reds and American Reds and 5am Saint in particular. This is genuinely some next level shit. If you're not a fan of all 3 of those or you're not feeling adventurous, don't bother. But if you are, and you can find some, you're in for a treat.
743 characters

4.27
/5
rDev
+5.2%
look: 4 | smell: 4.5 | taste: 4 | feel: 4.5 | overall: 4.5
Newish brew.
Seems like a pretty new take on a style. With virtually no marketing or promotion. Makes me wonder...
From the moment you pop the cap.
There's a dark piercing plummy smell in the bottle even when ice cold but as it warms up not only does it retain these qualities but it gains a beautiful brown sugar quality.
Deep Indian red colour it initially forms a loose tan head when poured but this thins in time despite giving some consistent complex lacing with every sip.
A pleasant dusty dusky element on the tongue leads to just an incredible dryness which is way drier than any martini I have ever experienced. Really coats the tongue too and with a tingle.
It could maybe do with a bit more refinement but that's a very minor complaint when there's some real individualitiy and complexity here to say nothing of the skillful way this is all slotted in together.
Pretty close to outstanding really. Would probably drink it even if it was dispensed from the mouth of wall mounted stag's head. I won't even ask for a glass.
1,037 characters
4.17
/5
rDev
+2.7%
look: 4 | smell: 4.5 | taste: 4 | feel: 4.5 | overall: 4
Mahogany-pomegranate with a creamy beige head that fades fast but trails. Big strawberry-caramel nose with plenty of orange, up there with the best of NoCal reds.
Toast, rhubarb, touch of toffee and pomegranate with big resin and orange juice hops and, yes, some Chinook smokiness if you're looking for it.
Strawberry jam finish and cherry cough drop linger. Medium, chewy, sticky, a bit of heat.
Labeled as an Imperial Red, "5AM Saint's evil big brother", according to literature. Chinook and Centennial in the kettle and dry hopped with Chinook.
Nice aggressive red. Throws out 5AM Saint's bias towards aroma hops and weighs in with the IBUs (80, says BrewDog). Doesn't have the complexity or, say, that pineappley compulsive drinkability of something like Lucky 13. But can hang with Cascazilla and the next best American big reds.
Named "Hops Kill Nazis" as the result of a naming contest; however, that's not what the label reads.
949 characters
Hops Kill ? from BrewDog
4.06
out of
5
based on
30
ratings.