Waimea (IPA Is Dead)
| BrewDog
BA SCORE
83
good
13
Reviews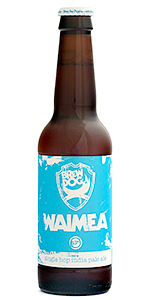 BEER INFO
Brewed by:
BrewDog
Scotland
,
United Kingdom
brewdog.com
Style:
American IPA
Alcohol by volume (ABV):
6.70%
Availability:
Limited (brewed once)
Notes / Commercial Description:
No notes at this time.
Added by StJamesGate on 04-23-2013
This beer is retired; no longer brewed.
Reviews: 13 | Ratings: 46

3.36
/5
rDev
-7.4%
look: 4.5 | smell: 3.5 | taste: 3 | feel: 4 | overall: 3.25
330ml bottle 6,7% Abv.
Served chilled in a wine glass.
Best before: 24/03/2014
Appearance: Waimea seems somewhat darker than expected, appearing a medium orange with hints of amber. A rough pour yields a large off-white head that lasts pretty well and leaves a few patches of lacing.
Smell: Hmmm this is certainly nowhere near as hoppy as it should be for 75IBUs and there is a fair amount sweet honey/caramel character. I have a feeling these bottles are not as fresh as the local Brewdog rep claimed! The hoppiness that is present is quite interesting, offering a distinct garlic/onion leaf note as well as some orange, a light floral note and an almost rubbery character.
Taste: Yeap, as I expected the freshness is a major issue here! Sweet honey malt is very prominent, alongside light notes of orange, grapefruit pith and onion. There is a light bitterness in the finish, but nowhere near 75IBUs.
Mouthfeel: The mouthfeel is actually pretty good, offering a medium body with a nice oiliness and a medium level of rather smooth carbonation.
Overall: This is the first IPA I have had with an onion/garlic character and it was actually quite interesting. I think this might have been a solid IPA if it was fresh.
1,227 characters
3.5
/5
rDev
-3.6%
look: 3.5 | smell: 3.5 | taste: 3.5 | feel: 3.5 | overall: 3.5
My first foray into the Brewdog "IPA is Dead" 4-pack of single hopped IPAs, which includes some new/rare varietals. I figured I'd start here based on previous positive experiences with New Zealand hops. Apparently Waimea is so new that it is not described in current published sources (e.g., Heironymus's "For the Love of Hops") and from what I understand is a Pacific Jade offspring known for citrus and pine flavors, a lot like many American flavor hops such as Citra or Simcoe. This brew pours a bright cloudy orange-yellow with some off-white foam that settles to leave a decent lacing on my glass. Aroma is rather unique, redolent with fresh tangy orange and grapefruit, sour gummy candy, and a lot of onions and garlic. Smells super funky and the sulphur compounds help to evoke motor oil and dank wet grain/ergot fungus images. The flavor follows the nose, with a subdued toasty malt backbone serving as a springboard for rancid citrus marmalade, green grass, pine, black pepper, and yet more onion/garlic that provide for a unique and quasi-pleasant taste experience. The finish is quite bitter and evokes strong astringent vegetal flavors like green tea and unripe bananas, perhaps a little mint. High carbonation level and numbs the mouth a bit like many DIPAs. The malts and sulphur notes blend together to make me think blackstrap molasses, albeit fairly subtle. This ain't no porter or stout. There's some sweetness and a lot of bitterness, and the citrus in New Zealand hops isn't quite like what you get here in North America ... Its more rancid and fermented, if that makes sense. Like someone left a grapefruit in a hot car for a while. Clearly this beer is a showcase for a new hop variety and perhaps shouldn't be judged as a complete IPA, but nevertheless, a good beer is a balanced beer and this one is a little rough around the edges.
1,856 characters
3.64
/5
rDev
+0.3%
look: 3 | smell: 4 | taste: 3.5 | feel: 4 | overall: 3.5
Pours amber with a large fading head.
Nose shows sweet clean malt along with piny, resinous hops. Also some biscuity malt and herbal notes.
Flavours start with more sweet malt before spicy, piny and resinous hops roll through. Not all that exciting.
Nice medium-high carbonation.
279 characters
3.59
/5
rDev
-1.1%
look: 3.5 | smell: 3.75 | taste: 3.5 | feel: 3.75 | overall: 3.5
A - fully hazy orange, half finger of head rested at a thin cover
S - tropical citrus, cracker grains, touch of florals and mint
T - very minty with a hint of floral, some grains, its not bad but its definitely strange....
M - light and decently carbonated, a bit of a minerally film on the finish, lightly bitter and dry
O - its definitely drinkable enough, but its just out there enough that its doesn't meet the IPA criteria that i'm looking for in a great brew, but still worth at least a try
496 characters
3.46
/5
rDev
-4.7%
look: 3.75 | smell: 3.25 | taste: 3.75 | feel: 2.5 | overall: 3.5
The colour is gold with a tint of orange (25 EBC), the liquid is clear. The firm compact off-white head is two fingers high. It sinks very slowly leaving some lacing.
The smell is raw and a bit frowsy with distinct bitterness, lots of fresh herbs, meats, motor oil and fruit candy.
The taste is smooth and balanced. Hoppy flavours of exotic fruits, citric fruits (bitter oranges, figs, apricots, pineapples) and a touch of butter. Smooth sweetness. Light body. The aftertaste giot growing bitter flavours, making it almost harsh. Bitter fruits: Grapefruits and green bananas. Some flowers and margarine. The finish is quite short with notes of white bread and butter.
The carbonation is medium strong, the mid-sized bubbles long-lived. The liquid is mid-smmoth and a little sticky.
Balanced, but also quite mild lacking depth and body.
843 characters
3.69
/5
rDev
+1.7%
look: 4.25 | smell: 4 | taste: 3.5 | feel: 3.75 | overall: 3.5
330ml bottle. Another new hop to me - New Zealand in origin, apparently.
This beer pours a hazy dark apricot amber hue, with three fingers of puffy, foamy, and slightly bubbly ecru head, which leaves some decent sheet lightning lace around the glass as things sink away.
It smells of warm orange and grapefruit citrus zest, pine resin, thick caramel/toffee malt, some further tropical fruit hop notes, and a simmering booziness - very DIPA-like. The taste is a more now sort of muddled juicy tropical citrus bitterness, a certain rock candy sweetness, an uptick in the sticky pine needle astringency, a flat herbal vegetal essence, and weak caramelized bready malt.
The carbonation is quite soft and innocuous, the body medium-light in weight, and mostly smooth, with a mild flintiness tugging away there. It finishes on the dry side, the pale malt and now pithy citrus hops playing things out.
I'm not really grooving on these single hop offerings from BrewDog. I do like that they're from new and sometime not yet trendy hops, but the beers themselves seem awkward and unfinished, and this one is certainly no different. More like a test brew, I'm afraid.
1,161 characters

3.72
/5
rDev
+2.5%
look: 3.25 | smell: 3.75 | taste: 3.75 | feel: 3.75 | overall: 3.75
330ml bottle poured into tulip 5/8/13
A murky orange amber with just a few bubbles and a thin film for a head that's gone after a few sips leaving no lace, looks pretty basic
S orange peel, herbal notes, tropical fruits I can't pinpoint, caramel malt, juicy fruit gum, and faint pine, smells OK but lacking intensity
T more citrus peel and a little purple candy, pines stronger then on the nose, stronger flavors then the nose but not as tropical
M medium bodied, just enough bubbles to give it some life, a little gritty with lemon rind lingering
O not bad single hop but lacking just a little something, I like the nose but its faint, the flavors more intense but not as complex
I'll keep my eye out for this hop but I'd like to see it matched up with some other Kiwi hops, worth a try but I doubt I'd buy another mixed 4 pack to get another
852 characters
3.49
/5
rDev
-3.9%
look: 3.5 | smell: 3.25 | taste: 3.5 | feel: 4 | overall: 3.5
Hazy golden orange colour with a small white head. Poor head retention. Some lacing.
Odd aroma. There's grapefruit but then there is a ton of strange onion type notes. No real malt.
Again, there is light malt and a moderate bitterness. The hop flavour itself is citrussy but with a vegetal undertone. Not bad but it doesn't shine.
Medium body with moderate carbonation. Solid.
Not a bad beer but the hop choice is uninspiring. The vegetal, onion notes just don't work.
472 characters

3.68
/5
rDev
+1.4%
look: 3.5 | smell: 3.5 | taste: 3.75 | feel: 3.75 | overall: 3.75
A: Hazy copper pour with a medium tall off-white head, somewhat compact.
S: Bready malt, semi-sweet, bitter hops galore. Modest floral hops; tropical fruits.
T: Again bready malt, together with bitter as well as floral hops. Perhaps, the bitter hops are a bit too strong compared to the floral, but then just a little bit. Some nettles and hay. Tropical fruits.
M: Bitter aftertaste, but also some sweetness - rather long. Body is medium to full while carbonation is rather mild.
O: Rather nice, but I wish that the floral hops was a little stronger - then the bitterness would have been less aggresive.
610 characters
3.75
/5
rDev
+3.3%
look: 4.75 | smell: 3.5 | taste: 3.75 | feel: 4.25 | overall: 3.5
330ml Bottle:
Medium to orange amber colour with a thumb sized, bubbly head that is white and holds pretty well.
Strong bitter notes with pine hops and a lot of citrus initially plus some fresh, tropical fruits. There is some orange too and a hint of grapefruit and floral notes towards the end.
Very bitter with lots of pine and tropical fruit flavours plus various juices including some orange and citrus. The beer is refreshing with a pine hop taste and a strong citric finish.
Smooth for the most part although slightly chewy in places. The beer is well carbonated with a very bitter feel and a strong citrus tang. Juicy with a bitter, wet finish.
The best of this years IPA is Dead series although in truth that's not saying all that much. It's drinkable and semi-decent but not a classic.
798 characters
3.9
/5
rDev
+7.4%
look: 4 | smell: 4.5 | taste: 3.5 | feel: 3.75 | overall: 4
330ml bottle purchased as part of a group order from the brewery.
Pours a hazed orange-golden colour, that almost looks opaque until you hold it to the light: in fact it seems to have relatively good clarity, and no suspension. Head is frothy and full, and pretty meaty, solid off-white crest. Lacing is excellent. Carbonation is a little dead, but that suits me fine.
Intense mandarin character on the nose, citric, but rounded and fleshy. Strong, peely citrus character: quite unique. Under this is almost a hint of noble European varieties, a little dusty, green and vegetative, with a hint of dough and a suggestion of earth. It's incredibly potent and big. Love it.
Taste is a little more subdued. Fine clean citric bite, with a slightly weak but flabby undertone, reminiscent of latex. Hops ride carefully over the top, providing flavour and a slight sting in the tail. It all seems pleasantly, if precariously, balanced, with the hops providing the character, but prevented from going too hard by the light body. Slight dusty, peppery tones towards the back. Finish makes a nod to the mandarin again, with a pithy tangerine bite to end it.
Feel is a little light, but with a pleasant smoothness that again manages to aid the balance.
Overall, this is a cracking IPA, and one which provides something new and exciting. It does waver and quiver a bit, preventing it from being truly great, but there's certainly something immensely interesting in the beer, and the hop it showcases.
1,492 characters
3.6
/5
rDev
-0.8%
look: 3.75 | smell: 3.75 | taste: 3.5 | feel: 3.75 | overall: 3.5
Coming in a slim 330ml brown bottle, not bottle-conditioned; BB 19/03/2014, served mildly chilled in a short-stemmed tulip-shaped sniffer.
Appearance: the force-pour creates a thick and very tight, creamy, light beige frothy head, coming on top of a softly-carbonated, translucent and dark reddish orange body.
Smell: a pronounced sweet citric and mild lychee-ish aroma comes hand in hand with biscuity and lightly caramel malts upfront; given a swirl, random notes of mildly oily hop resins and flowery esters emerge, backed by more maltiness edged by a faint tinge of mixed tropical fruits (a bit like unripe mangoes plus guava, but only just…). If the aim is to showcase how lively Waimea hops can be on top of a rather simplistic malt profile, I'm afraid this bottle in front of me has failed the task, for, the overall balance obviously tilts towards the mixed maltiness while the hop profile comes rather one-dimensional, or, suppressed. Nevertheless, the nose is quietly pleasant.
Taste: the foretaste comes somewhat off-focus, chewy, bitter-sweet yeasty-malty with a sound fruit acidity, quickly ensued by a thick, bitter palate of bitter citrus hops with plenty of rough tannins to boot, without a clear theme of the Waimea hops; the finish, besides being quite chewy bitter, comes a tad mineral-ish even, suggesting to me that the beer is perhaps somewhat green-ish and not matured enough for bottling…?
Mouthfeel & Overall: pretty soft, next to flat-ish, on the palate due to mild carbonation, while the rough bitterness from hops keeps the palate stimulated consistently; this medium-bodied, ill-structured, moderately-flavoured and "confused" IPA strikes me as something like an "unfinished business" in the brew house… I don't know, perhaps spending a bit more time in the conditioning tank could do more justice to the supposedly wonderful and exotic Waimea hops? In this bottle, I really fail to pick up enough of them…
1,958 characters
4.31
/5
rDev
+18.7%
look: 4.25 | smell: 4.5 | taste: 4.25 | feel: 4.25 | overall: 4.25
Slightly hazy Sunkist orange with clingy carpet of taupe foam.
Giant nose of overripe clementine, resin, flower nectar and just fresh green hops.
Dough and sugar cookie with soft tangerine, lemon sorbet, and lime curd hops.
Green Starburst finish and long gentle bitterness.
Medium, creamy, clingy.
What a soft touch! Some of the gentlest hop citrus ever in a silky body, but the hit is there even if you don't know it. 60% Myrcene level is no joke. Man, I wanna brew with this hop now.
495 characters
Waimea (IPA Is Dead) from BrewDog
3.63
out of
5
based on
46
ratings.