El Dorado (IPA Is Dead)

BrewDog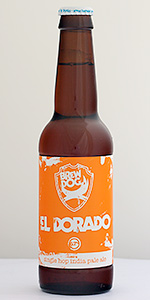 Write a Review
Beer Geek Stats:
| Print Shelf Talker
Style:

ABV:

6.7%

Score:

84

Avg:

3.61

| pDev:

9.97%

Reviews:

14

Ratings:

From:

Avail:

Retired (no longer brewed)

Wants

Gots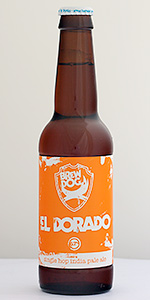 Notes:
Reviews: 14 | Ratings: 44

3.55
/5
rDev
-1.7%
330ml bottle 6,7% Abv.
Served chilled in a wine glass
Reviewed from notes
Appearance: El Dorado pours somewhat darker than the other beers in the series - appearing a lightly clouded dark orange in the glass. A rough pour yields a massive white head that lasts well and leaves great looking lacing. 4.25
Smell: As with the other beers in the series, this one definitely suffers from age and is not really showcasing much of this new hop at this point. Notes include: A grainy character, orange juice, orange peel, grassiness and an interesting lime note. 3.5
Taste: OLD!!! Of the 75 IBUs that are claimed, I would be surprised if there are 15 left as only a very mild bitterness is present. The flavour is grainy with some caramel/honey maltiness and a little citrus and grassy hop. 3.25
Mouthfeel: Medium bodied, with a nice oiliness and a medium level of smooth carbonation. 4.5
Overall: I think this may have been a nice beer at one point, but the ridiculous year long shelf life has reduced it from an IPA to a standard pale ale. 3.25
1,044 characters
3.6
/5
rDev
-0.3%
look: 3.5 | smell: 3.5 | taste: 3.75 | feel: 3.5 | overall: 3.5
The final foray into my Brew Dog "IPA is Dead" pack and perhaps the one single-hop ale of the four that truly makes sense from a flavor hop showcase perspective, El Dorado pours the standard Brew Dog dark yellow/light orange amber IPA hue with around four fingers of light tan head. Aroma moderately assertive and dominated by fresh citrus juice, citrus peel, nondescript fermented notes, wet hay ... a bit yeasty and funky. Probably the least overtly malty of the four IPA is Dead offerings, this one really does let the hops shine through. There is a toasty, light caramel background but really the predominant flavor here is fresh citrus: Blood and navel oranges, lime, lemon. The hops taste like aromatic fresh juice but there is also a bitter leafy component, a little black tea, and a hard candy flavor like Lifesavers. Minimal pine but I do get a menthol undercurrent like mint or some other fresh herb. Moderately chewy body and finishes smooth with citrus pith, not crazy bitter or astringent. I can only assume that this is an accurate, uncomplicated representation of what this American flavor hop tastes like, so mission accomplished. As a representative of the IPA style, the brew projects a great hoppiness but I'd lift up the malts a bit more. The Maris Otter complexity deserves better.
1,302 characters
3.71
/5
rDev
+2.8%
look: 3 | smell: 4.5 | taste: 3.5 | feel: 3 | overall: 3.75
Pours amber with a fading head.
Nose shows some peach and floral notes along with sweet clean malt and a little confectionary. Also some biscuity malt. Similar biscuity malt as a flavour with a fair bit of sweetness. Some pear and green tea. Seems to finish a little flat.
Needs more carbonation.
296 characters
3.45
/5
rDev
-4.4%
look: 3.5 | smell: 3.5 | taste: 3.5 | feel: 3 | overall: 3.5
A - fully hazy orange, head quickly fizzled to a thin cover
S - big bubble gum note , leafs and grains
T - buttery with big mineral notes, leafy, grape bubble gum
M - relatively lite, not much on the way of dry or bitter ipa characteristics
O - it's diffetent but nothing special
279 characters
2.95
/5
rDev
-18.3%
look: 2.5 | smell: 2.5 | taste: 3.25 | feel: 3 | overall: 3
The colour is gold (24 EBC), the liquid is clear. The finger-thick head is compact and beige, it sinks quickly ti a fine lid leaving no lacing.
The smell is mild with some chalk and minerals. Cheap orange juice, fresh meat and some cookies. I expect more of an IPA at 6.7 %.
The quite mild taste is sour-tart with lots of oranges, tangerines and lime. It is somewhat fat with notes of corn oil and butter. Lemon-like fruity sour flavours. Light to medium body. The aftertaste is elegant and balanced with some alcohol, lemon cookies, and some fresh herbs. The short finish is all lemon juice.
The carbonation is medium strong, the mid-sized bubbles short-lived. The liquid is mid-smooth.
Not bad, but way too mild for an American IPA.
741 characters

3.66
/5
rDev
+1.4%
look: 3.5 | smell: 3.75 | taste: 3.75 | feel: 3.5 | overall: 3.5
330ml bottle poured into tulip 5/8/13
A slight haze in a amber body, just a few bubbles and a short live thin film for a head that leaves some polka dot lace
S ju jubes, gummy worms, and herbal notes and tropical citrus but its hard to place and a little chewing gum
T lime rind, faint pine and a little wet wood on top of what I smell, not overly intense and tastes like gummy candy more then anything
M medium bodied, slightly syrupy, just enough bubbles to give it some life and a little heat seems out of place in a 7%er, herbal rind on the finish
O its alright but there's room for improvement, its a little odd but perhaps just unfamiliar
drinkable but doesn't quite get there in every area, strange gummy candy notes just keep popping up
753 characters
3.72
/5
rDev
+3%
look: 4 | smell: 3.75 | taste: 3.75 | feel: 3.75 | overall: 3.5
330ml bottle. Part 2 of the IPA is Dead mixed 4-pack, another new hop varietal for me to know and love, it seems.
This beer pours a clear, medium bronzed amber hue, with two fingers of bubbly, loosely foamy off-white head, which leaves a rather impressive array of thickly webbed lace around the glass as it duly recedes.
It smells of musty tropical fruit - pineapple, mostly - a bit of citrus cream, perfumed florals, bready caramel malt, and a hint of wet pine. The taste is more subdued juicy orange, pineapple, and grapefruit cocktail fruitiness, moderately caramelized bready malt, and another wee touch of inert pine resin.
The carbonation is quite understated, and almost dead to the world, the body medium-light in weight, and more or less smooth, with a small twinge from this particular aspirational hop. It finishes well off-dry, the muted tropical fruitiness and tame bready malt in a certain consensual, middling pact.
An approachable enough single-hopped IPA, but the bitterness quotient just doesn't live up to general expectations. There's nothing off about this, and kudos to the low-key ABV, yet I would be kind of remiss in recommending this as anything near a paragon of the style.
1,205 characters
4.23
/5
rDev
+17.2%
look: 4.25 | smell: 4.25 | taste: 4.25 | feel: 4 | overall: 4.25
lace, nice orange colour. Smell of tropical fruits, tangerine and coriander, spices and also some caramel and malts. It Feels really pleasant in the tongue, not too heavy, not too soft, the same goes for carbonation. Taste of tropicalfruits, tangerine, some caramel... as time goes by, both smell and taste develope and leaves you asking for more. Not the strong falvour of some other IPAS, more balanced between hops and malts, it's a rich and full of flavour beer, maybe too mild palate, but great.
500 characters

3.75
/5
rDev
+3.9%
look: 3.5 | smell: 3.5 | taste: 4 | feel: 3.5 | overall: 3.75
A: Hazy copper pour with a medium tall off-white head, somewhat compact.
S: Bready malt, semi-sweet, not that bitter. Fruity and flowery; tropical fruitsalad; pineapple, grapefruit and apricots.
T: Again bready malt, together with bitter hops and floral hops. Tropical fruit, that follows the smell.
M: Aftertaste is really bitter and rather long. Body is medium to full while carbonation is rather mild.
O: The balance between the malt and the floral as well as the bitter hops is quite nice.
500 characters
3.54
/5
rDev
-1.9%
look: 4.5 | smell: 3.5 | taste: 3.5 | feel: 3.75 | overall: 3.25
330ml Bottle:
Hazy amber & a thumb sized, bubbly white head with some lacing on the sides and not bad retention with the head eventually settling as a thick, bubbly lacing.
Tropical fruits, some pine and orange notes with some fresh, fruity hops and some citrus. I could detect some sweeter, more malty hops coming through towards the end and it is rounded off with a slightly bitter aroma.
Tropical fruits and some pine hops. There is the odd caramel malt coming through as well. I could taste some orange and some fresh juices.
Smooth & with medium bitterness, soft carbonation and a pine like feel. Not a bad mouthfeel to this one and a nice, bittersweet finish.
Definitely the best of the three IPA is Dead beers thus far, this one actually tastes not bad with some nice tropical fruits and a pleasant, refreshing taste. Still not a classic beer but at least this one sets up the last in the series quite well.
918 characters
3.78
/5
rDev
+4.7%
look: 4 | smell: 4 | taste: 3.5 | feel: 3.75 | overall: 4
330ml bottle purchased as part of the series direct from the brewery.
Pours a pleasant, clear burnished golden colour, solid in the body with fine carbonation. Head forms a lovely sturdy, relatively frothy crest of off-white that settles down to a fine top that leaves tiny specky lacing. Looks good.
On opening, the nose reveled a gorgeous, intense mandarin character, chewy but sweet and citric. As it settles, a lot of that sort of volatile aroma is lost, leaving a decent pithy hop character that is nonetheless more generic. Pleasant edging of green herbal aromas and a sweet malty backbone round it out. It's still very pleasant.
Taste is more subdued, but pleasant enough. The bitterness is actually remarkably restrained, leaving the bulk of the central and back palate to the malt. Given that the malt character is intentionally quite neutral, it tastes a little bland. The hops do present themselves on the front, however, with a pithy citric character and a touch of mandarin peel. On the back the hops flitter out, leaving just a slight medicinal bite and a reminiscence of the mandarin. Feel is smooth but light, missing the little kick that some residual hop acid would bring.
Overall, though, this is a nice beer, well-done, that does give some pleasant insight into El Dorado as a hop variety. I was hopeful that it would be the standout of the series, but so far, that honour remains with Waimea.
1,417 characters
3.81
/5
rDev
+5.5%
look: 3.75 | smell: 4 | taste: 3.75 | feel: 3.75 | overall: 3.75
Coming in a slim 330ml brown bottle, not bottle-conditioned; BB 27/03/2014, served mildly chilled in a short-stemmed goblet.
Appearance: mildly translucent dark reddish amber hue, coming with very mild carbonation and a thin off-white foamy head retreating to a rim.
Smell: a bit like the cross b/w Citra and Goldings, the aroma is mainly tropical fruity, featuring semi-sweet citrus, passion fruits, salted hawthorn fruits, apricot, and sweet summer berries, while lively resinous flowery notes and overripe peary esters come forward following a good swirl; a decent mixture of maltiness provides a solid yet still lightly-aromatic platform all in all. Very pleasantly hoppy and rich, with a decent flow of resins to boot.
Taste: the smooth foretaste of aromatic, mixed hoppiness, not sharp or so pronounced resinous as one'd expect from an American IPA, is ensued by ripe pear-ish & sweet citric fruitiness and light-bodied un-sweet caramel and pale malts, underlined by a mildly acidic and softly tannic bitter finish. The bitterness feels much more rounded and less lingering than the rest of the beers in this 2013 series, maybe due to a good balance reached on the flavour profile overall?
Mouthfeel & Overall: medium-bodied, softly-carbonated, this is a moderately flavoured and pleasantly aromatic hoppy ale to savour, although the hop performance does pale before "Goldings" and "Dana" in the series, in that the more assertive edges of American hops seem to be very much rounded off on the palate (at least).
1,529 characters
3.78
/5
rDev
+4.7%
look: 3.75 | smell: 3.75 | taste: 3.75 | feel: 4 | overall: 3.75
Polished bronze with white clingy froth.
Kumquat, orange and papaya on the nose, along with a bit of fusel, maybe.
Pear and caramel cake up front with dank, musty orange hops.
Pear juice finish and resiny linger.
Lt-med, oily, chewy.
A bit too stewy, not seeing all the bright fruit that this hop is supposed to be about. There is a clean thing that cuts through at the end that I could call watermelon Jolly Ranchers (the note I've heard referenced.) But I don't like Jolly Ranchers.
Not getting the fuss, though it might warrant a 2nd look.
545 characters
4.21
/5
rDev
+16.6%
look: 3.75 | smell: 4.5 | taste: 4.25 | feel: 4 | overall: 4
Mostly clear golden orange colour with a small, short lasted off-white head.
Amazing aroma of candied mango and orange. Very bright and juicy. A little earthiness in the background. Very good.
Juicy and complex hop character. Almost Sunkist like. Lots of orange and a bit of tropical fruit. Good light malt backbone. Moderately-low bitterness. Very nice.
Medium body with moderate carbonation. Solid.
A fresh, juicy IPA. Tons of citrus in an almost candy like form. Really cool hop.
494 characters
El Dorado (IPA Is Dead) from BrewDog
Beer rating:
84
out of
100
with
44
ratings