Amber
| Heater Allen Brewing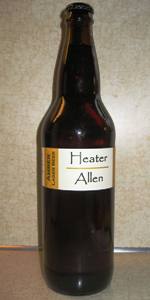 BEER INFO
Brewed by:
Heater Allen Brewing
Oregon
,
United States
heaterallen.com
Style:
Vienna Lager
Alcohol by volume (ABV):
5.00%
Availability:
Fall
Notes / Commercial Description:
No notes at this time.
Added by msubulldog25 on 12-07-2007
This beer is retired; no longer brewed.
Ratings: 2 | Reviews: 2
3.85
/5
rDev 0%
look: 3.5 | smell: 3.5 | taste: 4 | feel: 4 | overall: 4
Thanks a ton to msubulldog25, my Oregon-beer hookup...and this is about is rare as Oregon beer gets at the moment. Heater-Allen has balls and a good bit of vision specializing in lagers in the ale-centric craft-beer community.
That said, this almost looks like an IPA or double IPA...it's got the orange-y shade that usually means lotsa hops. The head is an inch thick and minimizes to a thin layer in less than a minute. There's a little haze too, which makes this a curious and unique-looking Vienna Lager.
Aroma is typical of the style with no offensive characteristics...but I find it difficult to describe. Lightly sugary and vegetal is about all I can muster. Very toasty, too, with a tiny trace of cinnamon.
Flavor is quite full, much sweeter than others in the style that I've tried. Dusty cane sugar, big caramel presence, honey, bread. Has a candy-like vibe, and a gooey, sticky feel. Considering the style, all that is a surprise, but a pleasant one. Really enjoyable, though not as crisp as expected.
This is my second Heater-Allen beer, and they obviously know how to brew enticing high-quality lagers. Who woulda thunk? Best of luck to them...hopefully they'll turn the heads of people who tend to look down on lagers.
1,237 characters
3.98
/5
rDev 0%
look: 4 | smell: 3.5 | taste: 4 | feel: 4 | overall: 4.5
The generically-named "Amber Lager Beer" doesn't give away much as to the style. This could be easily mistaken, name-wise, as an American Amber (Ale) by the uninformed NW beer patron, not careful enough to read the word "Lager".
From Heater-Allen's website: "Probably more of this style is brewed in Mexico than in Austria. Vienna-style beers are similar to Oktoberfest and/or Marzen beers in color and flavor, but they're less alcoholic and not quite as smooth because they're not aged for six months. Smooth, clean, and malty with little hop influence. Amber is terrific with pizza and sausage. (1.015 BG, 5.0%, 31 IBU, 8 SRM)"
Poured from a 22 oz. bottle to a pint glass.
A: Honestly, I don't know how this style should appear per any standard. What I see is a toasty acorn orange/amber, foggy but with no notable particles. It's filtered yet there's still an infinitesimally fine haze in the core, more clarity at the edges. Crowned with about 1/2 finger of quick-to-fade creamy white head. Head remnants are smoky wisps, stretching like points of a star from the center to a thin rim-hugging ring.
S: Very subtle aroma of toasted nuts, wheat bread crust, and a dash of spiciness (ground nutmeg?).
T: Toasted grains and deftly added hops give this a terrific balance - wheat and subtle spice with a grassy hopping. Finishes a little sweet, raw honey-like. A favorite snack of mine used to an open-faced peanut butter and honey sandwich on whole wheat and - wow- is this ever reminiscent!
M: Not quite clean (a latent grainy stickiness), but definitely crisp. Not much carbonation gives this a pleasing smoothness. Body is light-medium. Enough hops for balance, final flavor has some sweetness but a deeper dry bitterness holds on much longer. Sticky malt left on the lips.
D: A strong effort by this brewer. I'll bet this will pair well with a meal, but it's very good and satisfying to drink on its own. At just 5%, it's easy to finish 22 oz. You'll have a tough time finding this one outside of the brewery in McMinnville, but stop in and grab some if you're in the area. Or contact Rick - he delivers!
2,116 characters
Amber from Heater Allen Brewing
3.91
out of
5
based on
2
ratings.