Taedonggang Beer

Taedonggang Beer Brewery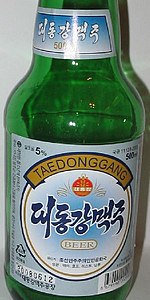 Rate It
Beer Geek Stats
| Print Shelf Talker
Style:

ABV:

5%

Score:

Avg:

2.47

| pDev:

33.2%

Reviews:

8

Ratings:

From:

Avail:

Year-round

Wants

Gots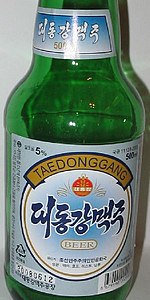 Notes:

jakdracula from Pennsylvania
2.91
/5
rDev
+17.8%
look: 4 | smell: 3 | taste: 3 | feel: 2 | overall: 2.75
I'd like to add some pics as the label has changed.
That said, it wasn't that bad, I've had far worse.
I will say the North Korean servers were hot.
Aug 05, 2018

SmashPants from Australia
2.6
/5
rDev
+5.3%
look: 2.75 | smell: 3.25 | taste: 2.5 | feel: 2 | overall: 2.25
Format: a very light green 500mL bottle with a cheap-looking Asian label. Other than 'Taedonggang' and 'Beer' it's all in Korean, so not much more meaningful than "This is wet - drink it". Not that that is a bad thing.
Appearance: a typical adjunct lager look - clear amber-gold in body with not all that much carbonation visible. A thin white head drops to a thin film. Okay.
Aroma: light grains, rice adjunct fug and a touch of something sweet - honey?
Taste: the flavours really drop away here - it is more of a metallic and adjunct fug. Not particularly nice, if not completely offensive.
Aftertaste: flavours drop away quickly, just a bit of that metallic taste still there.
Mouth feel: this is where this beer really suffers - it is light and watery in feel with a lower carbonation that really doesn't either come through as a refreshing lager, or bring any of those flavours through from the nose. A bit of a pity.
Overall: just another cheap macro adjunct lager - not particularly brilliant mainly due to the lack of carbonation. Some more carbonation could bring those flavours through better, since the aroma is quite reasonable.
Jan 16, 2015
Airman
1.12
/5
rDev
-54.7%
look: 3 | smell: 1 | taste: 1 | feel: 1 | overall: 1
I've spent a lot of time in Korea. I've been stationed there three times, a total of four years. I've tried every South Korean Beer and when the opportunity to try North Korean Beer came up, I jumped at the chance.
It was 2005, and I and three friends were in Itaewon, South Korea, at a bar called The Gecko. There was a poster with a North Korean Soldier staring through binoculars that said "Drink the Beer of the North Men" I bought a bottle for the three of us to split even though the bartender tried to warn us it was bad and that nobody liked it.
On the outside, it appeared normal. However, one sip of this bottle of hideous creation was enough to make one vomit. It tasted like somebody had brewed it in a rusty radiator. It smelled like pool water. It was the worst beer I have ever had. Kept the bottle cap as a souvenir and left the rest untouched. This beer is all the more proof that Communism doesn't work.
Oct 20, 2012

RuckusDu from Colorado
2.8
/5
rDev
+13.4%
look: 3 | smell: 3 | taste: 2.5 | feel: 4 | overall: 2.5
Picked this up for a BA friend (who was kind of enough to share with me) from South Korea. Couldn't pass up the opportunity to get a beer from such a closed off country. No English on this bottle, but same characters as in the picture. 11128:2006 is what I expect to be the batch/year.
A - One dinger stark white head. Clear golden body.
S - Typical lager scent. Wheat with a slight bitterness.
T - Well balanced but not much there. Tastes like lager with sweetness and bitterness well mixed.
M - Great mouthfeel as this is well carbonated and smooth. Very crisp and clean.
O - Nothing special if you did a blind tasting, but how can you complain about drinking a communist beer? Would have never suspected I could get anything from North Korea and happy I was able to get this beer. Thanks for sharing spdyfire83.
Nov 01, 2011
glid02 from Georgia
3.08
/5
rDev
+24.7%
look: 3.5 | smell: 3 | taste: 3 | feel: 3.5 | overall: 3
Bottle shared by Jeremy - thanks!
Pours a clear straw color with a half-finger white head. The head recedes into a wispy layer on top leaving light lacing.
Smells of sweet and light malts with hints of corn and very mild amounts of earthy hops. Also present are slight amounts of skunk aromas.
Tastes similar to how it smells. Light pilsner malt flavors with slight amounts of adjunct sweetness kick things off. Midway through the sip very mild amounts of earthy hop flavors make an appearance, carrying through to a mildly bitter ending.
Mouthfeel is OK. It's got a decent thickness with moderate carbonation.
Drinkability is also OK. I finished my glass without a problem however I'm not sure about another.
Overall I was surprised by this beer but that's not to say it was necessarily good. A decent beer from DPRK.
Aug 16, 2010
jhtipton from Spain
2.63
/5
rDev
+6.5%
look: 3 | smell: 2.5 | taste: 2.5 | feel: 2.5 | overall: 3
Nothing like a little RED lager from our communist friends to the North. No, I did not buy this at the Navy Club in Seoul, Tall Paul wouldn't sell this stuff there. Will I disappear in the night if I don't speak kindly of our dear leader's beer? We lovingly refer to this brew as Kim Jung Ale but there is no ale to it. Comes in a 500 ml bottle which I purchased at the gift shop when visiting the DMZ. Boasts a hearty 5% ABV and actually tastes better than most of the South Korean lagers. Must be the fresh nuclear reactor water that sets this one apart. Decent flavor for Korean lager, pale in color, semi-skunky smell, but I don't get the suspension bridge on the cap.
Jan 22, 2010
checkfeet from Korea (South)
3.35
/5
rDev
+35.6%
look: 3 | smell: 3 | taste: 3 | feel: 3.5 | overall: 4.5
Poured out of a 500ml bottle, purchased at the Dora Observatory, which looks across the DMZ into North Korea.
A- Thin white head with tiny drops of lacing. Tiny bubbles, not bursting with intensity, but infrequent. Golden straw.
N- Honey and lemons, wheat chaff.
T- Sweet lemons and challah bread, but not too sweet. Just enough malt to give it some substance, low on hops, as one would expect from an Asian lager.
Very drinkable. Low carbonation for the style, but more flavorful than many of its American or South Korean (blech) counterparts.
Jan 23, 2009
Beaver13 from Colorado
1.18
/5
rDev
-52.2%
look: 2 | smell: 1.5 | taste: 1 | feel: 1 | overall: 1
My Dad picked this up for me in South Korea. 500 ml green bottle, with a date (?) of 20061110. Pours a clear golden-orange (darker than expected) with a thin white head that quickly goes to a very small collar.
The aroma is sweet corn malts with a little metallic skunkiness.
The flavor is sweet corn malts with very little bitterness at the end. The mouthfeel is medium and very watery (yet oily and chalky) with low carbonation.
Overall, a typical pale lager - a little on the sweet side with a weird texture.
Dec 08, 2007
Taedonggang Beer from Taedonggang Beer Brewery
Beer rating:
67
out of
100
with
14
ratings