Spiny Norman IPA
| Right Brain Brewery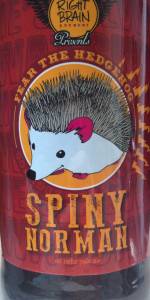 BEER INFO
Brewed by:
Right Brain Brewery
Michigan
,
United States
rightbrainbrewery.com
Style:
American IPA
Alcohol by volume (ABV):
6.20%
Availability:
Rotating
Notes / Commercial Description:
All Simcoe with a dash of flaked rice.
Added by hosehead83 on 06-21-2010
Reviews: 12 | Ratings: 57

3.51
/5
rDev
-9.8%
look: 4 | smell: 3.5 | taste: 3.5 | feel: 3.25 | overall: 3.5
Fresh bottle brought back from the source by Adam. Thanks mang!
The beer is orange with two fingers of head. Aromas of hops and pine amidst bread, cracker, malt scents. Decent flavor. The hops don't pop out as much as I'd like for the style. Mild bready sweetness with some grapefruit and misc. citrus. Medium bodied with light bitterness. This was alright.
358 characters

3.53
/5
rDev
-9.3%
look: 4 | smell: 4 | taste: 3.25 | feel: 3.75 | overall: 3.25
I picked up a bottle of Right Brain's Spiny Norman IPA around a week ago for $5.99 at The lager Mill. I've never had this beer before, I wanted to try it but it wasn't on tap when I visited the Brewery so I'm happy that Right Brain decided to bottle it, so lets see how it goes. Bottled on October 15th 2013.. Poured from a brown 22oz bottle into an imperial pint glass.
A- The label isn't that great looking, it's pretty bland looking for Right Brain and it really isn't too eye catching unless your super in to Hedgehogs. It poured a hazy golden color that took on more of a orange hue when held to the light with two and half fingers worth of white head that died down to a thin ring that stayed till the end and left a good amount of sticky lacing behind. This is a pretty good looking IPA, I have no complaints.
S- The aroma starts off with a slightly higher amount of medium sweetness followed by a good amount of hops up front that impart a citrus and tropical fruit hop aroma with some nice grapefruit aromas sticking out the most and there's a light piney and floral hop aspect in the background. Up next comes the malts which impart a nice grainy and cracker like aroma with some doughy yeast showing up in the background. This beer has a nice aroma, it's got some good balance to it and the hop profile was nice.
T- The taste seems to somewhat similar to the aroma but not as balanced and it starts off with a medium amount of sweetness followed by some malt that impart a grainy, bready and cracker like flavor with some doughy yeast and pale malt flavors showing up in the background. Up next comes the hops which impart some citrus hop flavors along with some light piney and floral hop with the citrus hops sticking out the most and imparting a nice grapefruit flavor. On the finish there's a lower amount of high bitterness with a cracker malt aftertaste. This was a decent tasting IPA, but i wish the hops were more like they were in the aroma and showed up a little more.
M- A little smooth, crisp, clean, medium bodied with a higher amount of medium carbonation. The mouthfeel was pretty nice and it worked well with this beer.
Overall I thought this was a decent beer and a pretty standard example of the style, it had me thinking that this was going to be a really good IPA, but once I got to the taste I was let down a little since all the aspects in the aroma that impressed me really didn't come through in the taste. This beer had ok drinkability, it was a little smooth, clean, crisp, not tilling and that taste barely did an ok job at holding my attention, I think one bomber is more than enough for me and I would probably be happy with just a 12oz bottle of it. What I liked the most about this beer was the appearance and aroma, they were both pretty good and the highlights of this beer. What I liked the least about this beer was the balance in the taste, the malt flavors were dominating and the bitterness was high but there wasn't enough hop flavors to bring the balance this beer needed. I wouldn't buy this beer again, it's not a bad beer, but for $6 a bomber it's just too expensive for what it is and it's very easy to find a better and more affordable IPA. I don't think I would really recommend this beer as a standout IPA. All in all I was a little let down with this beer, I was expecting good things, but when I got to the taste I was underwhelmed. Better luck next time guys this IPA turned out be pretty mediocre.
3,465 characters
4.19
/5
rDev
+7.7%
look: 4.25 | smell: 4 | taste: 4.25 | feel: 4.25 | overall: 4.25
We crack a bottle, pouring a brew of rich golden amber into our Great Lakes pints. It holds a one and a half finger tall head of chunky sandpaper colored bubbles, showing great retention. Vertical stones of lacing jut to the lip of the glass like crooked teeth. Haze is present, as is a fine suspended sediment. Carbonation appears to be active. The nose gives floral and herbal hop freshness, cucumber and watermelon rind fruitiness, pale and lightly wheaty malts, freshly cut grassy resins, mineral and metallics, pungent bready yeastiness, honey, citric and grapefruity flesh and juiciness, white grape juice, toasted marshmallow, and soft, watery adjuncty grain with warmth. Our first impression is that this is a great IPA, with nice toasty to the malts, freshness to the hops, and solid, even drinkability. As we sip, the taste opens with cotton candy sweetness, souring grapefruity and lemony hop bite, floral hop infusions, white sugar, candied apple sweetness, cheap pale maltiness, granite, nutty oiliness, paper towel, and ground black pepper. The swallow comes to a peak with coconut husk, pomegranate seeds, chicory plant, light campfire smokiness, seashore sulfurs, weedy vegetals, citric and grapefruity hoppiness, and buttercream icing sweetness. The end washes through with nicely warming booziness, black pepper, phenolic chemical bite, aloe, lactic creaminess, soapy hops, lemon fizz, tangerine and cherry flesh, foamy plastics, pale malty breadiness, and pumpernickel mineral heaviness. The aftertaste breathes of buttery biscuits, metallic and bready pale malts, sourdough yeastiness, lavender oil, dried oregano and basil, gritty mineral, vegetal skins, grapefruity hop rind, lemon tea, clothy tannic twang, booze, dried herbs, dirty mineral water, and sappy pine needles. The body is smoothly medium, and the carbonation is medium. Each sip gives excellent slurp, smack, cream, froth, foam, pop, and glug. Finishing pop is wet, crisp, and pleasant. The mouth is left creamy and coated, with eventual dripping wetness into astringent chalkiness and light citric puck. The abv is appropriate, and the beer drinks very nicely.
Overall, the best thing about this beer is how it has a hedgehog on the cover, as that animal happens to be a big inside joke between the two of us. In all seriousness though, we very much enjoyed both the taste and the feel of each sip. The flavoring was fresh, clean, and cheap, but in a good way. It sloshed back easily, while delivering fully on the flavor, and in cleanliness of sip, with softness, creaminess, and foamy froth to the mustache. This was accomplished much in the same way that Founders All Day IPA found success, with ease of drinkability, lightness, and easily explosive flavoring. This brewery has continued to impress us more and more with each release, and Spiny Norman is no exception. He drinks just as well as his competitors, and we feel happy to have made his acquaintance. Hopefully we will see him again soon.
2,988 characters
4.2
/5
rDev
+8%
look: 4 | smell: 4 | taste: 4.5 | feel: 4 | overall: 4
22 ounce bottle into pint glass, bottled on 9/18/2013. Pours moderately hazy and cloudy orange amber color with a 2 finger dense cream colored head with great retention, that reduces to a nice cap that lingers. Spotty soapy lacing clings on the glass, with a fair amount of streaming carbonation. Aromas of orange zest, lemon zest, tangerine, mango, peach, pineapple, floral, grass, light pine, light caramel, bread, and floral earthiness. Damn nice aromas with good complexity of hop notes with a moderate malt balance; and good strength. Taste of big orange zest, tangerine, lemon zest, mango, pineapple, peach, floral, grass, light pine, light caramel, bread, and floral earthiness. Fair amount of pine bitterness on the finish; with lingering notes of citrus, citrus zest, mango, pineapple, peach, floral, grass, light pine, light caramel, and bread on the finish for a good bit. Fantastic complexity of citrus/tropical hop flavors; with a moderate malt balance and zero cloying flavors after the finish. Medium carbonation and body; with a lightly creamy, crisp, and moderately sticky mouthfeel that is nice. Alcohol is very well hidden with minimal warming present after the finish. Overall this is a highly excellent single hop IPA! All around awesome complexity of hop flavors with a moderate malt balance; and very smooth and crisp to drink. A highly enjoyable offering.
1,379 characters
4.42
/5
rDev
+13.6%
look: 4.5 | smell: 4.25 | taste: 4.5 | feel: 4.25 | overall: 4.5
Picked up a bomber from the local brew store, almost bought 2.. will go back for more indeed.
A: Pours a light copper orange with at least 2 finger frothy and bubbly head.
Leave slight lace throughout.
S: Smell is not super impressive for a IPA I guess you could say. But to me it smells very clean, balanced and tropical. I like.
T: Taste is lemon, citrus, grapefruit, orange, and creamy. Very VERY smooth. Tropical notes come and go.. Finishes very quick..which is great.. Very session-able.
M: Light and crisp/bubbly on the pallet. Very smooth.
O: Went to RBB in TC Last summer on a whim, not expecting to be impressed. Boy was I wrong.. This place is EPIC. The beers on draft are wonderful and unique. The ingredients are fresh! The carbonation etc. of the beers is perfect. Definitely surprised the crap out of us, as we usually stick to shorts and 7 monks ONLY on our annual brew vacation. This was one of the beers that really stuck out to me, not exxpecting it to. Its not your typical American IPA. Its very refreshing, crisp and packs a medium punch. Which is refreshing with all the total Hop Bombs weve been slammed with lately.
1,146 characters
3.34
/5
rDev
-14.1%
look: 3 | smell: 4 | taste: 3 | feel: 3 | overall: 3.5
Served up a slightly copper tinged medium amber in color. It has a very small white head that melts away almost instantly. Lacing is surprisingly poor for a dry hopped IPA.
Aroma is quite citrusy with plenty of zesty grapefruit and a hint of pine. It also has a tiny bit of tropical character and some sweet non-descript malt.
The flavor is very hoppy and very bitter. Harsh white grapefruit and dank pine rule the roost. The malt backbone is very cereal grain heavy with an interesting profile. I also detect just a touch of toasted malt.
The mouthfeel is on the lightest edge of medium and sort of watery. The light body does not play well with the amount of bitterness and I find that the finish is a bit fatiguing.
This beer smells very nice and has a nice hop flavor, but it seems a bit out of whack. Much better than the dreadful IPA my friend ordered, but overall a pretty forgettable beer.
901 characters
3.82
/5
rDev
-1.8%
look: 3.5 | smell: 4 | taste: 4 | feel: 3.5 | overall: 3.5
Reviewed on 6/27/2010. On tap at the brewpub. Aroma of rice malt. Flavor of tons of rice and cereal malt with some bitter hops in the background. The grains dominate though -- it's like drinking a bowl of Cheerios. Very drinkable and an interesting beer.
254 characters
4.2
/5
rDev
+8%
look: 4 | smell: 4 | taste: 4 | feel: 4 | overall: 5
On tap at RBB.
A; Clear golden with a nice frothy one inch head and ample lace.
S; piney, citrus hops
T; sprucy and juicy pine and citrus hops with a touch of honey in the finish to smooth it out.
M; light to medium
D; quaffable and smooth as all hell. an easy drinker for sure.
280 characters
3.5
/5
rDev
-10%
look: 3.5 | smell: 3.5 | taste: 3.5 | feel: 3.5 | overall: 3.5
A- A slightly hazy light orange liquid with a thin white head that leaves nice lacing.
S- Orange rind, marijuana, and the slightest hint of skunk... not in a bad way. Interesting.
T- Caramel, pine, citrus, and a hint of bubble gum.
M- A light amount of carbonation. There is a lasting bitterness.
D- Not really a memorable IPA. A bit on the sweet side.
357 characters
3.97
/5
rDev
+2.1%
look: 3.5 | smell: 4 | taste: 4 | feel: 4 | overall: 4
Sampled on 7-23-10
Pours a slightly hazy golden orange color, with almost no head at all (may be a result of a 2 week old growler). Lacing is one thin white ring.
Smell is pungent, sweat-sock hops, fruity and bready at the same time. A little different, and quite enjoyable.
Taste is exactly like the smell, thick hop sweetness backed up by a nice, subtle malt. Not overly complex, but purposeful and well made.
Mouthfeel is good, the thickness suits the hoppy flavors.
Drinkability is very good, the hop bitterness keeps the malt sweetness in check.
Overall, an enjoyable IPA, if not the strongest or most complex.
621 characters

4.2
/5
rDev
+8%
look: 4 | smell: 4 | taste: 4 | feel: 4 | overall: 5
A- Nice color amber with orange hues, less than one finger head dissipates very fast. Lacing all the way down.
S- Some citrus and pine from the Simco hops.
T- Not sure if this beer is super well balanced, lightly hopped or if it lost its hop bite but it is very well balanced. Great beer to introduce a Miller Light drinking to the great taste of IPAs.
M: Nice mouthfeel, not overly bitter on the tongue.
D: Super drinkable. ABV under six makes this a nice session beer.
This is by far the best beginner IPA I have ever had. Not too bitter, well balanced low ABV(for an IPA) Outstanding beer to get you Adjunct friends drinking the good stuff.
644 characters
4.03
/5
rDev
+3.6%
look: 4.5 | smell: 4 | taste: 4 | feel: 4 | overall: 4
Served on June 17, 2010 at Right Brain Brewery, Traverse City, Michigan
Served on-tap into a standard pint glass
Amber/orange-gold, with a nice two-fingers of white foam
Aroma-Fruity, spicy, with piney notes
Taste-Tangy, snappy-piney hop bite, fruity, spicy. Says on menu that it is made with malted barley, oats, rice and citrus.
Overall, a decidedly different take on an American IPA. Tangy,snappy, and refreshing.
421 characters
Spiny Norman IPA from Right Brain Brewery
3.89
out of
5
based on
57
ratings.