Dismiss Notice
Herrnbräu Premium Pils
| Herrnbräu Bürgerliches Brauhaus Ingolstadt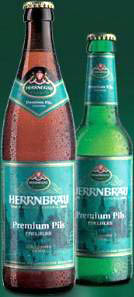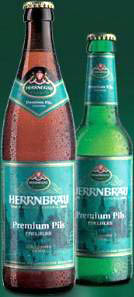 BEER INFO
Brewed by:
Herrnbräu Bürgerliches Brauhaus Ingolstadt
Germany
herrnbraeu.de
Style:
German Pilsener
Alcohol by volume (ABV):
5.00%
Availability:
Year-round
Notes / Commercial Description:
No notes at this time.
Added by brewdlyhooked13 on 08-22-2002
HISTOGRAM
Ratings: 6 | Reviews: 6
4.47
/5
rDev
+7.2%
look: 4.25 | smell: 4 | taste: 4.75 | feel: 4.5 | overall: 4.5
A gift brought over from a good friend who lives in Ingolstadt, stamped 31/05/14, so it was good and fresh. A bright, golden/yellow pilsner, exceptionally clear, with a 1/2 in head. Very nice floral scents, grain, yeast, coriander, some mustiness, lemon. This has to be one of the best-tasting pilsners I've had. It is crisp, citrusy, some grass, a touch of sugar, very refreshing. And then it's dry: minerals, grain, dry hops, and super fresh, as if it came right out of a barrel (or tap). The head's gone about 2/3s of the way through. Very fine carbonation, which gives the mouth-feel a bit of a spicy/peppery feeling. Sadly, only one bottle was brought over, and I've been nursing it for an hour-and-a-half because it is so delicious.
738 characters
4.08
/5
rDev
-2.2%
look: 4 | smell: 3.5 | taste: 4 | feel: 4 | overall: 5
I knew that my go-to-right after-work liqour store has had this beer sitting in its backroom for awhile. How long, I'm not sure. But this beer is a tit-bit-old. But the flavors, smells, and looks of this brew wouldn't make you question this beers freshness.
Appearance- Pours a pale sunshine with good trails of lacing making there way to the top of a good one finger head with a filmy foam retention throughout 75% of the beer.
Smell- Good crystal malts mixed with some earthy hop notes give this brew a very natural smell.
Taste- Hints of grass and mountain siunshine interwined with natures goodness and strict German brewing traditions. Dry malts mix well with natural, yet muted hopping.
Mouthfeel- A little dry, but definetly refreshing. I cracked open this bad boy after I finished turning compost and unclogging gutters.
844 characters
3.97
/5
rDev
-4.8%
look: 3.5 | smell: 4 | taste: 4 | feel: 4 | overall: 4
16.9 oz brown bottle with 1950s style label.
The beer pours a bright gold with a large initial head. Just bits of lacing. Extremely active and small carbonation bubbles.
The beer has a nice aroma of spicy and floral hops. There is also a wheat cracker smell.
The taste is solid with peppery hops leading some nice grain/malt flavors. A bit of fresh grass and a hint of plums round out this balanced beer.
Crisp mouth with a fairly thick (for a pils) feel. Drinkablity is very good. This would be a great beer to pair with pizza, fried chicken, burgers, etc. I don't think it would handle five alarm chili or my hot wings, but it is nice.
This is a drinkable pils with more oomph than many of its brethren. Well worth the $1.59 from Sam's Wine & Liquors in Downers Grove, IL,
794 characters
4.54
/5
rDev
+8.9%
look: 4 | smell: 5 | taste: 4.5 | feel: 4 | overall: 4.5
This brew is a hazy darker orange color, with a little white head that didnt stick around for long. Exquisite scent. Nice grainy smell with some almost citrus-like aspects as well, with some hop aspects as well. Nice refreshing grain malt, some tasty hop influence carrying the torch. I wish i was hanging out outside with this refreshing brew.
344 characters
4.13
/5
rDev
-1%
look: 4.5 | smell: 4 | taste: 4 | feel: 4 | overall: 4.5
Presentation: 500 ml brown bottle with a classic green, gold, and white label featuring the brewery coat of arms.
This is a very drinkable and tasty German pils that leans more to the Bohemian style with a subdued hop profile compared to many German pils.
The beer pours pale gold with a generous head that reduces down to a everpresent collar and laces well. Looks very nice in the appropriate pils glass.
The aroma is noble hop dominated, most likely saaz, but not as forceful as some pils. There is a clean background aroma of malt as well.
The taste is very mellow with a clean and dry but chewy malty taste up front and a slight hop bitterness at the finish. Very well balanced, but perhaps not as bitter as most German pils.
This is a very pleasant and enjoyable beer, that is well worth sampling if you can find it in your area.
853 characters
3.86
/5
rDev
-7.4%
look: 4 | smell: 3 | taste: 4 | feel: 4 | overall: 4.5
A very nice German Pilsener, particularly since, if I am reading the date stamp correctly, my sample has been on the shelf a while. Very clean and crisp. Some grape suggestion in the flavor, somewhat like some Canadian lagers. Quite refreshing and easy to drink.
265 characters
Herrnbräu Premium Pils from Herrnbräu Bürgerliches Brauhaus Ingolstadt
Beer rating:
4.17
out of
5
with
6
ratings