Herrnbräu Hefe-Weißbier Hell
| Herrnbräu Bürgerliches Brauhaus Ingolstadt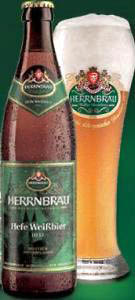 BEER INFO
Brewed by:
Herrnbräu Bürgerliches Brauhaus Ingolstadt
Germany
herrnbraeu.de
Style:
Hefeweizen
Alcohol by volume (ABV):
5.40%
Availability:
Year-round
Notes / Commercial Description:
No notes at this time.
Added by brewdlyhooked13 on 09-06-2002
Ratings: 14 | Reviews: 13
Reviews by TheDM:
2.8
/5
rDev
-24.3%
look: 3 | smell: 3 | taste: 2 | feel: 4 | overall: 3.5
This brew poured a hazy slightly cloudy softly carbonated light yellow orange brown body with a medium head of white bubbles that was mostly lasting. It had a mild wheat yeast aroma and a very mellow flavor of bread and yeast. It is extremely smooth with only a tingling initial mouthfeel that smoothens in its finish. I found myself drinking more and more of it to try and peg down the flavor. It is very subtle.
413 characters
More User Reviews:

3.92
/5
rDev
+5.9%
look: 3.5 | smell: 4 | taste: 4 | feel: 3.5 | overall: 4
I had this a beer a little while back and didnt review it so here it goes,pours a hazy yellow/orange with a huge blooming,rocky head.The aroma is somewhat clovey and citruisy,the taste has a sweeter edge to it with some spiciness it seemed a little thin in the mouthfeel department,but drinkable.
296 characters
3.92
/5
rDev
+5.9%
look: 3 | smell: 3.5 | taste: 4 | feel: 4 | overall: 4.5
Sample from Blue Max.
Pours a cloudy yellow color with a very active, bubbly and foamy head. Smell is of corn, just a tinge of alcohol to be noticed. Taste is initially of corn and wheat malt, with a touch of honey, this seems to be balanced well. This one finishes a bit thin, but a quite drinkable and decent brew. Some brown sediment left in the bottom of the bottle.
374 characters

3.65
/5
rDev
-1.4%
look: 3.5 | smell: 3.5 | taste: 3.5 | feel: 4 | overall: 4
When poured into my glass, this brew had a large white creamy head with small bubbles. The lacing was fair and the carbonation was lively. The body was slightly cloudy and goldish in hue. The aroma was spicy and clove. The taste was smooth, thin and watery with no bitterness or aftertaste noted. This was a good refreshing German Wheat brew in my opinion but I think it needed a little bit more punch to it to be considered a very good German Wheat brew.
455 characters
3.38
/5
rDev
-8.6%
look: 4 | smell: 3.5 | taste: 3 | feel: 3 | overall: 4
Pours a nice cloudy golden yellow color with a nice creamy white head that lasts for quite some time. Extremely bubblegumish smell with some light banana smelss and very vague spiciness. Very thin flavors of light banana and spiciness but just not enough of either and a bit to thin for the nice yeasty mouthfeel I expect from a Hefe. This one definitely is a little thin but still remains rather drinkable. Not a bad hefe but I won't drink it again with all the other great ones out there.
494 characters

3.8
/5
rDev
+2.7%
look: 4 | smell: 4 | taste: 3.5 | feel: 4 | overall: 4
Hazy dark golden hue, w/ lively bubbling supporting a classic, tremendously thick, creamy very well retained white head. In aroma, a sharp lemon citrus tartness is perceived upfront, then quickly becomes more grainy tart from the wheat. Not as pungently estery and yeasty as other hefes, but mellow banana notes and mustiness round the aroma out. Refined, yet enjoyable aromawise. A crisp, honeyish sweetness hits the palate at first, then yields to tart citrusy fruitiness that mirrors the aroma. Pleasantly grainy wheat flavors emerge mid palate and are accompanied by subdued notes of clove phenol and nuttiness from the suspended yeast. Moderate in body, and w/ a semi viscous mouthfeel from both the wheat proteins and yeast in suspension. Finishes lightly tart, w/ a hint of must. Although not a particularly complex hefeweizen, the overall balance of citric tartness and residual sweetness lends good drinkability to this brew. Quite enjoyable and satiating. Be sure to swirl the bottle and get the yeast sediment into this brew-- the yeast adds both flavor and body that is lacking from the malt profile.
1,121 characters
3.65
/5
rDev
-1.4%
look: 4 | smell: 4 | taste: 3.5 | feel: 3.5 | overall: 3.5
Sampled in a 1 pint .9 oz bottle.
Poured a cloudy, honey color with a 1/2 inch head with very good head retention and decent to fair lacing.
Aromas of orange cream, orange zest, coriander, wheat, and a sweetness that hinted at honey emanated from this brew.
This brew was full of a creamy orange citrus flavor with a sweetness that again hinted at honey. Held medium carbonation with above average mouth feel.
A good hefe but a departure from the norm.
464 characters
4.1
/5
rDev
+10.8%
look: 4.5 | smell: 4.5 | taste: 4 | feel: 3.5 | overall: 4
500 ml bottle, bought at KaDeWe, Berlin, as Herrnbräu Hefe Weißbier Hell. Hazy pale golden colour, enormous lasting white head. LOVELY cloves aroma, notes of citrus and banana too. Flavour has distinct cloves notes, moderate lemony notes too. Moderate body but decent for a hefe, refreshing. An excellent beer for a hot day.
326 characters
3.4
/5
rDev
-8.1%
look: 3.5 | smell: 3.5 | taste: 3.5 | feel: 3.5 | overall: 3
On tap at Waldgasthof Wildbad in Burgbernheim, Germany, June 3, 2005.
Over a hazy orange boday, a large rocky white head, that faded farily quickly, but left good lacing.
Aroma of hay and grass with a little pine resin. Only a hint of the clove or pepper I anticipated.
Taste of green apple, and a bit of banana, with a light sour finish.
Not what I was expecting -- pretty decent, but nothing to write home about.
426 characters
3.81
/5
rDev
+3%
look: 3.75 | smell: 4 | taste: 3.75 | feel: 3.75 | overall: 3.75
Good German Weiss beer. Good hint of banana in the taste. Not too heavy and good throughout the entire glass from cold to warming at the end. Always love Weiss beers when I'm in Germany
185 characters
4.07
/5
rDev
+10%
look: 4 | smell: 4.5 | taste: 4 | feel: 3.5 | overall: 4
I thoroughly enjoyed a few bottles of this stuff while soaking up the sun at the Biergarten at Unter den Linden in Rothenburg. It has a yellowish/golden color, is naturally cloudy mit der yeasties, and has a white, slow-to-leave head. The head is frothy, and sticks well in the glass. This Bier has a huge nose of clove and banana...pure delight. It's right there for you... Hell Yeah!! Body is just under medium, and it has a semi-creamy, bubbly/foamy mouthfeel. Banana, clove and yeast are nicely mingled together, and it has a wheaty, dry and crisp, clean finish. Quite pleasant! Zum Wohl!!!
overall: 4.05
appearance: 4 | smell: 4.5 | taste: 4 | mouthfeel: 3.5 | drinkability: 4
626
688 characters
4.12
/5
rDev
+11.4%
look: 4 | smell: 4.5 | taste: 4 | feel: 4 | overall: 4
I had a 0.5L bottle of this (followed by the weisse dunkel) with dinner in a Chinese restaurant in Munich. Odd, I wanted Bavarian food every night in Munich but a German associate wanted Chinese...
The appearance was great, hazy pale orange with a thick froth, I had to carefully pour several times to get all the beer in the glass. The aroma is all you need from a weisse beer, banana and cloves, so good. The taste was the same, with a nice creamy coating quality (and a buttery after-taste which I noticed in many weisse beers in Bavaria, don't remember that in the weisse beers at home). Excellent hefeweizen, this should be distributed in the States (at least near me).
677 characters

3.75
/5
rDev
+1.4%
look: 4 | smell: 4 | taste: 3.5 | feel: 3.5 | overall: 4
Big, full, long-lasting bone-white head, fine and yellow color. All the right inviting aromas waft from the glass, powerfully aromatic: lemon, vanilla, honey, spice, flowers, straw. On the tongue, and down the throat, it's quick, clean, smooth and refreshing. Small hops, medium body. Not an outstanding hefeweizen, but it does the trick. I could go through a tons of these in June or July.
390 characters
Herrnbräu Hefe-Weißbier Hell from Herrnbräu Bürgerliches Brauhaus Ingolstadt
3.7
out of
5
based on
14
ratings.