Station Porter
| Wickwar Brewing Company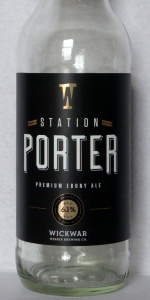 BEER INFO
Brewed by:
Wickwar Brewing Company
England
,
United Kingdom
wickwarbrewing.co.uk
Style:
English Porter
Alcohol by volume (ABV):
6.10%
Availability:
Year-round
Notes / Commercial Description:
No notes at this time.
Added by brewdlyhooked13 on 05-05-2004
Ratings: 12 | Reviews: 10

3.31
/5
rDev
-4.9%
look: 3 | smell: 3.25 | taste: 3.5 | feel: 3 | overall: 3.25
A 500ml clear glass bottle with a BB of Jan 2018. Purchased recently from B&M. A porter influenced by a ghostly tale of Brunel.
A: Poured into a pint mug. A very deep ruby hue that appears almost black in the glass. Forms a smallish head of frothy light-brown foam that lasts for a moment or two before reducing and dissipating.
S: Aroma of dark malt with hints of roasted grain, molasses, subtle brown sugar, mild chocolate, ale yeast and faint leafy hops. Decent but a tad superficial.
T: Tastes of roasted malt with notes of burnt grain, molasses, faint brown sugar, ale yeast and subtle leafy hops. A moderate bitterness upon swallowing.
M: Mouthfeel is smooth, tingly and dry, with spritzy carbonation and a fairly watery body for the style and strength. Aftertaste of bitter roasted malt and ale yeast.
O: Pretty good but not outstanding. Average looks, while the aroma and flavour are a satisfying blend of dark malt, molasses and yeast notes. Somewhat subpar body. Pleasing enough at the price though no need to seek it out.
1,037 characters

2.37
/5
rDev
-31.9%
look: 3.75 | smell: 1.75 | taste: 2.75 | feel: 1.25 | overall: 2.5
Bottled and now sadly clear glass bottles
Pours a jet black body with big foaming tobacco stained head that stays
There's the hint of the aroma of a nice smoky porter behind the skunking
Flavour is treacle and gear
Thin
222 characters
3.1
/5
rDev
-10.9%
look: 5 | smell: 5 | taste: 2 | feel: 3 | overall: 2.5

3.69
/5
rDev
+6%
look: 4 | smell: 3.75 | taste: 3.75 | feel: 3 | overall: 3.75
Pours a half finger of head on a black body.
The aroma is coffee, toast and roasted malt.
The taste is bitter black coffee and licorice.
The texture is soft.
Nice.
163 characters
3.77
/5
rDev
+8.3%
look: 4 | smell: 3.75 | taste: 3.75 | feel: 3.75 | overall: 3.75
Refreshing, if a somewhat light porter.
It has all the characteristics of a standard British porter and the 6.1% ABV is hardly noticeable.
A very nice pint.
157 characters

3.47
/5
rDev
-0.3%
look: 3 | smell: 3.5 | taste: 3.5 | feel: 3.5 | overall: 3.5
Almost black in color, with mahogany edges. One finger of light beige colored foam.
Pleasant smell, chocolate, toasted malt, intense but quite delicate, with some green hop notes.
Again in the taste, chocolate, full and smooth, with a delicate and round roast.
Not a masterpiece, but quite drinkable.
Average body. Roasted aftertaste, with again hop and toasted.
362 characters
2.86
/5
rDev
-17.8%
look: 3 | smell: 2 | taste: 3 | feel: 4 | overall: 3
Got this at De Bierkoning in Amsterdam
From a bottle into a pint glass
APPEARANCE: Pours a small tan head that quickly fades into a thin lace. Color is very dark brown, opaque, and shows little to no carbonation. Minimal film stays around the glass and no lace to speak of.
SMELL: A mild nose of roasted barely malt initially. Accompanying that is an odd scent in the background. I can only describe it as a faint smell of dry dog food. A little lack luster.
TASTE: The taste is slightly better. Roasted and smoky barley malt with a slight sweet tinge from the malt. Aftertaste is bitter sweet, mild, and lingers nicely. Nothing to write home about, but tastes fine.
PALATE: This is the best part of the beer. Medium body with low end carbonation. Goes down smooth with a nice little bite at the back of the throat on the finish. Nice touch. Finishes relatively dry.
OVERALL: Drinkable, but not really memorable or even enjoyable. The odd nose shot down what would have been a decent average beer. Unlike their stout beer, which was quite a treat, I can't understand why this porter is prize winning. Somewhat dissapointing.
1,134 characters
3.37
/5
rDev
-3.2%
look: 2.5 | smell: 3 | taste: 3.5 | feel: 4 | overall: 3.5
From the CAMRA Beer Club "Refreshing Spring Ales 2008" shipment...
Appearance: dark brown, slight haze, a few bubbles but not really any head
Aroma: nice brown maltiness with hints of mineral, licorice, and chocolate
Flavor: medium sweetness with a little roast bitterness to balance it out; hints of burnt caramel, unsweetened Baker's chocolate, red wine, and prunes; finishes semisweet with a long finish and a slightly rooty bitterness
Mouthfeel: medium body, low carbonation, smooth texture
Other comments: Possibly a dud bottle, but this had very low carbonation. Decent porter, otherwise.
599 characters
3.82
/5
rDev
+9.8%
look: 3.5 | smell: 4 | taste: 4 | feel: 3.5 | overall: 3.5
Bottle-conditioned, 500ml brown bottle packaging, BBE FEB 07. Served cool in a goblet.
A: pours a dark mahogany hue, with sparse and loose bubbly beer head; low carbonated body. Slightly too static-looking for a bottle-conditioned beer at this strength...
S: light-bodied dark chocolatey note upfront, buttressed by aromatic fruitiness and a touch of perfume even?!... light nuttiness, sweetish roasted malts, and a hint of leather sustain firmly in the background. Overall, surprisingly light but very enjoyable.
T: extremely fruity (plums and dried-dates) upfront, gradually followed by a light roastiness of malts, a mildly dryish, spicy and licorice touch, and more chewy chocolates at the back. Fruity finish with a touch of black cherries. Very delicious but somehow unlike a full-flavoured porter that I'd anticipate...
M&D: besides very mild flavour, the mouthfeel is also feather light, making this 6.1%abv. porter extremely quaffable. But I expected heavier malt entry and a fuller-body for this style of beer. Not bad though.
1,042 characters
4
/5
rDev
+14.9%
look: 4 | smell: 4 | taste: 4 | feel: 4 | overall: 4
Cask conditioned (hand pump) at Ye Olde Dolphin Inne, Derby, at their Heavyweight Beer Festival February 2005 (but this one is possibly one of their regular beers). Dark ruby colour, low head. Fruity, chocolate sweet aroma and flavour, moderate roastiness. Very nice.
267 characters
3.96
/5
rDev
+13.8%
look: 4.5 | smell: 3.5 | taste: 4 | feel: 3.5 | overall: 4.5
Pours a very dak caramel to ruby colour with a creamy tan head.
Aroma is of roasted hops and dried fruits, particularly sultanas.
Taste is of spices, roasted hops, chocolate, dark fruits, and is accompained by a warming aftertaste.
The mouthfeel is slightly heavy but still smooth, and it goes down well.
313 characters
Station Porter from Wickwar Brewing Company
3.48
out of
5
based on
12
ratings.