Peja Pilsner
| Birra Peja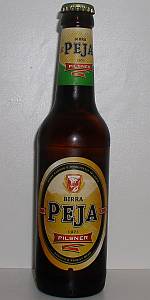 BEER INFO
Brewed by:
Birra Peja
Serbia
|
website
Style:
German Pilsener
Alcohol by volume (ABV):
4.20%
Availability:
Year-round
Notes / Commercial Description:
No notes at this time.
Added by Globetrotter on 02-27-2008
Reviews: 9 | Ratings: 23
1.95
/5
rDev
-29.3%
look: 3 | smell: 1.75 | taste: 2 | feel: 2 | overall: 1.75
Pours out with a completely clear golden color. There is a generous white head which settles down relatively quick.
The aroma is very mild, just some weak malts and grains.
The taste is expected. Sweet beginning followed by a hoppy body wnding with slight bitterness. It's light, easy to drinks. Maybe slightly watery, but that was expected. Decent.
★
350 characters

2.88
/5
rDev
+4.3%
look: 3 | smell: 2.5 | taste: 3 | feel: 3 | overall: 3
Got it in Greece.
A-Two fingers white foam,lasting few minutes. Usual pale light orange color. Decent appearance.
S-Not so much in the nose,some sweet malt and a bit metallic aroma because of can.
T/M- Drinkable,real pilsner,bitter aftertaste,carbonation is too high,sweet taste from malt.
O-This was one of the best lager beers in ex-Yugoslavia. Still is good.
★
363 characters

2.53
/5
rDev
-8.3%
look: 3 | smell: 2.5 | taste: 2.5 | feel: 2.5 | overall: 2.5
500ml can served in a pint glass.
A: Looks like a Lager beer. Pale yellow clear color. Forms a big aired bubbled white head. Medium retention, some lacings formed. So far, so good
S: Sweet grains, "cornish", not bad on skunky hops. A bit metallic
T: Weird beer. Upfront is mainly sweet grains. Followed by corn and cardboard. In overall a dry beer with a stingy hoppy end. Bit metallic too
M: Light body. Medium carbonation. Bitter hoppy aftertaste
O: Low drinkability. Poor
★
479 characters
2.18
/5
rDev
-21%
look: 3 | smell: 2.5 | taste: 2 | feel: 2 | overall: 2
imported to supply the large Kosovari community in Switzerland (that's at least what I would expect, as there would not be any apparent other reason) ... actually this is an acceptable lager, quite bitter (albeight not in the pleasant Pilsner or Jever way) and dry ... certainly not perfect but not lacking charms
★
313 characters
3.15
/5
rDev
+14.1%
look: 3 | smell: 3 | taste: 3 | feel: 3.5 | overall: 3.5
Picked up a bottle at Euromart in Queens for $2. Poured a clear gold body with a short white head. This tastes and feels like a pretty typical pale Euro lager. The flavor has a mix of plain bready malt and lemony apple fruit character with enough bitterness to balance things out. Nothing special here, but I did learn that the Kosovars make respectable beer.
★
359 characters

2.87
/5
rDev
+4%
look: 3 | smell: 3.5 | taste: 2.5 | feel: 2.5 | overall: 3
This is an ok pale lager, more flavourful than many, with some definite hop character, but with slightly off, vegetably taste that I do't really like much.
Light, cloudy orange-straw colour, it has a medium, white head soon shrinking to a thin, foamy top and ring, leaving a little lace.
The aroma is basic, clean pale lager aroma of grain, fermented apple, hint of plant/veg, and, actually most strongly of all, raw, unpasteurised, unfiltered apple juice - the kind one gets right at the apple farms around here (good in apple juice, but in beer I am not so sure).
The taste is similar, a light, husky, vegetably grain with fermented raw apple juice, some fermented grain, and wet grass. It has light sweetness underneath a slightly, but clearly, dominant wet-grass bitterness that lingers and sticks. A bit rough and thin, with lingering aftertaste, but has some flavour and at least is on the hoppy side.
★
910 characters
3.1
/5
rDev
+12.3%
look: 3 | smell: 3 | taste: 3 | feel: 3 | overall: 3.5
Pours a perfectly clear yellow. Too clear. And too yellow, IMO. Thin white head. Nose is sweet and grain tones and that's about it. Flavor is a bitter earthy kind of thing with a typical aftertaste that you would expect from a mass produced beer such as this. Feel has a fairly full carbonation to it. Overall this is one of "those" beers. As in, well, I can check off Serbia on my list of countries I have had beers from.
★
422 characters
2.52
/5
rDev
-8.7%
look: 2.5 | smell: 3 | taste: 2 | feel: 2.5 | overall: 3
Bought it because it seemed interesting to try a beer from Kosovo.
Smell is malty with hints of lemon, but it is quite weak. The taste is tangy bittery, with notable metallic sourness at the end. There is almost no aftertaste, just some unpleasant bitterness.
I did not like it, the taste was clearly below average. Dry and not very refreshing.
★
347 characters
3.43
/5
rDev
+24.3%
look: 3.5 | smell: 3 | taste: 3.5 | feel: 3 | overall: 4
Hand-carried from Pristina to Vienna (thanks, Bob), the 33cl brown bottle sports a fairly long neck and a parchment and green label featuring a shield above the name depicting a bridge over a mountain stream. "Kosova's Finest Beer" is printed (in English) around the lower edge of the label. Ingredients conform to the purity law. Best before 4/19/08, I opened it in anticipation of Kosovo's declaration of independence on 2/13/08.
Pours a pretty standard clear gold under a one finger white head that fades quite slowly, leaving a few lace strings. Strong malt nose with just a hint of corn syrup - not at all unpleasant. The mouth is quite light and very prickly. The taste starts with a touch of sweetness and a hint of malt. All of this is quickly overrun by a decent bitter hops sensation, very dry and on the edge of espresso-like. There is also an ever so slight metallic tinge to it, but this is also not unpleasant. The bitter develops a few coniferous aspects after the swallow, leaving a good dry bite in the aftertaste. I am very pleasantly surprised by this one - solid and quite drinkable.
★
1,106 characters
Peja Pilsner from Birra Peja
-
out of
100
based on
9
ratings.