Wicked Elf Porter
| The Little Brewing Company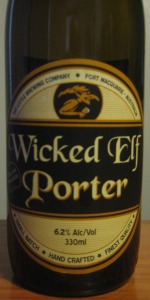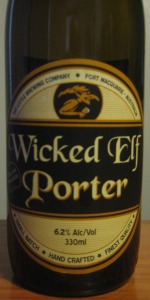 BEER INFO
Brewed by:
The Little Brewing Company
Australia
thelittlebrewingcompany.com.au
Style:
English Porter
Alcohol by volume (ABV):
6.20%
Availability:
Limited (brewed once)
Notes / Commercial Description:
This 'cellar release' porter is Robust in style. Craft brewed using the finest Australian, German and British malted barley, and classic English hops. Rich, smooth and full bodied. Bottle conditioned.
Added by lacqueredmouse on 08-05-2012
This beer is retired; no longer brewed.
HISTOGRAM
Ratings: 15 | Reviews: 10
3.1
/5
rDev
-16.2%
look: 3.75 | smell: 3 | taste: 3 | feel: 3.5 | overall: 3
Not sure when it was retired but I bought it Sept 2017 in Dan Murphys. Strong coffee scents and taste but a bit too much of an ethanol overtone in both. The roasted malt and coffee flavours are OK but it doesn't all hold together as a good final product. I wouldn't have it again but since it's supposed to be retired maybe that isn't an issue. I'd much prefer a Sierra Nevada Porter any day.
393 characters

3.84
/5
rDev
+3.8%
look: 4 | smell: 3.75 | taste: 3.75 | feel: 4 | overall: 4


3.35
/5
rDev
-9.5%
look: 4 | smell: 3.25 | taste: 3.25 | feel: 3.25 | overall: 3.5
A - Pours a lovely black colour with good two fingered creamy tanned head that retains and laces well. Impressive to look at
S - Strong roasted coffee malts, cocoa, wooded oak and a hint of vanilla
T - Roasted coffee malts, slightly metallic bitter finish
M - Medium bodied and med to high carbonation
O - Ok without really dominating. Lacks complexity for a good tasting Porter
382 characters

4.31
/5
rDev
+16.5%
look: 4.5 | smell: 3.5 | taste: 4.75 | feel: 4 | overall: 4.5
Bottle: quality 330mL brown bottle, awesome 'old school' label... even the bottle cap is sweet.
Appearance: on the initial pour, an enormous tan head bursts up the side of the glass. A second gentler pour sees a dark, opaque brown-black with a fantastic 2-centimetre , rocky tan head. Slowly drops to a rocky one-finger, leaving sporadic lacing. Eventually dissipates - after 5 minutes or so.
Aroma: quite light on the nose which is annoying. There is however a definite heavy malt, molasses and coffee evident.
Taste: here the weakness on the nose is well made up for - strong cocoa, molasses and roast coffee abound across the palate. Some hints of lemon citrus and star anise round this one out. Lovely!
Aftertaste: gets better on the finish - nice and dry with that roast coffee carrying through. About as good as it gets.
Mouth feel: unusual for a Porter, this one is moderate in body with a higher carbonation. Normally I would consider this of concern with a Stout or a Porter. In this case however, it simply increases the drinkability, which could be dangerous due to the prohibitive price and the masking of the 6.2% ABV.
Overall: being a fan of Porter ales and a massive fan of The Little Brewing Company's Wicked Elf series, I approached this example with a hint of trepidation - if one should never meet one's heroes, then one certainly shouldn't meet two in the same product. As it turns out, my fears were misguided; The Little Brewering Company has again delivered an absolute corker. The Porter manages to have robust chocolate and roast coffee characteristics without being as heavy as some other examples. The earthen flavour rounds the palate off nicely. Well worth the extra cost every now and then.
1,726 characters

3.96
/5
rDev
+7%
look: 4.25 | smell: 3.75 | taste: 4 | feel: 4 | overall: 4
a very good all round porter - suitable for all seasons
aroma: dark malt, spice and slight sugar (more pronounced as it warms up)
Taste: dark malt, spice, lemon, coffee with some slight smoke and sugar
A very well balanced, tasty and sessionable porter that is a touch hoppier than other porters I have had - maybe similar to a blend of an English porter, with some American porter mixed in. It's outstanding and one of the best Australian examples out there.
462 characters
3.32
/5
rDev
-10.3%
look: 3 | smell: 3.5 | taste: 3.5 | feel: 2 | overall: 3.5
Pours pitch black with a tan head.
Nose shows roasted malt with cocoa, molasses, and earthy coffee beans. Somewhat restrained though.
Similar roasted characters as flavours, and again somewhat restrained. Earthy coffee is the main show.
Carbonation is excessively high, obscuring the already restrained flavours.
312 characters

4.08
/5
rDev
+10.3%
look: 4 | smell: 3.5 | taste: 4.5 | feel: 4 | overall: 4
From Leura cellars.
Pours a fabulous two finger tan head over a dark dark body. Coarse bubbles. Good lacing on swirl.
Aromas are of chocolate, some wood-ish cigar box, a hint of smoke. All good for style.
Taste continues after looks and smell.... More choc notes lead a rich palate.. A little smoke, a little nut.
Mouthfeel is more stout than porter, full bodied rather than watery. Deep rich and velvety.
A really well made and very drinkable beer. Hope it becomes a regular in the line-up.
497 characters

3.45
/5
rDev
-6.8%
look: 4 | smell: 4 | taste: 3 | feel: 3.5 | overall: 3.5
Pours a dark-brown colour, clear with nicely thick tan head, nice and foamy. Decent porter look; one might almost say good. Colour and head are good.
Chocolate and dry cocoa on the nose giving plenty of roast. Touch of vanilla too moves it slightly to the sweet side, but decently portery.
Slight roasty palate but a little empty and watered-down. Mostly thinnish darker malts; roast suggests itself more as an afterthought. Porter character is there but not really robust enough for me.
A little bit thin and a slight tingle from carbonation. Not a bad texture for the style but not much of a body to back it up.
OK porter. Pretty standard stuff and nothing exciting though.
679 characters
4.08
/5
rDev
+10.3%
look: 4 | smell: 3.5 | taste: 4.5 | feel: 4 | overall: 4
Bottle from Plonk
Inky black with a creamy tan head. Nice head retention. Pretty.
A little chocolate but quite light on really. Some fruit. An easy going English style.
Fruity and a touch sweet. Nice chocolate note and some black malt. Slightly earthy. Very simple but nice.
Medium body with moderate carbonation. Good.
A solid little beer. The porter style is oft-attempted but rarely done well. This is a well-executed example from a brewery that has improved nicely in recent times.
490 characters

3.95
/5
rDev
+6.8%
look: 4 | smell: 4 | taste: 4 | feel: 3.5 | overall: 4
330ml bottle from the Oak Barrel, into a Brooklyn tulip.
Matt black with no light permeating through. Nice mocha coloured foam on top that lasts well and looks quite good when swirled. Some lacing.
Smells of chocolate and more particularly chocolate brownies. Pleasant, long lasting, consistent. The chocolate that is there is milk chocolate mixed with maltesers.
Taste continues on with the chocolate theme. Milk chocolate and maltesers are the theme and it sticks with it throughout. Consistent and never wavering it has these two flavours and that's about it.
Softness to start with and then building with sweetness into a chocolate bitter and not too bitter finish. Easy to drink. Body is medium, maybe a touch lighter for the size.
If you don't like the maltesers, milk chocolate and chocolate brownie influence, you'll not be a fan. Like them and you are set. Well done beer, my pick of their range. Hopefully this becomes a regular in their range which is crying out for something with a decent amount of flavour that can last a bit of time on the shelves given their wide distribution for the regular range in major chains.
1,138 characters
3.09
/5
rDev
-16.5%
look: 4.5 | smell: 3 | taste: 3 | feel: 2 | overall: 3.5
Had on-tap at GABS in Melbourne.
Pours a deep brown colour, with some opacity to it. Body is quite fluid, it seems. Head is beige, perfect in weight and form. Decent lacing. Overall, it looks very good.
Nose is a bit of a disappointment. Mild roast comes through, but otherwise pretty bland. There's perhaps a hint of smoke to it, but it's really just another character of the roast, which forms just about the only discernible part of the brew.
Light vanilla on the front before a weak darkness comes through in the form of some empty chocolate or cocoa. Finish is quite dry, with some carbonic acidity able to push through above the desolation. Feel is very flat indeed.
Overall, this is not bad, but it is very, very dull. It's a shame, because these guys are capable of better.
793 characters
Wicked Elf Porter from The Little Brewing Company
Beer rating:
3.7
out of
5
with
15
ratings