Wild Ale #4 (Zotte Berten Series)
| Santa Fe Brewing Company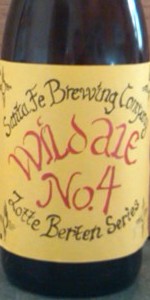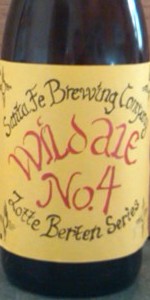 BEER INFO
Brewed by:
Santa Fe Brewing Company
New Mexico
,
United States
santafebrewing.com
Style:
American Wild Ale
Alcohol by volume (ABV):
not listed
Availability:
Limited (brewed once)
Notes / Commercial Description:
Unhopped base wort from our Viszolay Belgian aged in the Chardonnay barrel.
Added by Gueuzedude on 05-19-2010
This beer is retired; no longer brewed.
HISTOGRAM
Ratings: 13 | Reviews: 9



3.7
/5
rDev
-5.9%
look: 4 | smell: 4 | taste: 3.5 | feel: 4 | overall: 3.5
Bottle. Pours a clear copper color with a light white collared head. Acidic and fruity in the nose. Nail polish. Extremely tart and sour right off the bat. Dry. Light mouthfeel with some carbonation. Slightly mouth puckering. The beer leaves a squiky feel on your teeth. Swishing around in your mouth causes this beer to really bring the sour and vinegar flavors out. some fruit notes and also some chardonnay flavors. Overall, fun to drink but pretty one sided.
462 characters

3.35
/5
rDev
-14.8%
look: 3.5 | smell: 3.5 | taste: 3.5 | feel: 3 | overall: 3
Thanks to kbulter1 for sharing this one.
Pours very little beige head. Color is an amber copper.
Aroma: Very tart and astringent. Vinegar with acidity. C antelope musk. Old cobweb flavors. Intense.
Taste: Super mouth puckering. So intense. Acidic and vinegar flavors. Same fruit flavors. A bit of spice with some cherries. WOW.
Mouthfeel: Sour and tart. Insane is a good word for this. Medium bodied with a lower amount of carbonation. Ends fairly clean.
Overall, this was a bit too sour for me. Kind of hard to drink a whole of this. A small glass was sufficient for me.
576 characters

4.12
/5
rDev
+4.8%
look: 4 | smell: 4.5 | taste: 4 | feel: 4 | overall: 4
This beer is insanely sour, thanks to Drew for this one.
A: Hazy dark copper to brown color with a ring of bubbly white head. Some lacing with this but not more than you'd expect in a wild.
S: Wicked lacto citrus and dirty farmhouse hits off the bat. Cherry, raspberry and some sure on top but not enough to tune down the berry seed sour. Some oak is there. Intense, this is a sourheads dream.
T: Really sour period. Lacto to the max with lots of tart berry seeds. Oak, citrus, straw, vinaigrette sour. Enamel stripping! In a word, Wild.
M: Sour, thats all.
O: My manhood picked up and left with this one.
612 characters

4.32
/5
rDev
+9.9%
look: 4 | smell: 4.5 | taste: 4.5 | feel: 4 | overall: 4
Brad shared this at my tasting on May 29, 2010. Thanks!
Review from notes.
This beer appears orange and hazy with a small head and very little lacing. The aroma is intense! It's obvious in the nose that this beer is extremely sour. Very potent scents of brettanomyces, wood, oranges and other citrus comprise the aroma. This beer is really quite tasty, though it's likely your palate must be experienced sour/wild ale genre to appreciate this gem. The feel is incredibly tangy, with a formidable vinegar and/or acetic presence in the finish. Not for the faint-hearted. I definitely recommend it.
596 characters
3.78
/5
rDev
-3.8%
look: 4 | smell: 3.5 | taste: 4 | feel: 4 | overall: 3.5
Thanks Kevin for sharing this rare sour brew!
A- Body is a very dingy amber hue with a minimum dynamic cloudiness. Pours with a 1/2 finger foamy white head which eventually fades to a thin collar and leaves behind minimal lacing in the glass.
S- Lots of-ok a crazy amount of acidic sourness (acedic). A ton of barnyard funk, pungent moldy cheese, vinegar, and a hint of citrus-it stings the nostrils.
T- Flavor is sharp, tart, and acidic upfront-over the top-so much so that normally you wouldn't be able to detect what is in the background. But- the background is almost as potent-lemon, moldy cheesecloth, and a hint of vinegar. The finish is just as intense and consistent with the initial flavors. Lots of lip-puckering tartness and a hint of sharp moldy cheesecloth linger.
M-Medium to high tingly carbonation and a slightly dry body.
D- This is a crazy, over the top, intense sour. I really like it-in small doses-but its a bit TOO intense. Very soour, very funky.
975 characters
4.3
/5
rDev
+9.4%
look: 4 | smell: 4 | taste: 4.5 | feel: 4 | overall: 4.5
Thanks to thirdeye11 and travita for sharing this bottle. This was sampled alongside Wild Ales No. 3 and No. 5.
The beer pours a hazy yellow-orange color with a white head. The aroma is some lemon and orange with minimal tartness. The flavor is much, much more sour. I get a lot of sour citrus fruits and a ton of lactic acid. I can nearly feel the enamel being scraped off my teeth. The beer is very dry. Medium mouthfeel and medium carbonation. This is an awesome sour.
472 characters

3.71
/5
rDev
-5.6%
look: 4 | smell: 3 | taste: 4 | feel: 3.5 | overall: 4
Big thanks to Kevin for sharing this one!
A-pours an orangish amber color, quite dark and hazy. the head is off white and very little of it.
S-lots of vinegar and acetic acid, notes of orange peel and citrus, intense.
T-whoa thats sour and acedic acid filled. tons of acetic acid, citrus, cider, huge sourness and acedic acid, hints of cherry and a sourness in the back the burns the throat.
M-smooth on the palate but the carbonation is quite strong and the sour tartness in the back really attributes to the feel. extremely dry in the finish and quite astringent.
D-this is hugely sour, tons of acedic acid, but some nice fruit and sweetness blended in. the sour takes center stage and really dominate but the sweetness makes a subtle attempt to balance.
761 characters

4.02
/5
rDev
+2.3%
look: 4 | smell: 4.5 | taste: 4 | feel: 4 | overall: 3.5
Shared by Brad at a recent tasting. A sour beer from New Mexico. I'm interested. Very interested. Poured into a snifter.
Beer is orangish and hazy. Head is medium and tiny bubbles but fails to form a coherent thought. Maybe you're a head, maybe not. Carbonation appears low and there is no lacing. Looks OK so far.
Aroma is wow sour. Pretty acetic, nice Brett character in this nose. Woodsy as well.
Beer is quite sour...pushing it a bit. Some citrus notes and flavors but strong acetic acid. I started out really loving on this beer, strong sour, but the more I drank the harder it got. Probably a few ounces would have done it, it gets sharper and seems like more sour as I'm drinking. Its a good under the radar barrel aged (I think) sour / wild ale. Glad I got to try it.
779 characters

4.59
/5
rDev
+16.8%
look: 4 | smell: 5 | taste: 4.5 | feel: 4.5 | overall: 4.5
A steady pour into my large Tripel Karmeliet tulip produces a 1/2 finger thick, nicely tan colored head. The beer is a darker amber color with red hues, when held up to the light it shows a somewhat hazed, rose-tinged, light honey color. Ah yes, nice and tart smelling; the lactic acidity couples with esters to create aromas of grapefruit and Meyer lemon. Directly underneath this is a solid musty, musky note that contributes slightly medicinal notes, musty-dried-sweat-soaked-leather aromatics and a woody mushroom character. When digging around a bit the finish has a light strawberry note to it that is brought out by a touch of acetic acidity. There is a touch of apple cider aromas that have been lightly oxidized. Some light oak notes helps to spice up the aroma as well as contributing some light, fresh cut oak woodiness; once noticed, the oak contributes quite a bit to the nose. This is definitely nice, it is actually quite reminiscent of a Lambic in its aromas, though it has a touch more oak than is found in that style.
Woohee, that is one mouth-puckeringly sour beer. Fantastically tart with ample, ample lactic acidity, but there is a spicy edge to it that hints at a light acetic acidity. Big flavors of sour grapefruit, hints of kiwi (somehow), some light floral pear notes and even some strawberry touches all contribute a nice fruitiness that helps to balance the sharp acidity. Some slight butyric acid notes and signature Brettanomyces funk contributes a light mushroom notes, musty-blanket flavors, some light urea note and even a touch of baby-aspirin like flavors. The oak charater is not nearly as noticeable as it was in the nose, but still contributes a nice backbone to the flavor that is quite nice. The texture of this beer is heavier than a typical Lambic, which is totally expected given the base beer (the Vizoulay Belgian) is stronger; somewhat viscous, with a boost from the tannic structure; this sticks to the palate, but has a quaffability to it that is quite nice as long as you can get past the awesome acidity.
As the beer warms up the acetic acidity becomes more noticeable, though it is still quite secondary to the lactic character. My second pour also sees me noticing the prickly carbonation more, which adds a nice extra dimension to the texture. There is a definite sweetness to this beer, it is very soft, and I don't think there are any residual sugars here as most of this comes from the acetic character and the fruity esters.
I really like what the acetic acidity adds to this beer; there isn't much of it when compared to the lactic acid, but it really works by contributing a perceived sweetness and really boosts a strawberry-like fruitiness (actually it just generally boosts the fruit character in this beer). The aroma is a touch more funky and complex than the flavor, but the taste is nicely integrated and so sour that I can't get enough. This is a really fantastic beer; despite the fact that I was expecting great things coming into this beer, I am still quite impressed. This is actually better than the Wild Ale No. 1, but that may be because raspberries are not my favorite fruit in a beer. This is definitely a "hard" sour; it is really nice if you like that sort of thing though (and I definitely do), but be warned if you don't.
3,304 characters
Wild Ale #4 (Zotte Berten Series) from Santa Fe Brewing Company
Beer rating:
3.93
out of
5
with
13
ratings