Wild Ale #5 (Tesuque Series)
| Santa Fe Brewing Company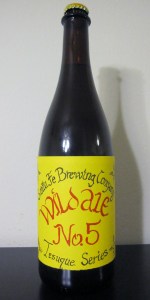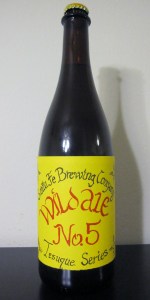 BEER INFO
Brewed by:
Santa Fe Brewing Company
New Mexico
,
United States
santafebrewing.com
Style:
American Wild Ale
Alcohol by volume (ABV):
not listed
Availability:
Limited (brewed once)
Notes / Commercial Description:
Wild ale spontaneously fermented by wild yeast from a local apple orchard.
Added by Mora2000 on 06-23-2010
This beer is retired; no longer brewed.
HISTOGRAM
Ratings: 14 | Reviews: 11


3.68
/5
rDev
+4.8%
look: 4 | smell: 3.5 | taste: 3.5 | feel: 4 | overall: 4
Bottle. Pours a clear copper color with a coastered white. Decent head retention. Some fruit in the nose, sweet, and nail polish acidic. Soft sweet start followed by a sour fruit flavor. Not as sour as the SF Wild #4 but probably more balanced. Light mouthfeel with carbonation. Winelike and dry. Overall, this is pretty tasty and decenly balanced.
348 characters

3.42
/5
rDev
-2.6%
look: 3 | smell: 3.5 | taste: 3.5 | feel: 3 | overall: 3.5
Another santa fe wild complements of kbutler1.
Pours a light white head. Color is a copper amber. Very vibrant.
Aroma: Not as sour as #4, but it still has the similar vinegar and acidic flavors. Some fruit flavors. More oak and spice show in this one. Very sour and tart.
Taste: Caramel malt and dry spice. Very sour and tart again. Vinegar and acidic notes. Some fruits shine through the sourness. Intense.
Mouthfeel: Much like #4. very sour and tart. Medium bodied with a lower amount of carbonation. Ends surprisingly clean.
Overall, much like #4, but better because it wasn't as sour and intense. A little more drinkable.
630 characters

4
/5
rDev
+14%
look: 4 | smell: 4 | taste: 4 | feel: 4 | overall: 4
Sampled April 2011
A solid pour into my Lost Abbey Teku glass produces a three-finger, glass filling, pale amber tinged head. The beer is a full amber color that shows an almost brilliantly clear, red-plum color when held up to the light. The aroma smells like a tart, floral, ripe red apple that has a back note of urea (like that found in a good Gueuze), woody mushroom notes play backdrop along with a touch of cracker like whole grain and a touch of mustiness. Unripened notes of startfruit start to come out after a short while and so does a hint of vegetal like character.
The beer starts out light tart, but then the sourness starts to seep into the palate and by the time my first sip is done my mouth has been gripped by an aggressive, bracing, literally mouth-puckering sourness. Interestingly enough, at this point at least (with the beer being on the cold side), the beer seems to be soured by lactic acid; the characteristic bite of acetic acid doesn't have nearly the hold on this beer that it has in many of the other Wild series of beers. Ok, what else is here besides bombastic sourness; touches of floral apple character are noticeable, as the beer warms perhaps a touch of plastic like phenolics as well as a bright berry like fruitiness that is even more apparent if you lick your lips after a sip. The spritzy carbonation also provides some carbonic bite to this beer (like it needed any more) which matches the light, but somewhat viscous (a lactic slickness perhaps) body that this beer has. The oak was quite overwhelmed by the sourness at first, but as the beer warms up it at first starts to add a tannic astringency to the finish, then there is a soft, oral-nasal woodiness and perhaps a roundness that is not quite buttery oak. This does have a certain piquancy to the finish that suggest at acetic acid, it becomes more noticeable as the beer warms, but it is never huge and aggressive enough to suggest that most of the sourness of this brew is from the lactic acidity.
I am quite happy that the lactic character is what supplies the gripping sourness as lactic acidity is always that much more smooth (even when aggressive like it is here) than acetic acid is. This beer is quite nice, I was a bit scared after the #6, which was just way to acetic, but I am easily enjoying this beer; the acetic character here provides an added dimension beyond the bracing lactic tartness and helps to accentuate the fruitiness of this brew.
2,461 characters

3.63
/5
rDev
+3.4%
look: 4.5 | smell: 4 | taste: 3.5 | feel: 3 | overall: 3.5
Another bottle thanks to Drew, thanks man.
Crimson look with lighter red-gold highlights. Small ring of bubbly white head.
The smell is super sour, almost too much with sour cherry and raspberries. Some buttery oak notes. Not super complex, but good.
The beer is really spritzy with grape and cherry tarts and buttery crusts. Not amazingly appetizing, but super sour and novel in that way. Vinegar to the max, Raspberry seeds are also there and it has a soda like quality in it's carbonation thats not overly appealing to me.
Teeth stripping still in it's sourness and intestine burning. I enjoyed 4 much more.
616 characters

2.39
/5
rDev
-31.9%
look: 3 | smell: 1.5 | taste: 2.5 | feel: 2.5 | overall: 3
Thanks to Alex for breaking this beer out and challenging my stomach's will to live. After this, I'm certainly going to seek out #6 for an even better esophagus-eroding experience. Served in a Savor snifter.
Pours a peach-orange color without any head formation or lacing. I'm guessing something lurking inside this brew killed all of those things. The nose is really, really, really pungent with strong notes of mustard and horseradish. Damn, this is sour. I swear I thought it was going to start making my nose bleed.
The flavor is just a potpourri of different acetic condiments with a lot of strong mustard coming initially and then finishing with a really large amount of vinegar-heavy ketchup. The feel is just ridiculously, over-the-top sour. Not bad in its own right, but it was accompanied by what was more of a hot-sauce presence in the finish. Drinkability was hard, as I really didn't enjoy the nose or flavor of this and the feel made my stomach churn, but I had a really good time drinking this and would do so again.
My favorite quite about this one goes out to Sean for describing this as smelling and tasting like "nuclear armadillo hairs."
1,161 characters
3.61
/5
rDev
+2.8%
look: 4 | smell: 3 | taste: 4 | feel: 4.5 | overall: 3
Thanks to Alex for this...Pour a muddy orange with about a finger of white head...The aroma is really astringent here, it literally burns my nostril hairs if I keep it there long enough. Its buttery, burnt popcorn, rubber, very acidic. Unlike the 6 which I liked as a vinegar bomb this just wasn't right...The taste is quite sour, reminds me of a lighter version of the 6, I can see there is a progression of the sourness. Reminds me of vinegar and catchup, after talking a few drinks I feel like I just a huge basket of fish and chips. I like this type of sourness, would love to find out how they do this.
607 characters

3.66
/5
rDev
+4.3%
look: 3.5 | smell: 2.5 | taste: 4 | feel: 4.5 | overall: 4
Shared this at AgentZero's bachelor party tasting. Served in a Chouffe tulip.
A - What do you know? This one is actually carbonated unlike the #6. Pours with a finger-plus of white foam that settles to a thick collar and partial cap, but no lace. Hazy orange-yellow body, with a few visible bubbles.
S - Slight burnt plastic and rubber character, some burnt popcorn, and a hint of vinous acetic acid. Very strange, but not so good.
T - The taste is quite sour, and it reminds me a fair bit of the #6 but not as punishing. Tart apples, white wine vinegar, sour grapes. As it warms up there's an odd savory note of catsup and malt vinegar.
M - Extremely dry and puckering, with a residual cottonmouth sensation. Medium body, with zesty carbonation. Quite pleasant!
D - Since no one else seemed to want this I finished most of the bottle on my own. Would gladly have again! Other than the bizarre nose this was pretty good.
925 characters
3.23
/5
rDev
-8%
look: 2.5 | smell: 2 | taste: 4 | feel: 4 | overall: 3
Big thanks to Alex for bringing this, I recently had the #6 and mentioned that I'd like to try this one. I was pretty excited to open it.
It pours a little flat, a bright orange color liquid with only a few bubbles on top. The aroma is gonna be hard to describe. It didn't smell right, not quite like any beverage I've had before. At first I thought it must be similar to Veritas 8, but after returning to that bottle I realized that this is off in a different way. Pickle juice, possibly a little rotting vegetable, things like that. Vinegar is dominant in a pickly way.
I had very low hopes after this introduction, but whoa this tastes a lot better than it smells. Bracingly tart, it almost hurt but wasn't full-on painful like #6, with a complex flavor blend partly malignant and partly benign. I like it in a guilty pleasure kind of way, it's not something I'm proud to enjoy. I definitely was in the minority, but as long as I didn't smell it this was a pretty tasty sour.
981 characters

2.91
/5
rDev
-17.1%
look: 2.5 | smell: 1.5 | taste: 3.5 | feel: 4 | overall: 3
Cheers to Alex for sharing this at my Bachelor Weekend tasting.
A - This is a below average looking beer. Looks dead, no bubbles, o head, nothing left on the sides. An orangish colored beer.
S - This is one of the worst beers I've smelled in a while. Smells like the inside of a popcorn bag and some vinegary ketchup. Gross. I'm trying to stay away from the smell, but I guess 3 feet from my head isn't far enough.
T - Taste is much better than the smell. Mouthpuckeringly sour, nice sweet and tartness. There is a little of that popcorn taste in there, but it's not a bad sour, if not maybe a bit too sour.
M - Surprising carbonation fight with a medium bodied beer.
D - Hard to drink cause of sourness and smell, but this isn't a bad beer.
746 characters

3.8
/5
rDev
+8.3%
look: 4 | smell: 4 | taste: 3.5 | feel: 4 | overall: 4
From 08/26/10 notes. Had at a local DC tasting.
a - Pours an amber color with an inch of white head and light carbonation evident.
s - Smells of sour fruit, tart apples, and citrus; smells very good.
t - Tastes of tart apples, oak, sour fruits, citrus, and vinegar.
m - Medium body and moderate carbonation.
d - A very enjoyable sour. Would definitely try again.
367 characters
4.52
/5
rDev
+28.8%
look: 4 | smell: 4.5 | taste: 4.5 | feel: 4 | overall: 5
Thanks to thirdeye11 and travita for sharing this bottle. This was sampled alongside Wild Ales No. 3 and No. 4.
According to the brewer, this beer is spontaneously fermented by wild yeast from a local apple orchard.
The beer pours a yellow color with a white head. The aroma is lemons with some tartness and burnt popcorn notes. The flavor is sour lemons with some nice oak character. I also get some sour apples notes. This beer is very sour, though not quite as acidic as the Wild Ale. 4 from Santa Fe. Still I think this one was a little bit better since I got more flavors in addition to the sourness. Medium mouthfeel and medium carbonation.
652 characters
Wild Ale #5 (Tesuque Series) from Santa Fe Brewing Company
Beer rating:
3.51
out of
5
with
14
ratings