Dismiss Notice
Dismiss Notice
Phil Brown Ale
| Marshall Wharf Brewing Company / Three Tides Restaurant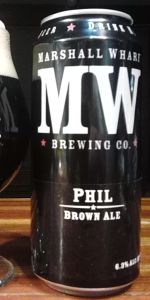 BEER INFO
Brewed by:
Marshall Wharf Brewing Company / Three Tides Restaurant
Maine
,
United States
|
website
Style:
American Brown Ale
Alcohol by volume (ABV):
6.00%
Availability:
Year-round
Notes / Commercial Description:
Named for the one and only Phil Brown. Brewed for his 75th birthday in 2009 and on tap ever since. We use peat smoked malt in this beer for our own little spin and to honor Mr. Brown's heritage. Thank you Phil!
Added by Walken on 08-17-2010
Reviews: 8 | Ratings: 44
4.13
/5
rDev
+2.5%
look: 4.5 | smell: 4 | taste: 4.25 | feel: 3.5 | overall: 4.25
From the 16 oz. can that I know was canned in May 2016 but I don't know what day. Sampled on May 27, 2016.
Beautiful dark brown color with frothy, foamy tan head that lingers and laces.
Big nutty and malty aroma with even a touch of chocolate or vanilla. Butterscotch too. Low but earthy hop profile.
The body is medium.
Excellent malt and nutty sweetness in the taste with a mild to moderate bitter finale. Pretty tasty I'd say.
★
436 characters

4.04
/5
rDev
+0.2%
look: 4.25 | smell: 4 | taste: 4 | feel: 4.25 | overall: 4
A: Pours a mahogany color with 2+ fingers of head that fades down to a nice cap that last for a good while
S: Malty and slightly nutty up front, with hints of smoke in the back. Some earthy hops also come through and provide a nice balance
T: Starts off with a bit of caramel, nut, and toffee notes from the malt, with hints of sweetness and brown bread. Smoke comes through lightly as an undertone and makes it very interesting. Finishes with lingering light smoke and earthy tones
M: Medium bodied with moderate carbonation. Smooth
O: The smoked malts make for a nice and interesting take on a brown. It comes across a little salty and makes you want to drink more. Very solid and quite an easy drinker for a cold fall or winter day. Definitely another solid brew from MW
★
777 characters
4.02
/5
rDev
-0.2%
look: 4.25 | smell: 4 | taste: 4 | feel: 4 | overall: 4
16 oz can was poured into a nonic glass.
Appearance: A one finger off white head was poured that reduced to a puffy layer. It is a dark brown amber color with a little vision of bubbles coming up through the glass. Spotty lacing down the glass as the beer was drank.
Smell: Roasted coffee, toasted, chocolate, nutty, caramel, toffee, earthy, and grassy hops.
Taste: Same as above with light bitterness in the rear. Nice balanced of flavors too.
Mouthfeel: Smooth, light to medium bodied, medium carbonation, and a little chewy.
Overall: Pretty solid brown ale. Next time in Maine, I look forward to grabbing more of these.
★
642 characters

4.1
/5
rDev
+1.7%
look: 4 | smell: 4 | taste: 4.25 | feel: 4 | overall: 4
This beer was a red/brown color with a medium-sized tan head. There was a fair amount of lace.
A smoky/peaty aroma. Sweet.
It tasted like smoky maple syrup, with some late piney hops.
This was a fun beer. Nice balance between the malt and the hops.
★
251 characters

3.77
/5
rDev
-6.5%
look: 4 | smell: 3.75 | taste: 3.75 | feel: 3.75 | overall: 3.75
On tap at Novare Res, thanks Matt for helping me find this place.
Comes to my table on the deck a dark reddish brown without much of a head before I set my nose atop it. Smells of caramel brown sugar and a hint of chocolate with a solid hit of smokey campfire. Lightly nutty flavor with darker sugars and caramel and a nice but never overpowering level of smoke. Medium body with a moderate level of carbonation and a sweet mouthfeel. Nice smokey brown ale.
★
458 characters
4.02
/5
rDev
-0.2%
look: 3.5 | smell: 4 | taste: 4 | feel: 4.5 | overall: 4
Poured on nitro-tap and served in a tumbler pint, the beer is a dark, slightly cloudy, mohagany coloring with a thin, dense, yellowish head. Aromas of coffee and hazelnut, with a touch of chocolate. Very sweet and warm. Flavors are nutty sweet and darkly roasted, with a smooth, light body. Rich, nutty aftertaste keeps the sweet, warm feeling wrapped around your tastebuds like a winter parka. Smooth, creamy finish with a sparse, watery coating left behind as proof of the tastiness you just consumed. Good, solid beer at a manageable ABV.
★
541 characters

3.91
/5
rDev
-3%
look: 4.5 | smell: 3.5 | taste: 4 | feel: 4 | overall: 4
Purchased fresh on 11/25/11
Purchased @ Marshall Wharf brewery, Belfast ME
The appearance is a deep red amber color that's clean with amazing clarity. A thick dirty white frothy head forms quickly and slowly shrinks leaving behind a creamy film and spotty lacing.
Aroma is roasted malt, bitter chocolate, nuts and smoke. Overall though the nose is somewhat faint but noticeable.
The flavor begins with roasted malt and unsweetened chocolate followed by mild caramel which adds a level of sweetness. Finishes with charred smoke and ash.
Mouthfeel is light and thin with low carbonation. Earthy hops add a mild bitterness and dryness in the end.
Overall an easy beer to put down. It has a perfect balance and taste as an introduction into some of their more complex beer lineups. As for an American Brown Ale, It's a ballsy attempt and a pretty good example. Not a style you see too many brewers attempting regularly, hats off.
★
934 characters
4.35
/5
rDev
+7.9%
look: 4 | smell: 4 | taste: 4.5 | feel: 4.5 | overall: 4.5
Marshall Wharf Brewing Company: Phil Brown (Filled: 08/07/10) (Tasted: 08/17/10)
64 oz. growler, poured into a dimple mug.
"A brown ale brewed with peat smoked malt."
Appearance: Dark brown, hazy beer with a nice cap of mocha foam (especially considering that this growler is over a week old) that retains relatively well, spotty sheets of lacing.
Odor: Nice range of toasted and roasted malt character with a whiff of faint smokiness in the background. Slight yeasty fruitiness and mellow caramel richness accentuate the chocolate and bread aromas. Some hints of floral hops. Laid back and pleasant.
Consistency: Medium body. Medium-low carbonation, right on the mark for style, just enough to lift some of the flavors up into focus. Palate is dominated by dry, toasty malt, slightly nutty. Awesome!
Taste: A nice mix of light chocolate flavors raw grainy sweetness and bombastic nuttiness with roast and ghostly smoke in the background. Herbal bitterness holds the line at balancing, accompanied by an earthy hop flavor. Subtle fruitiness, flashes in and out, making a showing in the dry, malty finish, fudge and roast linger.
This is a delicious beer, picked a growler up on the way to Acadia, then one on the way back. I am not sure where to put this beer stylistically, ABV and hopping suggest US style, but the depth of malt flavor and ever so subtle Scottish influence make a strong argument for UK brown, though I am leaning towards the former. Either way, delicious example of a brown ale that is complimented, rather than dominated by its aberrant ingredient.
★
1,573 characters
Phil Brown Ale from Marshall Wharf Brewing Company / Three Tides Restaurant
-
out of
100
based on
8
ratings.