Springdale Amber Ale
| Zion Canyon Brew Pub
BA SCORE
82
good
15
Reviews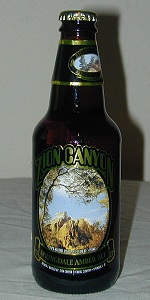 BEER INFO
Brewed by:
Zion Canyon Brew Pub
Utah
,
United States
zionbrewery.com
Style:
American Amber / Red Ale
Alcohol by volume (ABV):
4.00%
Availability:
Year-round
Notes / Commercial Description:
Full-bodied, rich amber colored ale with nice mouthfeel and caramel-malty sweet finish. Galena hops are part of the blend to balance the malts and leave this beer finishing smooth.
36 IBU
Added by Bitterbill on 08-26-2008
Reviews: 15 | Ratings: 22

2.67
/5
rDev
-23.9%
look: 3.5 | smell: 1.5 | taste: 3 | feel: 3 | overall: 3
A small head on a clear, amber body. The aroma is musty and stale, almost smells like mildew. The flavor isn't nearly as bad, just a generic, somewhat bland amber ale with some slightly old hop character. Medium body, moderately low carbonation, and a dry, slightly sour finish. Not particularly good, it is certainly a bit old, no idea how old though since it has no date.
373 characters
3.43
/5
rDev
-2.3%
look: 4 | smell: 3.5 | taste: 3.5 | feel: 3.5 | overall: 3
Beer #54 in my great Utah Brew Hunt.
This beer is a little bit tangy. And I mean that it's a little too tangy. The bright aspect of an amber never really bothers me that much, as long as it's in check. This is not, so much. A decent beer, I guess, but not really something I could ever go back to.
299 characters

3.06
/5
rDev
-12.8%
look: 4 | smell: 3 | taste: 3 | feel: 3 | overall: 3
It looks pretty nice for an amber, and smells ok. But since Utah has laws prohibiting sales of beer in stores of 4.0% ABV and above, it makes it hard to create a good beer.
But this amber ale wasn't that bad. It smelt mostly of sweet malts, mostly like a Euro Lager, but tasted slightly more roasty.
Check these guys out if you are in the Zion or Southern Utah Area. Not too bad.
383 characters

3.38
/5
rDev
-3.7%
look: 3.5 | smell: 3 | taste: 3.5 | feel: 3.5 | overall: 3.5
This is a pleasant gulp. Fizzy mouthfeel, a kiss of hops. Decent head on the moderately dark amber brew. A little aroma of beery malt.
Fairly sweet and certainly more full-bodied than you'd expect for the low ABV Utah beers. The classic red-amber taste, with some fruits and mushrooms in the mellow malt. A lot of caramel, and nicely balanced with some hoppy bitterness. Quite pleasant on the tongue-- tiny bubbles give it a good mouthfeel. The nose of roasted barley is slight, but agreeable, and the tangy touch of hops adds to the drinkability.
One of the better light-weight Ambers. From the fat 12 oz bottle purchased at Emigration Market in Salt Lake.
659 characters

4.03
/5
rDev
+14.8%
look: 4 | smell: 3.5 | taste: 4 | feel: 4.5 | overall: 4.5
Appearance: Nice solid nut brown with some good density. Foam and lacing are good as well.
Smell: Some tangy pepper notes. Not terribly complex, but I like it.
Taste/Mouthfeel: Smoky pepper with excellent caramel notes. Overall, the smoky notes make this good. Superbly velvety mouthfeel. Very clean as well.
Overall Drinkability: My favorite Zion beer.
356 characters
3.42
/5
rDev
-2.6%
look: 3.5 | smell: 4 | taste: 3 | feel: 3.5 | overall: 3.5
poured from the bottle in a pint glass (from Moab Brewery)
A - Pours a textbook amber with perfect clarity. Tons of bubbles cascade towards the creamy, two-finger, tanish head. Head stays intact all the way down the glass, leaves behind a few decent sized splotches of lacing.
S - Plenty of caramel malt (slightly burnt) with a bit of earthy hops and a hint of red apple.
T - A bit of malt upfront followed by body of burnt caramel malt, bitter earthy hops and red apples. The hops chosen for this beer seem to be battling with the slightly burnt malt, somewhat upsetting the balance of the beer. Comes together a bit as the beer passes over the back of the tongue and hops take over a bit. Dry finish that cuts out to a somewhat unpleasant bitter sensation.
M - Moderate bodied with a smooth and creamy texture. High carbonation.
Picked up this beer after climbing Angels Landing in Zion National Park. I'm slightly put off by how the hops play with the malt in this beer as well as the awkward bitter finish. I'm all for hoppier takes on beer styles, but this one lacked the balance to pull it off admirably. Drinkable, but not something I plan to seek out when I return to hike the Narrows.
1,202 characters

3.32
/5
rDev
-5.4%
look: 2.5 | smell: 3 | taste: 3.5 | feel: 3.5 | overall: 3.5
From a bottle with no dating, into a New Belgium globe glass.
The beer was a dull orange color with a hazy clarity. Almost no head and very little lacing on the glass. The aroma was not strong and mainly consisted of earthy/grassy hop notes. Did not pick up any malt smells.
The taste was similar to the smell - the hops dominated with a clean, zesty taste that reminded me of orange/citrus peels. I was hoping for some malt character to come into play, but they did not really show through. The medium-level bitterness in the taste was also prevalent in the aftertaste. I found it to be moderately carbonated.
Easy to drink, but overall I was not impressed, as the malts were overshadowed in this offering and the beer did not live up to the brewery's description.
768 characters
3.1
/5
rDev
-11.7%
look: 3 | smell: 3 | taste: 3 | feel: 3 | overall: 3.5
On tap in 'The Bit and Spur', Springdale, outside Zion NP.
Pint glass of slightly hazy amber coloured beer, off-white, thinning head sat on top.
The aroma was fizzy mix of malted biscuits, brown toast and citrus hop esters.
The flavours within the beer mirrored the smells, including the fizzy bit, it seemed over carbonated to my English palate (used to cask stuff I suppose).
Pleasant enough, but not a beer I looked for again while in Utah. Complimented my Pasta meal well and I'd recommend the food before this beer.
524 characters
4.25
/5
rDev
+21.1%
look: 4 | smell: 4 | taste: 4 | feel: 4.5 | overall: 5
Moderately strong grapefruit hop aroma mix over top a toasted malt base. No off aromas like DMS or diacetly present. Short off white head faded quickly to a thin film. Brilliant amber colored beer displays a few streams of slowly rising bubbles. Moderately strong caramel malt sweetness upfront blends into apricot and grapefruit hop flavors that tend towards sweet up front, but fade into the bitter finish. Medium bodied beer that is moderately carbonated and well attenuated make for a refreshing and easy drinking beer. The hops stand out over the malt in this one, and it's amazing how there is a sweet citrus flavor (possibly hops aided by yeast?). I'm impressed that they packed this much flavor in a ABV beer. Dare I say it would make a sweet session beer?
764 characters
3.77
/5
rDev
+7.4%
look: 3 | smell: 3.5 | taste: 4 | feel: 3.5 | overall: 4
12oz brown twist off bottle, no freshness date.
Faint pssst when I popped the cap off, minimal head leaves a thin lacing behind. Bready with caramel and herbal hop in the nose. Just enough crispness to get by, light to medium body. Nice kick of hop bitterness throughout, malt and fruitiness are there but the hops seem to stick to the taste buds. Biscuity and ripe pear with a mild nuttiness show that this beer is well rounded. Finishes a little bitter and on the dry side.
I'll label this one as a solid session ale with a little bit for the hop heads out there. I could see knocking back a few of these while strutting my stuff in Wii bowling.
649 characters
4
/5
rDev
+14%
look: 4 | smell: 4 | taste: 4 | feel: 4 | overall: 4
Courtesy of Wasatch, poured from a bottle into my troegs Nugget Nectar pint glass
A - Pours a deep copper color with minimal foam that ends up mostly as a ring of small bubbles around the glass
S - As another reviewer mentioned, i'm slightly reminded of an oktoberfest, light malty aromas
T - malty taste with a touch of bitterness, making this a nice tasting brew
M/D - very drinkable in my opinion. Very smooth going down but just the right amount of bite to make me happy. Hopefully someday I can make it out west again and will definitely stop by to see whats going on.
577 characters
3.5
/5
rDev
-0.3%
look: 3.5 | smell: 3.5 | taste: 3.5 | feel: 3.5 | overall: 3.5
Thanks to Wasatch for this!
Pours amber with a thin, creamy, white head. Minimal lacing sticks.
The smell is of light caramel, light toast, mild hop spicing.
The taste is of sweet caramel, light toast, some earthy/herbal spicing. It has a crisp, bittersweet-ish, mild finish.
Light-to-medium body. Medium carbonation. Smooth.
A "no frills" amber that is light and refreshing. Well-balanced in a mild way.
409 characters
3.43
/5
rDev
-2.3%
look: 3.5 | smell: 3 | taste: 3.5 | feel: 3 | overall: 4
I got this bottle in a trade with Wasatch. Thanks John!
It pours a nice clear amber gold with a 2 finger head of foam. All of the Zion beers I've tried do a great job in the appearance department.
The smell is the lightest of their brews for me. Just a bit of some caramel malt and not much else.
The taste is light caramel malt sweetness with light hop bitterness. Some fruit as well. Well, this is also the lightest of their brews in taste but what's there is good.
Mouthfeel is light as is the carbonation. Pretty drinkable for being so lightly flavoured...
The foam doesn't last as long as their other brews and lacing is just average.
Bottom line: The style isn't my favourite but....this is tasty enough and drinkable enough to make it worthy of trying.
765 characters
3.95
/5
rDev
+12.5%
look: 3.5 | smell: 3.5 | taste: 4 | feel: 4 | overall: 4.5
Wasatch hooked me up with a trifecta of cool extras.. Nice.. enjoyed from my shaped SA glass while finishing out Led Zepplin..
1" head.. with descent lacing.. pretty amber red brew.. crystal clear..
Aroma is very much like an Octoberfest with touches of caramel.. not as clean as a lager... but still pretty nice.. light fruity yeasty esters and quite a bit of toasted malts.
Flavor has enough bitterness to balance a tasty malty palate.. mainly toasted malts with low caramel melt into grassy hops.. body is light but surprisingly heavy for the ABV.. light carbonation makes for a smooth mouthfeel and very easy drinking brew. Finish is fairly dry with a caramel component without the sweetness.
Very sessionable brew while still making me want another sip.. I've said it before, how do the Utah brewers make these kind of good brews with Govt' caps? I'm impressed with the quality from Zion Canyon Brewing.. pretty damned good brews... I would buy any of the three that I've had today in a heartbeat.. until then.. John just has to hook me up. :-)
3.5/3.5/4/4/4.5
1,070 characters

4
/5
rDev
+14%
look: 4 | smell: 4 | taste: 4 | feel: 4 | overall: 4
Pours a very nice clear/clean golden amber color, nice carbonation, tiny fizzy off-white head, with some sticky lacing left behind. The nose is malty, slightly bitter, slightly hopped. The taste is malty, with a nice touch of hops, with a bitter, slightly dry finish. Medium body. Drinkable, this is a very tasty brew, very nice hop/bitterness to it. I met Dale the Owner/BrewMaster this weekend. Dale is a great guy, he showed me the whole process to making beer. Also, got a chance to drink this same brew from the fermenter, very nice. Dale has some nice plans for his brewery in the near future, I hope everything turns out great for him. Dale is a very generous guy. If you see his brew's around, check them out.
717 characters
Springdale Amber Ale from Zion Canyon Brew Pub
3.51
out of
5
based on
22
ratings.