Shenandoah Centennial India Pale Ale
| Shenandoah Brewing Co.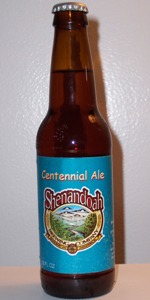 BEER INFO
Brewed by:
Shenandoah Brewing Co.
Virginia
,
United States
shenandoahbrewing.com
Style:
American IPA
Alcohol by volume (ABV):
not listed
Availability:
Year-round
Notes / Commercial Description:
No notes at this time.
Added by hopsaplenty on 11-06-2003
This beer is retired; no longer brewed.
Ratings: 7 | Reviews: 7
Reviews by OldFrothingSlosh:
3.13
/5
rDev
-14.9%
look: 3.5 | smell: 3 | taste: 3 | feel: 3 | overall: 3.5
12oz. bottle courtesy of AKSmokedPorter.
Pours a murky-looking honey-accented orangish-copper in color. Thick, white-colored head boils up then quickly dies down to just a miniscule layer. Nice lacing of the glass. Aromas are "thin"...there's some grassy hop notes, maybe some citrus, and grain-like character. Flavor was initiated by some raw, almost unpleasant bitterness, followed by a tempering of grainy sweetness. Finish is dry, with a long-lived earthy bitterness on the palate. Something about the flavor just didn't sit well with me. Mouthfeel is slightly thin. More of a pale ale than an IPA. Drinkability is pretty good. Not to shabby.
649 characters
More User Reviews:
3.75
/5
rDev
+1.9%
look: 4 | smell: 4 | taste: 3.5 | feel: 3.5 | overall: 4
12oz. brown bottle, no date information.
Soft orange tinted amber. Foamy, pillowy head of dirty white bubbles of mixed sizes that settles at a leisurely pace. Left a few splotches of lace and thick cap for most of the beer. Ample pinprick carbonation streams jet upwards. Orange rind and blossom aromas with some caramel malt touches. Initial orange rind bite grabs hold and carries all the way through. There is an ample malt body that lends some sweetness. The orange lasts on the tongue well into the next drink. Medium body with subtle carbonation, the malt is smooth and complimented by the spikey hops. Solid pale ale with a sense of balance. I'd go for a second round.
679 characters
4.5
/5
rDev
+22.3%
look: 4.5 | smell: 4.5 | taste: 4.5 | feel: 4.5 | overall: 4.5
Tasted on-tap 01/27/06 at Dr. Dremo's in Arlington, VA.
A very nice IPA in every way possible with the textbook golden appearance, citrusy hop aroma, and flavor. Not over the top bitter as some Centennial solely hopped beers are. Much more like the grapefruit citrus hop character one expects from Cascade. NIce medium-full body with a nice bitter finish. Not harsh in any way. If this were one of my home brews it would be a staple. Perfect follow-up to the Chocolate Donut beer.
Per SBC website: made solely with Centennial hops. Generously dry hopped. ABV content is about 6 percent. Available from Shenandoah BC under the Centennial Ale brand name.
658 characters

3.38
/5
rDev
-8.2%
look: 3.5 | smell: 3 | taste: 3.5 | feel: 3.5 | overall: 3.5
Served in a shaker pint glass.
Pours a cloudy, milky amber, tending toward more of a brown at the center, crowned with a thin tiara of white bubbles. Whatever scent there is comes off as rather faint, mostly consisting of citrus hops and a miscellany of floral notes. The hops characteristically take center stage, loading the tongue with a sharp bitterness and a diffuse sense of citrus. Behind the hops stand a pile of lemon peels and a light hint of breadiness. A strident aftertaste follows, but thankfully fades fairly quickly. A light body, a decidedly steadfast wall of carbonation, and a nicely dry finish lead to a pleasant, but overtly average IPA.
659 characters
3.1
/5
rDev
-15.8%
look: 3.5 | smell: 3.5 | taste: 3 | feel: 3.5 | overall: 2.5
Contract brewed and served only at Dr. Dremo's. Served chilled on tap in a pint glass.
Appearance: Clear dark yellow topped by a modest and thick white head that quickly settles to a film. Decent IPA-style lacing.
Smell: Lightly hopped smell. Sightly citric with an herbal hint of grain at the end. Not all that aggressive, possibly a hearkening to the English style of IPA?
Taste: Initially a grapefruity sweetness followed by a nice kick of hoppy bitterness at the end. Again, not an overly aggressive IPA for America.
Mouthfeel: On the lighter side of medium. Very little astringency.
Drinkability: Overall, not a bad IPA. It certainly doesn't suck. However, the same place has Sierra Nevada Pale Ale, SN Celebration, Hop Devil, Arrogant Bastard, and Tupper's Hop Pocket Ale on tap... so why have another when such illustrious company is available?
Other: Lackluster IPA. Hell, lackluster Pale Ale.
920 characters
4.18
/5
rDev
+13.6%
look: 4.5 | smell: 4 | taste: 4.5 | feel: 3.5 | overall: 4
Tried the Centennial at Shenandoah from the tap. Good pour: 1.5" or so head that held up well with great lacing down the glass. My neighbor at the bar also had the same and both poured one of the very clearest straw colors I've seen. Hop aroma was abundant and refreshing. I would have gone with a bit of a heavier mouthfeel to match the strong hop bitterness but I can see how this works well in the hot summer months. Left a nice clean mouth finish, almost tangy. I'd buy again, as with most of their beers.
509 characters
3.45
/5
rDev
-6.3%
look: 3.5 | smell: 3.5 | taste: 3 | feel: 4 | overall: 4
I had this on tap at Dr. Dremo's in Arlington. Served cool in a pint glass.
A - Medium amber w/ a head of tan measuring about 1/4 inch w/ great lace stickage.
S - Semi piney, slightly citrus hops w/ nice centennial aroma.
M - The feel is a medium bodied ale w/ moderate bitterness and adequate carbonation w/ a nice sweet finish.
T - A crisp smooth hop w/ citrus flavor and subtle malt sweetness that underlies a fine blend of sweet and bitter.
D - Very good drinkability, I consider it more of a pale ale, yet the balance is good and it is a very quaffable beer.
568 characters
Shenandoah Centennial India Pale Ale from Shenandoah Brewing Co.
3.68
out of
5
based on
7
ratings.