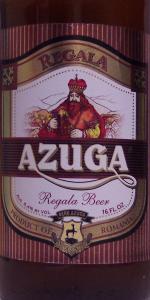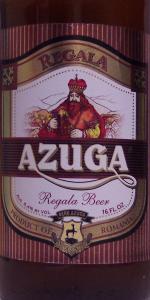 BEER INFO
Brewed by:
Bere Azuga S.A.
Romania
Style:
Euro Pale Lager
Alcohol by volume (ABV):
5.40%
Availability:
Year-round
Notes / Commercial Description:
No notes at this time.
Added by bluejacket74 on 01-03-2008
HISTOGRAM
Ratings: 13 | Reviews: 8
Reviews by GRPunk:
3.35
/5
rDev
+24.5%
look: 3 | smell: 3 | taste: 3.5 | feel: 3.5 | overall: 3.5
1 pint brown bottle with a date of 27/11/08 (I'm assuming it's a "bottled on" date) poured into a pilsner glass.
A- A moderate pour left a healthy, 3-finger, white head that slowly dropped to a decent lace. The body was a slightly hazy, straw color. At the righ angles it looked almost a little watery. Heavy carbonation. The head left some good sticky rings on the glass. The pilsner glasses always seem to help with the head retention and lacing.
S- Initial rush of slightly skunky scents. Further inspection yields more of the doughy, and slightly fruity aromas.
T- Decent doughy characteristics from the grains and some grassy notes from the hops. Fairly clean and dry finish. Considering the style, there aren't any off-putting adjunct or light struck characteristics that I might expect. Maybe it's all malt?
M- It's pretty clean. You get some bite from the carbonation and hops so you know that you're not just drinking fizzy water.
D- It's a pretty easy drinker. I can't say anything really stands out about the beer, but it's one of the cleaner, tastier Euro lagers that I've had out of a bottle. If I was to get it again, I could honestly say it was for enjoyment versus the pure novelty of drinking a Romanian beer (which was half of the reason I picked it up in the first place, the other half being a pretty cheap price tag).
1,344 characters
More User Reviews:

3.17
/5
rDev
+17.8%
look: 2.5 | smell: 3 | taste: 3 | feel: 3 | overall: 4
16 ounce bottle with 21/12/07 marked on it. I assume it means best by 12/27/07 since I bought the beer before that date. Served in a pint glass, the beer pours a straw gold color with a slight orange tinge, and a half inch white head. Head retention is low, lacing is average. The aroma is sweet malt and corn/grain, nothing else from what I can tell. No skunk aromas are noticable. Taste is the same as the aroma, it's sweet and grainy. However for the style, it doesn't taste bad. It's non-offensive. Mouthfeel/body is light, and it's not watery. Drinkability is OK, if there wasn't any other beer around I wouldn't turn this down. Truthfully, it's not hard to drink at all as it goes down quite easy and smooth. And for $1.99 for a 16 ounce bottle, it's not bad. I've certainly had worse beers to drink. It's better than a lot of Euro lagers I've tried.
856 characters

2.28
/5
rDev
-15.2%
look: 3 | smell: 1.75 | taste: 2.25 | feel: 2.75 | overall: 2.5
3.06
/5
rDev
+13.8%
look: 4 | smell: 3 | taste: 3 | feel: 3 | overall: 3
This beer looks pretty good. It has a thick and smooth looking head. There is a lot of white creamy lace. The body is highly carbonated and is hay like color. It has a slight fruity flavor with some hop presents. It tastes like an average Eastern European Lager. It has a light mouthfeel.
288 characters

3.36
/5
rDev
+24.9%
look: 4 | smell: 3 | taste: 3 | feel: 4 | overall: 4
poured this 16 oz. brown bottle into a pilsner glass. Dated 20/12/08. There was an audible sizzle to this one. The body was clear and rich golden in color. Three fingers of eggshell white head left some lacing. A lazy bead ascended.
Smell was earthy but not skunky. As it warmed there were some vegetal notes.
Taste was light corn. Decent malt presence and a light hop bite. I'm sure a fresher bottle would be very nice.
Mouthfeel was solid. Medium bodied with adequate carbonation.
485 characters

3.2
/5
rDev
+19%
look: 3 | smell: 3 | taste: 3.5 | feel: 3 | overall: 3
Poured to a small whitehead. Beer was yellow in color. Had very little lacing. Had a smell of a little malt and grain. Had a slightly bitter after taste and also of malt. Smell and taste reminded me of the typical beers we brew.(IE Bud Miller etc) But I think it actually tasted a little better than those. Felt good in the mouth and carbonation was just about right. I bought this beer because it was brewed in Romania and wanted to try it. I would drink these again. All and all not a bad beer.
496 characters

2.74
/5
rDev
+1.9%
look: 4 | smell: 2.5 | taste: 2.5 | feel: 3 | overall: 3
Dated bottle is for 21/12/07 have had this bottle awhile in my cellar and just got to try it.
A: Pours a beautiful copper color with a thin head resting on top and lacing is prominent down the glass.
S: Slight malty nose and not much hop in the aroma.
T: Nice malty taste with a bit of citrus in the back.Slightly spicey with a bit of clove taste.
M: A bit thin and watery but decent, Ok carbonation level.
Still better than Coors Bud Or Miller
D: Drinkable and if not for some very subtle hints of hops or malt you wouldnt know what you were drinking Water or beer
570 characters
2.02
/5
rDev
-24.9%
look: 2.5 | smell: 1.75 | taste: 2 | feel: 2 | overall: 2.25
Cheap beer, worth to try
24 characters

2.23
/5
rDev
-17.1%
look: 2.5 | smell: 2 | taste: 2.5 | feel: 2 | overall: 2
Bottle 16 oz from Jungle Jim's.
Poured clear pale with an average white head that mostly lasted with fair lacing. Heavy grassy metal aroma. Light to medium body with thin texture and soft carbonation. Small light sweet flavor with light sweet finish of short duration.
Below average brew.
290 characters

3.28
/5
rDev
+21.9%
look: 4 | smell: 3.5 | taste: 3 | feel: 3 | overall: 3.5
This is a pretty simple, basic, but also fairly good pale lager.
Deep gold, it has a rather large white head slowly shrinking to a strong foamy ring and thin wisps with a little weak lace.
The aroma is a very strong, pleasant Euro pale lager character - strong perfumy grain, a little fruity, with herbs, bread dough, and a hint of mineral.
The taste is similar, grain, bread dough, grass, hay, light hint of herbs and a light fruitiness (somewhat apple-cider like). It has light sweetness and light bitterness, the latter noticeable more in the finish. It is simple and the character light, somewhat on the bland side, but it is very clean and pleasant, the flavours well-integrated and the character holds up well.
719 characters
Azuga from Bere Azuga S.A.
Beer rating:
2.69
out of
5
with
13
ratings