Griffintown Montréalaise
| Brasseur De Montréal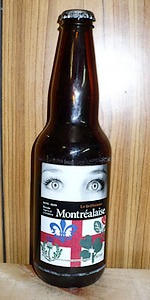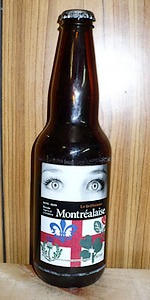 BEER INFO
Brewed by:
Brasseur De Montréal
Quebec
,
Canada
brasseursdemontreal.ca
Style:
English Pale Ale
Alcohol by volume (ABV):
5.00%
Availability:
Year-round
Notes / Commercial Description:
No notes at this time.
Added by Phyl21ca on 05-26-2009
HISTOGRAM
Ratings: 14 | Reviews: 8
Reviews by ReFill31:
2.82
/5
rDev
-11%
look: 2.5 | smell: 3 | taste: 2.5 | feel: 2.5 | overall: 3.5
341ml bottle poured into a pint glass.
A : No head at all. Golden color, low carbonation.
S : Light malts ans hops. Not really interesting. Doesn't say much at all.
T : Very light taste. I tried to distinguish something but it was really difficult.
M : Watery feeling. Low carbonation.
D : Easy to drink but the taste is kind of absent.
Not my favourite of this brewery. They made a lot better ones.
406 characters
More User Reviews:
3.21
/5
rDev
+1.3%
look: 4 | smell: 3 | taste: 3 | feel: 3.5 | overall: 3.5
Poured into a nonic glass. A nice slightly hazy golden colour, with the pour leaving behind a thick ring of head and many icicles of lacing. A nice looking beer, I must say, though this is probably the lightest English pale ale I've ever seen.
Nose is malts, a bit of lemon, hops. Nothing much there.
Tastes like a malty Euro lager with some extra notes of apple and peach kicking around. Slight hop bitterness and metallic tangto the finish. Boring, but very easy to power through.
Thicker mouthfeel, good carbonation, slightly creamy.
Better than most Euro lagers and macros, but certainly nothing special, Montrealaise is a solid brew. Ridiculously easy to drink, certainly sessionable. Calling this an EPA is a stretch, but whatever it is, I can drink a lot of it.
773 characters
3.5
/5
rDev
+10.4%
look: 3.5 | smell: 3.5 | taste: 3.5 | feel: 3.5 | overall: 3.5
2.48
/5
rDev
-21.8%
look: 3 | smell: 2.5 | taste: 2.5 | feel: 2 | overall: 2.5
Bottle: Poured a clear light golden color ale with a small bubbly head with minimal retention and some small traces of lacing. Aroma of lightly sweet malt with no much else in terms of noticeable characteristics. Taste is also dominated by some sweet malt with no discernable adjunct and a thin watery finish with some light unrefined grain ester. Definitely not the best from this new brewery.
394 characters

3.95
/5
rDev
+24.6%
look: 3.5 | smell: 3.5 | taste: 4 | feel: 4 | overall: 4.5
The color is pale yellow, almost golden looking beer. Very nice head made of small bubbles. The arome, and the taste, gives notes of florals hops and some fruits (light). Medium body beer. Very well balanced and refreshing. Nothing special but a good beer for the everyday people. I would say the beer is good, decent and well done. Nothing there to sip and be awe by the majesty of this beer, but still... when your are thirsty this beer will do the job and will be even better than those BMC beers.
Cheers all!
513 characters

3.04
/5
rDev
-4.1%
look: 3 | smell: 2.75 | taste: 3.25 | feel: 3 | overall: 3
Appearance - This beer pours a clear dark gold with 1 finger of white head that faded almost immediately,
Aroma - Cracker malt, honey, cut grass and a very light spice.
Taste - Cracker malts, honey sweetness, even sweeter than the aroma, Grassy/herbal hops, light peppery taste
Feel - Light bodied, almost watery with sharp carbonation.
Overall - Overall they sort of hit what they were going for, It says on the bottle, Light and Crisp witch it is, Its sweet up front but dry on the finish. The issue here for me is if they were going for English Pale they hit more on the lines of a hybid english/belgian. Its still an ok crisp ale but there are better and if I was at the brewery I would take a docker IPA before this. Not everyone would agree with me there though.
776 characters
3.25
/5
rDev
+2.5%
look: 3.25 | smell: 3.25 | taste: 3.25 | feel: 3.25 | overall: 3.25
2.83
/5
rDev
-10.7%
look: 3 | smell: 2.5 | taste: 3 | feel: 3.5 | overall: 2.5
Bottle from a mixed 12 pack from IGA outside Mont Tremblant.
A - Pours a golden/straw colour with a cap of white filmy head. Medium carbonation. Bright. No lacing and very little head retention.
S - Sweet malt and some honey. Grassy hops. Not a whole lot of English qualities going on.
T - Honey and floral notes with a sweet malt component and a little bit of grassy hops and medicinal qualities.
M - Mild carbonation and a light to medium body.
Slightly syrupy.
O/D - Doesn't seem to fit the style. More of a Blonde Ale. Seems to fall short as it's too sweet and most likely improperly hopped.
601 characters
2.51
/5
rDev
-20.8%
look: 4 | smell: 3 | taste: 2 | feel: 2.5 | overall: 2.5
Pours a gold color with two fingers of solid white head. Visible carbonation in the body. Most of the head quickly evaporates, but then stabilizes for a while. Good lacing left on the glass.
Smell consists of some sweet malts. Some other scent is also there, but I can't quite place it. A bit buttery perhaps?
Taste is sweet and grainy. Feels very watery. Grainy aftertaste as well. I felt like I was drinking a macro lager.
This got better after several sips, but not too much better. Overall, it is fairly bland. After one glass, I was more than ready to switch to something else.
585 characters
3.5
/5
rDev
+10.4%
look: 3.5 | smell: 3.5 | taste: 3.5 | feel: 3.5 | overall: 3.5
3.5
/5
rDev
+10.4%
look: 3.5 | smell: 3.5 | taste: 3.5 | feel: 3.5 | overall: 3.5
Appearance: Deep gold color, creamy white head that faded pretty quickly. Decent looking beer.
Smell: Sweet malt, sweet bready aroma, hint of hops.
Taste: Sweet malt and grainy, some hop bite, dry finish.
Mouthfeel: light and refreshing, with a little creaminess, very little carbonation.
Drinkability: Fairly good. Could make a pleasant session beer.
355 characters
Griffintown Montréalaise from Brasseur De Montréal
Beer rating:
3.17
out of
5
with
14
ratings