Millésime 2010
| Brasseur De Montréal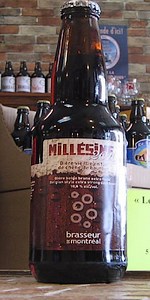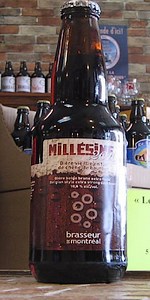 BEER INFO
Brewed by:
Brasseur De Montréal
Quebec
,
Canada
brasseursdemontreal.ca
Style:
Belgian Strong Dark Ale
Alcohol by volume (ABV):
10.80%
Availability:
Limited (brewed once)
Notes / Commercial Description:
No notes at this time.
Added by Phyl21ca on 01-28-2011
This beer is retired; no longer brewed.
HISTOGRAM
Ratings: 8 | Reviews: 6
Reviews by Molson2000:
More User Reviews:
4.12
/5
rDev
+11.4%
look: 4 | smell: 4.5 | taste: 4 | feel: 4 | overall: 4
Picked this up at Peluso in Montreal after running into it as one of their tastings. I had tried a few of Brasseur de Montreal's beers when they first started bottling and had mostly written them off as mediocre based on the three or so I had tried. This stuff will definitely have me taking a second look.
Looks pretty much like A&W root beer. A hard pour yielded the slowest rising head I've ever seen, achieving a full two fingers before settling down to a blanket of off-white and leaving some lacing along the way. I'd fault it for retention but the stuff is 10.8% ABV.
The nose is all malt: caramel, figs, raisins, soft roasted character, pumpernickel, fruitcake, hint of cocoa. Like a Belgian dessert. I wouldn't say bourbon is featured, more blended into the whole. Alcohol off in the distance.
Pretty much a malt bomb, as the nose would lead you to believe, though all that sugar is balanced out with some dusty, earthy hops and nice oakiness transitioning into the finish. Toffee, figs, raisins, hugely bready, tobacco comes out as it warms, background spices (cinnamon is perceptible). Cocoa powder-like finish, though it doesn't come off as being chocolaty; carob, perhaps? There's definitely still some alcohol here and while it could use some aging, I've had brews of lesser ABV with more burn. Not too bad for a young ~11%er.
Decent medium body, slightly viscous (you'd figure with all that sugar...) with low carbonation. Quite a drying finish. Appropriate, IMO.
A nice sipper! No problems finishing off one of these to myself over most of an hour. I'd love to try this again with two or three years on it. As is, it's worth checking out. One of the better Canadian offerings I've sampled at 10% ABV+.
1,727 characters
4.05
/5
rDev
+9.5%
look: 4 | smell: 4 | taste: 4 | feel: 4.5 | overall: 4
Bottle: Poured a clear deep copper color ale with a large foamy head with good retention and some very good lacing. Aroma of bourbon is dominating with nice notes of caramelized malt and light candi sugar notes. Taste is a complex mix between some candi sugar, heavy caramelized malt and nice bourbon notes. All ingredients are well balanced with great overall drinkability factor. Body is about average with good carbonation and no apparent alcohol. Very well brewed and probably one of the best from this brewer.
514 characters
4.01
/5
rDev
+8.4%
look: 3 | smell: 4.5 | taste: 4 | feel: 3.5 | overall: 4
Poured from a 341ml. bottle.
Appearance: Disappointing. The color is a brown-black opaque with red tinges but i'm getting barely a finger of foam and next to no lacing.
Smell: Strong bourbon nose (on the sweet side minus the wood) with some candi sugar. Heady and very nice.
Taste: Sweetness of sugar edges out the bourbon making it feel more like a sherry. Coconut milk a bit and cookies as well. It is sweet but not cloying IMO.
Mouthfeel: Cream smooth body with a feel that just lingers long after. A bit of thinness taking into account the barrel-aging but still pleasant.
Overall: Definitely has a sweet edge though i didn't find it overbearing although i do have a sweet tooth. If you're unsure, share it with someone because it's pretty good.
754 characters


3.82
/5
rDev
+3.2%
look: 3 | smell: 3.5 | taste: 4 | feel: 4 | overall: 4
341ml bottle poured into tulip 21/4/12
A clear ruby maroon with just a short lived light tan head that leaves no lace
S some soy and teriyaki with some bourbon notes and BBQ, different but decent
T sweet cherry come out and much less soy and more woody oak and just a little smoke, candied pineapple's strong, the barrel comes out more in the mouth and I'm not sure where the booze is hiding
M a little slick and oily and yet somehow a little syrupy and quite sticky on the lips, a little tobacco on the finish
O 10.8%??? never noticed, looks basic and the soy is undesired but at the end of the day pretty decent stuff
unique stuff that I doubt I'd ever get the chance to try if it wasn't for unibroue4ever sending me one, cheers dude.
745 characters
3.01
/5
rDev
-18.6%
look: 3.5 | smell: 2.5 | taste: 3 | feel: 3 | overall: 3.5
12oz bottle into snifter.
A- Murky dark caramel pour with less than a finger or off white head that very quickly disappears. Lacing is spotty at best.
S- Dark fruits, slight oak, bourbon is minimal. Brown sugar and cloves. Yeast adds an almost "baby digestive cookie" it's a little odd I'm not sure how I feel about it.
T- Very sweet, slightly boozy. Dark fruits, brown sugar, oak and toffee. Bourbon is present a bit. The yeast adds a bakery taste.
M- Thin to medium bodied. Slight carbonation bite. Warming alcohol.
O- I don't know what to think about this one. Overly sweet and that cookie smell makes my stomach turn a bit.
632 characters

2.55
/5
rDev
-31.1%
look: 3 | smell: 3 | taste: 2 | feel: 3.5 | overall: 2.5
Bottle from papat444. Served in an Alchemist pint glass.
A - Quick-dissolving thin white foam settles to a thin partial ring and a lone tiny wisp and no lacing. Vaguely transparent root beer body.
S - Tobacco, teriyaki sauce, mild oak, and bourbon. The flavors are a bit harsh and off-putting initially, although as the beer warms up some nicer vanilla, coconut, and butterscotch flavors from the barrel-aging come out.
T - The flavor is heavy on chocolate, roasted grains, molasses, oaky vanilla, light bourbon, brown sugar, tobacco, and a hefty dose of soy and umami. Somewhat cloying after a few sips. Don't get much in the way of Belgian yeast character.
M - Sticky medium-full body, with very low carbonation. Not much alcohol presence, along with some mild oaky dryness in the finish.
D - Not very good - the excessive amount of soy and teriyaki flavors, as well as the cloying sweetness, makes this tough to drink. We poured out about half of the bottle.
966 characters
Millésime 2010 from Brasseur De Montréal
Beer rating:
3.7
out of
5
with
8
ratings