Sunsplash Golden Ale
| Stone Coast Brewing Co.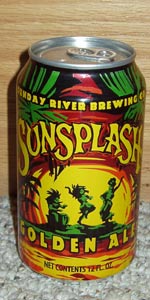 BEER INFO
Brewed by:
Stone Coast Brewing Co.
Maine
,
United States
Style:
American Blonde Ale
Alcohol by volume (ABV):
4.50%
Availability:
Summer
Notes / Commercial Description:
No notes at this time.
Added by BeerAdvocate on 06-01-2003
This beer is retired; no longer brewed.
Ratings: 9 | Reviews: 9
Reviews by axisjones:
3.26
/5
rDev
-4.1%
look: 4 | smell: 3 | taste: 3 | feel: 3 | overall: 4
Carmen sent me a can. Decided to pop it open on a hot day.
For a mediocre beer (did i ruin the surprise?) it is a nice on the eyes. A huge rocky white head tops a clear straw beer with noticable bubbles streaming up. Gorgeous full lacing all the way down. Probably the best part of the beer.
Smells like an unwashed glass that was filled up an IPA two days ago. Not much in the smell, certainly no outstanding hop aroma.
The taste is light airy and inoffensive. The hops are present, but underwhelming, as is the malt. As a lawnmower beer you can do much worse. This is going down clean and refreshing on a hot day, and for that, it rocks. There is a time and place for a beer like this, and right now it is hitting the spot. For any other situation where I am actually looking for a beer with flavor or character, I would look elsewhere.
Very drinkable, but that is a must for this style. On a hot day it goes down great, quaffable and refreshing. For any other reason, probably not the best choice. Still put a smile on my face :)
1,043 characters
More User Reviews:
2.83
/5
rDev
-16.8%
look: 3 | smell: 2.5 | taste: 3 | feel: 2.5 | overall: 3
On tap at David Copperfield's in NYC. A minimum head on yellow body. Lace and creaminess, drinkable but a high carbonation. No aroma to speak of. Drop of cirus taste, more malt than hop.Very sessionable for the beach or picnic at 4.5% and nothing to write back to you at home about.
282 characters
3.47
/5
rDev
+2.1%
look: 3 | smell: 3.5 | taste: 3.5 | feel: 3.5 | overall: 3.5
On-tap 7/17/08 at Pitcher's Pub, in Cumberland, RI, served in a US tumbler pint glass.
A: The beer is a deep gold color, with a thin white head that fades very quickly and leaves almost no lace on the glass.
S: The aroma is of light caramelized malts, some spice and some hops.
T: The taste is light but malty with a little smokiness to it. There are flavors of caramel, spice and a little citrus. There's a decent hops presence that provides some balance. The after-taste is slightly sweet.
M: Crisp and smooth, medium body, medium carbonation, finish is clean.
D: Tasty, goes down easily, not too filling, decent kick, good representation of style, this is a good beer to drink a lot of but it wouldn't be my first choice.
730 characters

3.91
/5
rDev
+15%
look: 4 | smell: 3 | taste: 4 | feel: 4.5 | overall: 4.5
Clear yellowish orange in color. 1" head that actually hung around a bit. Produces some nice lacing too. Carbonation bubbles stream upwards. The aroma is dull, as only some soft citrus is detectable. The flavor was quite mellow but this is a blonde ale. Mild malt, light bitterness, hint of sweet green grapes and lemon zest. I found this to be quite refreshing.
Clean mouthfeel with crisp start and dry finish. Lighter in body. This would be a nice hot summer day brew, very refreshing and very drinkable. Don't expect to be bowled over with flavor, but enjoy it for what it is.
583 characters
3.86
/5
rDev
+13.5%
look: 4.5 | smell: 3.5 | taste: 4 | feel: 3.5 | overall: 4
Ah yes, the hard-to-pin-down "golden ale:" Never as big or flavorful as its older cousins, the pales and the bitters, so too often easy to dismiss. But if you're looking for a flavorful lighter ale, you could do way worse than this fine brew.
Nice fine-bubbled head lasted the length of my pint at American Pizza. Straw colored hue with copper in the middle.
A light malt quality with a fairly sharp dose of hop bittering for the style. Fairly round mouthfeel mid-swallow gets to a good dry finish. The malt character catches up mid-glass and provides final balance. Nicely drinkable. Recommended.
603 characters
3.63
/5
rDev
+6.8%
look: 3.5 | smell: 3 | taste: 3.5 | feel: 4 | overall: 4.5
Really excited to try this for some odd reason--Probably because its in a can. Fun, inviting, and exciting artwork on the can caught my eye.
A: Well it's in a can and I really want to drink it out of the can, so I didn't really see the color, but it looks to have golden hues. Art on the can reminds me of Hawaii. Colors of green, yellow, orange and dark red splashes.
S: Aromas of minimal hops but not much smell at all. Fresh though.
T: Tastes of citrus hops are noticeable but not huge. Slight malty taste that blends well with the malts. Definately a good one to drink while sitting on the mower or fishing on a hot summers day.
M & D: Smooth and refreshing mouthfeel with an ever so slight bitter ending. Carbonation sits on the tongue in the back of the mouth for awhile. A little buttery and coating in the mouth. Very easy drinking, sessionable beer. Good tasting and refreshing blonde ale that I would definately buy again. In the can? Are you serious? Definately! One reason why I'm pumped for this beer is the aspect of the can. Cracking it open with the mentality that its going to taste like a macro lager has definately skewed this review as it blows any other "can" beer away....for the moment. Easily transportable.
1,238 characters

3.62
/5
rDev
+6.5%
look: 3.5 | smell: 4 | taste: 3.5 | feel: 3.5 | overall: 3.5
Well, the first time I've reviewed a craft in cans.
Pours a golden color as the name implies with a head that's very thin. Crisp and malty and a wee bit hoppy (but not too much). Taste is much of the same, malty and lightly hopped. Somewhat sweet as well. A tad bit syrupy. While it's not breaking any ground in the style, I would it's well balanced for what it is. Still better than most macros I've had in cans.
416 characters
3.03
/5
rDev
-10.9%
look: 3 | smell: 2.5 | taste: 3 | feel: 3.5 | overall: 3.5
Saw this can for the first time this weekend up in southern Maine, wild designs filled with color. Almost looked like a soda can, had to try it out. It poured with a malted bitter odor with good head that dissipated quickly but left some good lace. The appearance was straw colored, with a slight haze. I notice that the balance is ok, and has kind of a maize-like taste. If I had to compare, I'd say it is a better version of Bud or Coors. The finish isn't bad, and there's a little bit of sweetness buried deep on the palate. More or less a beach beer.
554 characters
2.95
/5
rDev
-13.2%
look: 3 | smell: 3 | taste: 3 | feel: 2.5 | overall: 3
deltatauhobbit threw this one in as an extra. Thanks man.
12 oz. can poured into a standard pint glass. No best by date.
Pours a murky brozed gold with a half finger off-white head that quickly dies down to nothing. Zilch in the lacing department, pretty sad looking beer to be honest. Some citrus and pale malt in the nose with a touch of corn. Faint caramel sweetness with some toasted grains as well. Bland nose to say the least, meh. Taste starts off with lemongrass and some graininess. Hay and some pale malts midway with more grains in the aftertaste. One dimensional in terms of flavor, blah. Medium body which is heavy for the style. Feel is syrupy with a mild carbonation. Not liking this beer at all. I could see drinking this over Bud on the golf course, but there are much better canned beers out there I would choose over this in a heartbeat. I'll pass.
869 characters
Sunsplash Golden Ale from Stone Coast Brewing Co.
3.4
out of
5
based on
9
ratings.