Ambrèe
| Bières 23, Brasserie Artisanale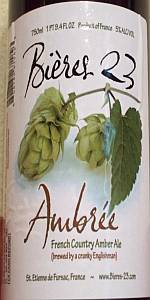 BEER INFO
Brewed by:
Bières 23, Brasserie Artisanale
France
bieres-23.com
Style:
Bière de Garde
Alcohol by volume (ABV):
5.00%
Availability:
Year-round
Notes / Commercial Description:
No notes at this time.
Added by ccrida on 06-18-2008
Ratings: 10 | Reviews: 7
Reviews by CalgaryFMC:
3.87
/5
rDev
+4.9%
look: 3.75 | smell: 3.5 | taste: 4 | feel: 4 | overall: 4
Poured from the hefty "75cl" bottle; my example has a serial number or some other identifier written in Jiffy marker. A rather dark reddish bronze hue with a small amount of beige head, commensurate with the relatively meager carbonation. Smells richly sweet and fruity, and indeed, this is an aromatic malt bomb with some added fruity and spicy elements. Nose is toffee, plum, and a vague musty pepper note, along with some green fruit and semi-sour elements. Palate is more assertive and I gets tons of plum, candied apple, and caramel popcorn initially, followed by some herbal licorice, coriander seed, allspice, black and white peppercorns, faint celery stalk, orange sherbet, golden syrup, and candied lemon. There's a very subtle bretty note as well, like dry leather or perhaps a root cellar type mustiness that characterizes the style according to written descriptions, although I believe this example is far heavier on the melanoidin malts than average. Some hop spice is apparent. Moderate body with some chew and finishes quite fruity and sweet at first, yet does not linger long. This is an interesting brew. Dark and earthy yet fruity and sweet. Perhaps a tad pricey. This style is tough to track down in these parts and I'd be interested to draw more comparisons.
1,278 characters
More User Reviews:

3.96
/5
rDev
+7.3%
look: 4.5 | smell: 3.5 | taste: 4 | feel: 4.5 | overall: 4
A nice find at the new kick ass beer store here in G-boro.Poured into an oversized wine glass a hazed lighter amber with a bit of burnt orange tint,a creamy one finger white head atop that stuck like glue to the sides of my glass.Slight funk in the nose along with quite a kick of lemon pith,a little wet grain in there as well.The flavors have a big lemon rind tartness to them with some underlying toastiness,the funk is more pronounced than many of the style but still subdued compared to many from their northern neighbor.A bit raw but I like it,it goes well with garlic sausage and cabbage.
595 characters
4.05
/5
rDev
+9.8%
look: 4 | smell: 4 | taste: 4 | feel: 4.5 | overall: 4
750ml bottle.
This beer pours a somewhat hazy, medium golden amber hue, with three frothy, foamy fingers of dirty white head, which leaves some attractive Swiss cheese lace around the glass as it slowly dissipates.
It smells of grainy, biscuity malt, fresh hay, a bit of earthy yeast, and grassy, leafy hops. The taste is more semi-sweet biscuit malt, some mild apple/pear fruitiness, and agreeably bitter grassy, wet hay hops.
The carbonation is light, and a tad frizzy, the body a sturdy medium weight, and quite smooth, in a slightly ethereal manner. It finishes a little bit off-dry, the biscuit character holding true, and the supporting hops hardly losing a step.
Wow - a kick ass English Bitter, if there ever was - wait, what? Ok, so it's a Biere de Garde, one unlike any of its ilk that I've previously encountered. Whatevs, this is tasty, and deftly capable of making you want more.
896 characters


3.23
/5
rDev
-12.5%
look: 3.25 | smell: 2.75 | taste: 3.5 | feel: 3.25 | overall: 3.25
French beer better than most beers this country but little worked and lacking depth
83 characters
3.07
/5
rDev
-16.8%
look: 3.5 | smell: 4 | taste: 3 | feel: 2 | overall: 2.5
750ml bottle poured into a tulip glass.
A: mahogany color, clear, poured with a thin veil for head
S: nice nose, has some funk with a malt backbone
T: near flat in taste, a bit of funk in body (possibly from age?) as I've had this for about a year in the cellar, but in all honesty, it shouldn't be since it appears to be bottle conditioned, however, it does have a lower ABV of only 5%, I'd give it a higher rating if it had more CO2 to brink out more of the flavors
M: drinkable beer, funk is nice but lack of CO2 is really distracting, I've had still beers before and aged beers that are nearly flat, however, this beer was dead as a board and lifeless, the lower ABV and body doesn't help with the lower CO2
Note: I typed in the website on the bottle but it's a dead link. Maybe the brewery has closed.
809 characters

4.47
/5
rDev
+21.1%
look: 4 | smell: 4.5 | taste: 4.5 | feel: 4.5 | overall: 4.5
750ml bottle poured into my Gulden Draak tulip, Ambrèe is a hazy bronze with some chunky floaties and a large, quickly settling off-white head that leaves scattered, foamy lace.
Smell is very nice, loads of fruity esters with spicy back currents of funky must.
Taste is also rather funky, with a nice spicy/minty hop flavor that I didn't detect in the nose. Not as sweet as the aroma, with peach esters in the middle before a bone dry finish with some lingering caramel flavors. Very nice, much better then their Bière de Mars that I had the other day, which was equally musty but also heavily dominated by sulfur, which I don't find here. As it warms, some phenols peek out, and the earthiness gets more prominent
Mouthfeel is dry and crisp, with a medium light body.
Drinkability is very good, this is exactly what i look for in a Bière de Garde, malty, fruity, a little funk. Loads of flavor and lower alcohol make this one a winner. After the Bière de Mars, I honestly had low expectations, but this was good enough that I might even have to retry that one next season, to see if I just got a bad bottle/batch, or the recipe is not my speed. This one, I'm happy to see, is in their year round stable.
1,215 characters

3.68
/5
rDev
-0.3%
look: 4 | smell: 3.5 | taste: 3.5 | feel: 4 | overall: 4
I pulled this beer from the cellar and I noticed that it had some bubbles rising up through it even before I had popped the cap (live beer indeed). With my 25cl tulip glass waiting at the ready, I was prepared to catch the foam from this slow gusher. A careful pour produces a pale, frothy head. The beer doesn't show near as much carbonation as I would have expected, but does show a nice amber hue and a lightly hazed, amber-copper hue when held up to the light. The aroma has a soft fruitiness to it up front (plum and apple) that is backed by a more earthy, slightly musty and some definitely farmhouse fruity cheese like notes towards the finish. The fruitiness is the most prominent aromatic note here, with the funkiness just being an ever-so-light character that sort of accents things. Touches of cracker like grain are noticeable if you dig for them. This has a nice soft nose to it that is a bit more interesting than you might expect upon first blush.
Fruity tasting up front, but really doesn't have much sweetness to it. The fruit character aromatically explodes as the beer hits the tongue and the notes of apple, tart-aromatic plum and currant seems to permeate my taste buds as they linger on in the palate after each sip. The beer was served at about 61°F / 16°C or so, which I am sure accentuates the fruit notes. There is a touch of sharpness here; a slight bitterness, some definite peppery carbonation, a slight herbal hop character (that seems to accentuate some berry like notes as well). This definitely has a nice black pepper character to it including the berry side of the peppercorn; this is influenced by a sort of woody note and a sort of phenolic influence here that is not quite plastic. This last seems like the first kiss of Brettanomyces influences and leaves me wondering where this beer might be heading; the phenolics are extremely subtle right now, but would certainly explain the continued bottle fermentation.
An interesting beer; there seems to be a bit of oxidation that is starting to take hold of this beer, things are starting to taste just a little stale around the edges. Honestly it seems to be half way in between a too old lighter beer and a funky complex awesome beer; give this 6 months to a year for the Brett to develop and I have a feeling this will be fantastic.
Purchased: Liquid Solutions
2,353 characters
3.97
/5
rDev
+7.6%
look: 3.5 | smell: 4 | taste: 4 | feel: 4 | overall: 4
Sparkling pumpkin with a small shower of swirling flakes that quickly drift to the bottom of the glass. The smallish crown is somewhere between dirty ivory and ecru in color. It's also airy, firm and only semi-sticky. A second pour adds more yeast, which helps the beer, but the foam doesn't look any better.
The nose is a definite improvement. It features a combination of lightly toasted malt, lemon peel and a moderate shot of the musty-funky earthiness that is classic for the style. If you like the way 'bug beer' smells, you'll probably like it. If you don't, then you probably won't.
Brasserie Artisanale Ambree is good beer. It isn't a standout biere de garde, but it covers the style bases and doesn't trip on the way from first to home. Even though I can't recall what Biere De Garde (which is classified as a saison, oddly enough) tasted like, the scores are probably going to end up being pretty similar.
There's even more toasted maltiness on the taste buds. That flavor is a nice counterpoint to the gently spicy bitterness of the hops (Tettnanger, Challenger) and the tangy sweat sock funkitude of the yeast. We aren't talking wild ale here, but lovers of 'da funk' aren't likely to go away disappointed. All in all, this is well-balanced beer that doesn't veer very far in any one direction. Lemon and wood round out the flavor profile.
The mouthfeel is well done. It's at least medium for the style and the ABV, perhaps even medium-full. A luscious creaminess hangs on long after I expected it to slip away. Nice job on the bubbles.
Ambree is a recommended purchase for those who love the style and for those who are curious about what a fairly typical French biere de garde tastes like. It's too expensive to consider a second bottle, but this one will be enjoyed to the very last drop. A votre sante!
1,824 characters
Ambrèe from Bières 23, Brasserie Artisanale
3.69
out of
5
based on
10
ratings.