Fósturlandsins Freyja
| Ölvisholt Brugghús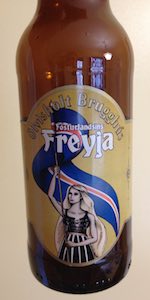 BEER INFO
Brewed by:
Ölvisholt Brugghús
Iceland
brugghus.is
Style:
Witbier
Alcohol by volume (ABV):
4.50%
Availability:
Year-round
Notes / Commercial Description:
No notes at this time.
Added by stulowitz on 06-11-2009
Reviews: 6 | Ratings: 11

3.72
/5
rDev
+9.7%
look: 4 | smell: 3.75 | taste: 3.75 | feel: 3.25 | overall: 3.75
Pours a hazy gold colour. Smells fruity, bananas, and slightlytart and spicy. Tastes like it smells, fruity, bananas, slight spiciness, lighter than expected, with a clean, buttery finish.
★
188 characters

3.72
/5
rDev
+9.7%
look: 3.5 | smell: 4 | taste: 3.75 | feel: 3 | overall: 3.75
Not sure what Fósturlandsins Freyja means, but the bottle depicts a rail-thin but considerably strong looking blond woman waving a giant Icelandic flag. The liquid inside is also fair: a really murky but curiously bright yellow colour that, if I'm being frank, is not particularly attractive.
Not speaking a word of Icelandic, the only thing I can glean from the label is that it's 4.5% alcohol. Not to worry, I can follow my nose! Indeed, this aroma is full of character and has what I'll call a "perfumy pungency". It's a lightly floral, distinctly herbal scent with a fun citrusy kick.
The bitter orange peel and coriander make themselves well known on the palate. Nuances of rose petal, hibiscus and lemon are noted too for good measure, but the first two are our star ingredients. The high proportion of wheat doesn't go unnoticed either; the malt has a crisp, cereal grain taste.
The coriander lends a bright zest in the flavour but doesn't 'pop' on the palate; the mouthfeel lacks any spice and has very little texture. It's refreshing, albeit more like a helles lager than the customarily tangy, high-acid ways of the witbier. There's some tanginess, just not as much as I like.
High costs of living and the long winter aside, the folks in Iceland aren't too hard done by. I may not be able to pronounce any of their beers but everything I've tried from Ölvisholt Brugghús I've enjoyed. Fósturlandsins Freyja (the hardest one to say yet) isn't fantastic but it's more than serviceable.
★
1,510 characters

3.1
/5
rDev
-8.6%
Poured from 12 oz bottle into small pint glass. Best fyrir (by) 23.06.15
A: Pours a clear yellow with mild carbonation producing a faint white head that quickly recedes. (3.25)
S: Coriander and soft grains (e.g. wheat). Hint of soda (7UP). (3)
T: Coriander and honey. Fairly mild. (3)
M: Light body. Soft feel with a hint of sweetness. (3.25)
D: A very average beer. A bit on the weak side. (3)
★
399 characters
3.38
/5
rDev
-0.3%
look: 3.5 | smell: 3 | taste: 3.5 | feel: 3.5 | overall: 3.5
A-slightly hazy yellow color with a small white head and no significant lacing
S-light malt, lemon, spice
T-malt and wheat notes with some lemon and spices
F-light to medium body with moderate carbonation, some craip mouth feel
O-decent Witbier, but nothing special. Nice summer drinking
Beer
★
296 characters
3.23
/5
rDev
-4.7%
look: 4 | smell: 3.5 | taste: 3 | feel: 3.5 | overall: 3
I had this at Icelandic Bar in Reykjavik on the way to Europe. Poured into a standard pint glass.
Appearance: Pours a cloudy golden/yellow color with a half finger of white head that fades to a thin layer on top of the pour.
Smell: Light malt with some citrus and spice. The smell is quite mild overall.
Taste: Light and crisp with a perfume like fruitiness. Mild spice note from the yeast. The flavor fades to leave the finish a bit boring.
Mouthfeel: Medium body with tingly carbonation and a dry finish.
Overall: Just alright. Nice and light, but it could still keep those factors going for it and have a bit more flavor.
★
629 characters
3.26
/5
rDev
-3.8%
look: 2.5 | smell: 4 | taste: 3 | feel: 3.5 | overall: 3
Had to complete the rounds of this brewery. Glad I found the ones I had not tried yet. Bottle at The English Pub in Reykjavik. From notes.
A - One finger, fluffy white head. Golden. Bright. Minimal carbonation with the head leaving really quick. No lacing. Yikes.
S - Banana is really present with alot of that lemon character to compliment. Sweetness with no spice coming out in the aroma. Alot of wheat is noticable but not to the grainy point.
T - Good amount of that lemon zest kick. Crisp with some breadiness. Toasty and wheaty.
M - Nice medium carbonation. Light body. Smooth and refreshing.
D - OK. Not overly special but easy to drink and a decent flavour there. Could use a hint of some spice to even out that sweetness.
★
735 characters
Fósturlandsins Freyja from Ölvisholt Brugghús
3.39
out of
5
based on
11
ratings.