Ölvisholt Vatnajökull Frozen In Time
| Ölvisholt Brugghús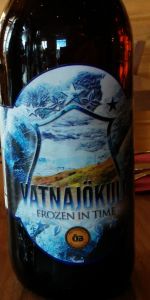 BEER INFO
Brewed by:
Ölvisholt Brugghús
Iceland
brugghus.is
Style:
Doppelbock
Alcohol by volume (ABV):
6.00%
Availability:
Year-round
Notes / Commercial Description:
No notes at this time.
Added by EMV on 06-15-2011
Reviews: 5 | Ratings: 10

3.74
/5
rDev
-3.9%
look: 3.5 | smell: 3.75 | taste: 3.75 | feel: 3.75 | overall: 3.75
12oz bottle, served in the proper tulip glass with the appropriate logo. Pours a darker caramel brown body, one finger white head, short retention time, bits and rings of lacing. Smells of nutty brown malt and a lot of arctic thyme, which has a tendency to dominate the brown malt, but that's ok. There is a bit more herbal distinctness to it as well as a touch of earthiness. Flavour has a bit less of the arctic thyme, and a touch more of the earth, yeast and the brown malt. Less nutty, more of a toffee sweetness. It's still plenty of thyme and that is the dominant flavour. Mouthfeel is lighter bodied, but not thin, good carbonation. It's definitely got plenty of thyme, but it is balanced in that thyme can really take over a beer, but it doesn't do so while having a lot of that distinct dry thyme flavour. An interesting local to try, not one I'd go after again (I really did like Leifur Nordic Saison, which has a good balance of thyme as well).
955 characters

3.69
/5
rDev
-5.1%
look: 2.5 | smell: 3.5 | taste: 4 | feel: 4 | overall: 3.5
330ml bottle from N1 near Jökulsárlón best before 08.12.15
Brewed with glacial water and local thyme
Based on ABV this definitely isn't a doppelbock, it would be a bock, but it may not even be a lager based on the phenols. Ratebeer lists it as a Belgian ale.
A - Deep gold verging on copper with a light tan head that recedes to almost nothing leaving minor lacing
S - Spicy phenols, a hint of thyme, pale and maybe biscuit and caramel malt
T - Definitely something Belgian about it, thyme is more prominent but still soft
M - Full and creamy with little to no bitterness and no noticeable alcohol
O - I liked this one start to finish. I'd like it to be more complex, and it's a bit generic on the nose, but I love the concept and the thyme works really well.
770 characters

3.9
/5
rDev
+0.3%
Poured from 12oz bottle into Vatnajokull cervoise glass in Hotel Skaftafell.
A: Pours a clear reddish amber hue with just a wisp of light tan head that barely forms before dissipating. (3.75)
S: Moderate caramel malt with a hint of an herbal note (thyme). (3.5)
T: Wow...wasn't expecting much after the bland aroma. Wonderfully herbal (thyme) with delicate red berry sweetness. Caramel malt backbone stays in the background allowing the outstanding herbal notes to be showcased. With warming, a note of honey emerges. (4.25)
M: Medium body. Smooth and oily feel. Lightly sweet. Nice herbal astringency. (4)
D: Love what the thyme brings to this brew; and it's nicely constructed around it. Good sessionability. A very nice Icelandic beer...although not quite sure it justifies the $10! (4)
797 characters
3.7
/5
rDev
-4.9%
look: 3.5 | smell: 3.5 | taste: 4 | feel: 3.5 | overall: 3.5
Also found sampled at the Jokulsarlon as the previous reviewer but managed to bring back a couple of bottles for a proper sampling. While at the glacier lagoon i bought it out of curiosity but i couldn't believe how good it was for the only beer in a trailer/cafe in the middle of nowhere. The second sampling was even better. Poured into an antique goblet as fitting a beer brewed with '1000 year old water'.
Dark amber in colour it has a good head with good retention and a spicy sweet aroma, a bit malty perhaps? The taste is straightforward, sweet with a bitter finish and a distinct herbal note, a bit of a grassy aftertaste as well. The body is very very good, medium and a bit creamy, strange for what seems to be a bock.
All in all a very nice surprise at the end of an exhausting drive that, unlike many managed to reconfirm once sampled in 'laboratory conditions'.
877 characters

4.2
/5
rDev
+8%
look: 4 | smell: 4 | taste: 4.5 | feel: 4 | overall: 4
I picked up a bottle of the Ölvisholt breweries 'Vatnajökull Frozen in Time' at the Jokulsarlon glacial lagoon, where they had an interesting bottle of beer for 800 kronas in their fridge that claimed to be 'brewed from 1000 year old glaciers' and flavored with wild thyme. I wasn't expecting much... this being Iceland, and I figured it was a tourist trap novelty beer. But... the bottle looked pretty, I was thirsty, and I figured... what the heck. It ended up being the best beer I sampled while in Iceland. It's definitely a light bock, and poured a dark reddish brown with a bit of a sweet smell to it (possibly the thyme?). The beer poured with a generous amount of white head and was overall pretty good-looking. The taste was mildly sweet, but not overpoweringly so and quite refreshing after a day spent touring the island and capped off with a very small amount of hops at the finish. Everybody at the table took a sample (each regretting not having picked up their own), and again... it was hands down the best beer I tried in Iceland.
1,048 characters
Ölvisholt Vatnajökull Frozen In Time from Ölvisholt Brugghús
3.89
out of
5
based on
10
ratings.