1881
| Microbrasserie La Chouape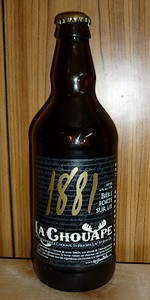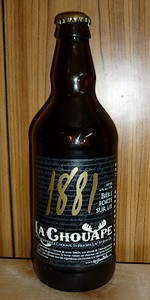 BEER INFO
Brewed by:
Microbrasserie La Chouape
Quebec
,
Canada
lachouape.com
Style:
Belgian Dark Ale
Alcohol by volume (ABV):
6.70%
Availability:
Year-round
Notes / Commercial Description:
No notes at this time.
Added by Phyl21ca on 07-24-2009
HISTOGRAM
Ratings: 7 | Reviews: 6
Reviews by Molson2000:
More User Reviews:
3.57
/5
rDev
-3.8%
look: 3.5 | smell: 4 | taste: 3.5 | feel: 4 | overall: 3
Have been seeing this one for a while but never picked it up. Always felt like La Chouape had ''good'' beers but there was always a little something missing to make them memorable.
500ml bottle into St-Ambroise stemmed glass.
A- A bit like homestyle cider both in colour and the loose white head.
S- Smells a little weird and different. I also smell dark cider along with a little funk.
T- Cod liver oil is the first thing I got and thought of when tasting but much more present are: A nice nice whisky aroma, fresh apple juice and a bit of brewer's yeast. Some sourdough. Earthy, ''natural'' feel. Cod liver oil after-taste.
M- Smooth, low carbonation. Full feel. Dry.
D- Good. Some of the flavors are a bit weird and distracting which diminish drinkability for me. Kind of sick of it after the second glass.
I think I enjoyed this more than the other La Chouape offerings but it's still nothing really memorable. Good autumn brew. Not really sure it's a Belgian Dark.
980 characters
3.52
/5
rDev
-5.1%
look: 3.5 | smell: 4 | taste: 3.5 | feel: 3.5 | overall: 3
This 500ml bottle pours a cloudy copper colour. A short, foamy white head fades to nothing over the course of a couple minutes. Little bits of lacing. Decent looking Belgian, though I'm not sure I'd call it a dark ale. The bottle only says that it's a strong beer.
Lemon, wheat, candy, some astringency, mild spices. This stuff smells really nice, almost like it could be a Unibroue. The smell disappears with the head, though.
Not bad, though it sure doesn't taste like it could be from Unibroue. A little low on flavour, it's a bit watery tasting. Almost none of the great things found in the smell come out in the taste. It mostly tastes like wheat, yeast, some sweetness and a faint bit of hops. Not complex at all in the way that a good Belgian should be. The alcohol is more present than it should be, showing it's full 6.7% and lingering on the finish in an unpleasant way. Something this beer does have going for it, in spite of its deficiencies, is that it's super fresh tasting. The beer is named after the year in which the brewer's family moved to the region of Quebec where they now grow all brewing ingredients themselves. Doesn't get much fresher than that, and this comes out in the taste. I just wish it was more complex.
Nice medium body but less carbonation than I would like. It's pretty flat actually. Feels like it's on cask or something.
While Quebec has quite a few great Belgian-style beers (Unibroue, DDC, Charlevoix) I've found that outside of the few breweries doing it well, the efforts are generally unimpressive. This beer isn't at all offensive, but not good enough to buy again in my opinion. It could be great if they would intensify the flavour, bringing out all the great stuff in the smell.
1,735 characters
2.56
/5
rDev
-31%
look: 3.5 | smell: 2.5 | taste: 2.5 | feel: 2.5 | overall: 2.5
Bottle: Poured a cloudy dark amber color ale with a large foamy head with good retention and some lacing. Aroma of candi sugar with some dry malt. Taste is a weird mix between some dry malt with some sweet candi sugar notes and a somewhat weird corn note. Body is quite full with some average carbonation and no apparent alcohol. Some promise but the corn notes and the over dry finish kind of ruin this one.
408 characters
3.99
/5
rDev
+7.5%
look: 4 | smell: 5 | taste: 4 | feel: 3.5 | overall: 3
Poured from the bottle into small tasting glasses.
Aroma is sweet with notes of cloves, candy, and overripe pear.
Notes of cloves and grapefruit across the tongue in the taste. It's a very nice Belgian, but it's certainly not a dark ale. That they grow all the ingredients themselves is very remarkable.
I didn't fine the alcohol all that over powering, although it was a little hot in the throat. Many of my tasting companions found it rather strong for a 6.7% brew.
It is a very nice effort at a Belgian, but the lack of a real hop profile makes this simply too sweet for my palate.
588 characters

4.14
/5
rDev
+11.6%
look: 3.5 | smell: 4.5 | taste: 4 | feel: 3.5 | overall: 4.5
Poured in an oversized wine glass on 08/16. No date on the bottle.
A- Copper orange slightly hazy color. Poured a big foamy 3 finger off white head that disappeared within minutes.
S- This does smell really nice. Sweet pear, some spices. A little booze, quite complex.
T- Sweet fruits are upfront, wheat. Lacks a little in taste as it does feel watery. Yet the alcohol is present and balances it off nicely.
M- Medium bodied with medium carbonation. Fits the beer well, but nothing extraordinary.
D- I really like the whole concept of La Chouape brewery as every ingredient comes from the farm in St-Félicien. The beer tastes fresh and it's awesome.
655 characters
4.22
/5
rDev
+13.7%
look: 3.5 | smell: 4 | taste: 4.5 | feel: 4.5 | overall: 4
500 mL brown bottle.
Pours a hazy copper orange with a thick white head that disappears within a few minutes.
Spicy, bready aroma.
Starts off with a caramel sweetness and some fruit notes. Pears come to mind. There are hints of cloves and faint black pepper. Potent hop bitterness throughout and some hot alcohol notes. Full-bodied with high carbonation.
I'm really enjoying this one. Lots of different things are going on at once but it works.
448 characters
1881 from Microbrasserie La Chouape
Beer rating:
3.71
out of
5
with
7
ratings