Dismiss Notice
Dismiss Notice
India Pale Ale
| Microbrasserie La Chouape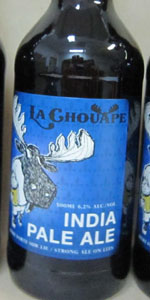 BEER INFO
Brewed by:
Microbrasserie La Chouape
Quebec
,
Canada
|
website
Style:
American IPA
Alcohol by volume (ABV):
6.20%
Availability:
Year-round
Notes / Commercial Description:
No notes at this time.
Added by Yoonisaykul on 08-02-2011
Reviews: 6 | Ratings: 14
Reviews by Intrinsic:
3.59
/5
rDev
+4.4%
look: 2.5 | smell: 3.5 | taste: 4 | feel: 3 | overall: 3.5
La Chouape has done a great job with this IPA. It embodies all the classic elements that make American IPAs so damned good. It's very light amber in colour, with a head that dissipates very quickly and leaves virtually no lacing. However, the smell is amazing, with floral notes taking front row in this hopped up beer, with a little citrus in there as well - possibly grapefruit. The taste brings it up another notch with the above mentioned flavours showing through but balanced beautifully by a bready malt - but not overly so. This is definitely a hoppy beer. Very dry, feels great going down. I'll buy it again - if they drop the price a little.
★
650 characters
More User Reviews:

2.83
/5
rDev
-17.7%
look: 3 | smell: 3 | taste: 2.5 | feel: 3.25 | overall: 3
3.65
/5
rDev
+6.1%
look: 3.5 | smell: 3.5 | taste: 3.5 | feel: 4 | overall: 4
Always glad to see another American IPA for Quebec.
A- Some sort of cloudy brown with some yellow. Vdery light beige head sits well and leaves some nice lacing.
S- Something similar to all the La Chouape beers. Sweet. Alcohol is a bit hot. A little musty.
T- Like the smell. Tastes good, sweet with just enough bitterness. Only thing is, it tastes a bit dirty. Veggie in the hops comes out more and more as it warms. Little bit of bubblegum came out near the end.
M- Low carbonation. Full bodied. Moderately dry.
O- Well, as I thought. A la Chouape IPA. It's good, offers some nice, well balanced AIPA flavours but there's also some bad;like the veggie, and musty.
Room for improvement.
★
694 characters
3.52
/5
rDev
+2.3%
look: 3.75 | smell: 3.5 | taste: 3.5 | feel: 3.5 | overall: 3.5
Bottle: Poured a light amber/orangey color ale with a relatively large foamy head with good retention and some light lacing. Aroma of light citrus hops notes with some bitterness and dry caramel malt also noticeable. Taste is a nice mix between some dry caramel malt with light floral and bitter hoppy notes. Body is about average with good carbonation. Good and easily drinkable but a bit low on the hops side of things.
★
421 characters

3.43
/5
rDev
-0.3%
look: 4 | smell: 3.5 | taste: 3.5 | feel: 3 | overall: 3.25
Appearance: It has a nice deep hazy orangy/amber color to it. It has a nice thick off-white head that dies down slowly and leaves some nice spotty lacing.
Smell: The aromas definitely give out hints of faint floral hops, some pine, some citrus and bready malts.
Taste: Like the aromas, it has some pine resins upfront followed by floral hops, sweet caramel and bready malts.
Mouthfeel: It has a medium carbonation with a decent overall balance and feel.
Drinkability: It's a very smooth drinkable beer accompanied with average flavors and aromas.
★
553 characters

3.58
/5
rDev
+4.1%
look: 3.75 | smell: 3.75 | taste: 3.5 | feel: 3.5 | overall: 3.5
Based off week old memories.
L: A very pale, amber color. One finger of white head. Lacing was pretty good as was retention.
S: I was surprised. I got a bit of pineapple on the nose. Some citrusy grapefruit, pine, and floral notes also poke their heads out. Caramel malt also come through. Some yeastiness.
T: A citrusy and well balanced IPA, perhaps leaning a bit towards the sweeter side. Citrus, and pine, with just the faintest tinge of what I perceived as being pineapple. Fairly malty too. Caramel is pretty prominent; it would be nicer if it was dialed back just a hair, but it's nothing insane.
F: A bit on the thicker side, particularly for a 6.2% beer, but nothing bad.
O: This was a pleasant surprise. I haven't had much from this brewery but I'm liking what I've had. Unfortunately, my beer skunked rather early as I was sitting outside but I marked on pre-skunk experience. If you're looking for a nice Quebec IPA I suggest this. Good stuff; next time I'm in the store I'll look out for some more!
★
1,016 characters

3.73
/5
rDev
+8.4%
look: 4 | smell: 3.5 | taste: 3.75 | feel: 4 | overall: 3.75
SERVICE: Bottle
BOTTLED ON: 13-08-2014
A:
Pours a glowing amber with a perfect three fingers of head that rockily settles at one+ at a min. and then a healthy film. Great retention; little hooks of lacing. (4)
S:
Citrus and yeast. Grapefruit, rising dough, sawdust, leather, earthy body underneath. A bit boozy. (3.5)
T:
Soft and chewy bitterness. Citrus pith, hop resin, light biscuit, some woody aromatic, a little hot, with a rising resinous dryness that almost feel like what I imagine licking a hop to be like. (3.75)
M:
Very nice, medium bodied, rough velvet feel with perfect coating carbonation. Intensely dry with a lingering hop tinge, alcohol is noticeable. (4)
O:
Actually a pretty decent IPA.
I decided to try this when it showed up with a fairly recent date (about forty days ago). I was certainly not disappointed. Actually kind of unintentionally appropriate as this is my 300th beer on here (huzzah!) and it is not only a Quebec brew but a passable IPA!
Pours lovely (like every La Chouape beer I have tried). It has a kind of boozy quality to it which I don't personally love and I don't think goes with the style, but it is not a bad beer by any stretch and is even fairly drinkable. It has a very dry finish which is nice, but is a bit intense.
All-in-all this is a good beer, but I would absolutely not buy it if it was more than a 5-6 weeks old.
Would have again; if seen with recent date: well worth a try. (3.75)
★
1,479 characters
India Pale Ale from Microbrasserie La Chouape
-
out of
100
based on
6
ratings.