Gruut Blond
| Gentse Stadsbrouwerij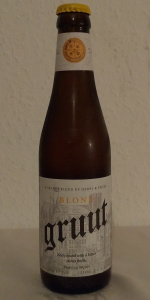 BEER INFO
Brewed by:
Gentse Stadsbrouwerij
Belgium
gruut.be
Style:
Belgian Pale Ale
Alcohol by volume (ABV):
5.50%
Availability:
Year-round
Notes / Commercial Description:
No notes at this time.
Added by benfons on 03-31-2011
Reviews: 9 | Ratings: 38
3.49
/5
rDev
-5.2%
look: 3.25 | smell: 3.5 | taste: 3.5 | feel: 3.5 | overall: 3.5
Look: Light gold in color; transparent. Lots of medium bubbles visible. Pours with an off-white 1+ finger head that dies down quickly, leaving a scant trace of foam on the surface of the beer and a few specks of lacing on the sides of the glass. Slightly better than a good commercial beer.
Smell: Rich malty, grainy aroma with hints of grass.
Taste: Tastes like it smells, only richer. Rich malty-grainy taste. Good for the style of beer that it is.
Feel: Lighter side of medium body. Slight fizz from the carbonation. Slightly dry finish. Thirst-quenching.
Overall: Decent Belgium-style blond. Lighter style; refreshing. Would be great on a hot summer day or with Italian food.
698 characters

3.75
/5
rDev
+1.9%
look: 3.75 | smell: 3.75 | taste: 3.75 | feel: 3.75 | overall: 3.75
Poured into a Gulden Draak tulip. Pours a hazy medium golden amber with a half finger white head with good retention and lots of lacing. Aroma of light stone fruit, apple, Belgian yeast and spicing, a hint of toffee, earthy and herbal. Flavor is spple, pear and light stone fruit, honey, clove and the same lightly earthy herbal spices. Medium bodied. A nice Belgian ale with the gruit style of bittering. The malt and fruit are fairly standard Belgian pale ale standard and are not that remarkable, but the herbs, while not very dominant make this interesting to drink. A light, interesting Belgian pale. I look forward to trying other ales from this brewery.
660 characters
4.21
/5
rDev
+14.4%
look: 4 | smell: 4.25 | taste: 4.25 | feel: 4 | overall: 4.25
Poured in a Bormioli Rocco blonde glass. 4F head with a very light blond color. Not totally transparent with carbonation bubbles coming from the bottom of the glass.
Aroma: very pleasant. Spices, clove, fruit which linger throughout the tasting.
Mouth feel: very smooth, and not too carbonated- which enhances the fruity, spicy quality of the beer.
Taste; Very well done. Stone fruit, spice, pear. The taste develops with warming.
Light bitterness in the finish.
Overall: excellent beer inspired by the Gruit style. Worth trying.
534 characters
3.26
/5
rDev
-11.4%
look: 3 | smell: 3.25 | taste: 3.25 | feel: 3.5 | overall: 3.25
From the 330 ml. bottle stamped 41400. Sampled on March 25, 2014.
The pour is a slightly hazy pale yellow with little to no white head that dissolves as quickly as it erupts.
The nose is pale malts, grain, herbal, and honey. Hops are not really evident in the aroma.
Body is medium but of a smooth, creamy texture.
The flavor is about the same as the nose with a little grain, malts, some honey sweetness, and herbal spice. But unlike the nose there is a peppery quality I pick up at the finish. Drinkable but not extraordinary.
533 characters

3.5
/5
rDev
-4.9%
look: 3.5 | smell: 3.5 | taste: 3.5 | feel: 3.5 | overall: 3.5
Commercial name in Spain: Gruit. 330ml bottle. Wine glass. Lemon yellow color & foggy appearance. White & close crown shows fairly good retention while leaves lacing rings & spots on sides. Slight wood, subtle sugar & herbs to the nose. Malty at first sip followed by kind sour touch & ripe apple zest. Medium to full body. Moderate carbonation. Oily texture. Gentle astringency in the middle. Spiced notes & fruity hues in a long & smooth finish. Refreshing & very easy drinkable.
481 characters

4
/5
rDev
+8.7%
look: 4 | smell: 4 | taste: 4 | feel: 4 | overall: 4
Purchased at several variations of Gruut and a glass at Beer and Gin House, Ghent, Belgium
.33L bottle served in Gruut glass
A: cloudy straw color with a thin head
S: lightly malty, touch of fruitiness; distinct herbs
T: mild herb and sweetness that mellow to a balanced herb/bitterness
M: mild carbonation, slight touch of alcohol
D: Over-all a pretty good beer. Distinctly different from most Belgian beers, but not overly unique.
439 characters
3.22
/5
rDev
-12.5%
look: 3 | smell: 3.5 | taste: 3 | feel: 3 | overall: 3.5
Looks a bit like a cloudy wheat beer. The nose is fresh and gives a good sensation. However, the body, despite the use of several specialty malts, is still very neutral. A little bitter herb is any offer in the finish but without much conviction. Still remains an easy-drinking beer, a little refreshing, but unfortunately too classic to impress the amateur.
358 characters
4.18
/5
rDev
+13.6%
look: 4.5 | smell: 4 | taste: 4 | feel: 4.5 | overall: 4.5
Gentse Stadsbrouwerij has made some excellent beers. Made me want to try out more of them.
Unfiltered pale ale, in a 33 cl bottle.
Looks golden, with fluffy white head, great carbonation.
Smell citric, a bit of grassy notes, some herbs (koriander, i would say).
Very soft taste of bitterness, well balanced overall. Pleasant lingering aftertaste.
Refreshing on a warm day: carbonation does well for me.
Another great brew. Recommended.
437 characters
3.52
/5
rDev
-4.3%
look: 3.5 | smell: 4 | taste: 3.5 | feel: 2.5 | overall: 3.5
Rare brewery because they don't use hops but a herb mixture called Gruut (hence the name)
A: Straw-blonde colour, thin but lasting head
S: citrus,herbs, hint of peach and pineapple
T: Pineapple, peach with a bitter touch, in the back granny again with a bitter-sweet touch.
M: too thin and too much carbonation, abv is fine
Not bad, but not great.
364 characters
Gruut Blond from Gentse Stadsbrouwerij
3.68
out of
5
based on
38
ratings.