Gruut Bruin

Gentse Gruut Brouwerij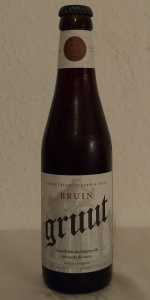 Write a Review
Beer Geek Stats:
| Print Shelf Talker
Style:

ABV:

8%

Score:

Avg:

3.65

| pDev:

10.14%

Reviews:

14

Ratings:

From:

Avail:

Year-round

Wants

Gots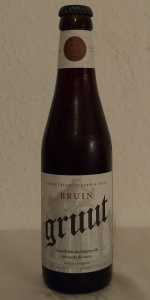 Notes:
OlaB from Norway
3.56
/5
rDev
-2.5%
look: 3.5 | smell: 3.75 | taste: 3.5 | feel: 3.5 | overall: 3.5
Pours a murky brown color with a small top off white head that dissolves quickly.
Aroma is bread, dark malts, caramel, raisins,
ripe plums and herbs.
The taste is sweet with notes of dried fruits and spices, with malty caramel notes in the background. The finish is slightly bitter with herbal notes, while i also sense some slight sour notes in the flavour as well. Aftertaste has a decent lenght.
Smooth mouthfeel with a medium carbonation and a medium body.
As my first gruit i have to say it was good, but not more than that. I dont think i will but this one again.
May 02, 2020
JonnoWillsteed from England
3.82
/5
rDev
+4.7%
look: 3.75 | smell: 3.5 | taste: 4 | feel: 4 | overall: 3.75
L- Deep chestnut with a hint of red, quite cloudy, with a mid-tan head that continued to 'grow of it's own accord' for a minute and threatened to climb out the top of the *over-sized* glass. Bloody lucky I didn't use my regular 330ml glass as that wldn't have been fun... Head had now reduced back to about 1Cm and appears calmer/settled.
S- Quite a bright/piquant smell, hints of herbs.
T- Notably toasty and malty, very deep malts in fact. The herbs do a decent job as a substitute for the absent hops.
F- Pungent malty richness, but the interesting thing is the herbs balance it really well so there isn't a hint of sweetness to it (something I do NOT like! :)). Comes across as a pretty solid easy-drinking beer.
O- This is the 5th or 6th gruit I've had from a brewery multi-pack. I'd vowed early on that 'If this is what gruits are like I won't be buying any more', but ironicially by chance this is the last one and I'm generally enjoying this one.
330ml bottle BB: 19/01/2022. Not sure if my experience pouring this is normal, but if so an over-size glass cld save you a clean-up. Bought from BelgiumInABox at Antwerp/BE for home delivery to me in London/UK.
Note: ABV now reduced at 7%.
Apr 26, 2020
Snowcrash000 from Germany
3.85
/5
rDev
+5.5%
look: 3.75 | smell: 3.75 | taste: 4 | feel: 3.75 | overall: 3.75
Pours a slightly cloudy, deep, dark amber coloration with a medium, fluffy head. Smells of sweet, quite bready, caramel malt, some estery spice and herbal notes, as well as just a hint of nuttiness. Taste is a good balance of quite sweet bready, caramel malt, dark fruit: fig raisin, estery spice: clove, some herbal, bitter accents and just a hint of chocolate and nuts coming through as well. Finishes with a medium bitterness and some estery spice and herbal accents lingering in the aftertaste. Smooth mouthfeel with a medium body and carbonation.
Considering that this is a Gruit beer at heart, brewed with herbs and nuts instead of hops, it really makes for a surprisingly enjoyable Dubbel. Perhaps a tad too sweet, but the malts, never feel too cloying, being balanced by a surprising herbal bitterness, with some estery spice and nutty notes adding some depth to this.
Dec 18, 2019
josanguapo from Spain
3.3
/5
rDev
-9.6%
look: 4 | smell: 4 | taste: 3 | feel: 3 | overall: 3
From XXXII. In Teku glass. Playing Goodbye Deponia. Although I was eskeptical at this style without hops, ive been gladly surprise. Really nice taste and good aroma. 3 months after BB date. Ill try to get it fresh as well as trying to get other gruit brews. Avg 4.05
6 Oct 2017. From Belgiuminabox. Shared with Agu at his house, in Teku glass. Molasses, brown sugar in mouth and nose, and a peculiar herbal taste. Body watery, not as I remembered, and with time the herbal profile becomes a bit tiresome
Nov 17, 2015
byronic from Canada
3.38
/5
rDev
-7.4%
look: 3.75 | smell: 3.75 | taste: 3 | feel: 3.5 | overall: 3.5
Pours a dark murky brown with a thin layer of creamy head.
Smells interesting, almost different each time. Lots of sweet tones such as molasses and candy.
Very sweet and borderline syrupy. Seems a bit simple in taste mostly molasses and brown sugar a bit disappointing doesn't follow up on the promise delivered by the smell.
Drinks a bit like a meal, very full body with mild to medium carbonation. Lingers quite long with and the alcohol is very well hidden.
Something nice to try while in Ghent.
Jul 04, 2014
CrazyDavros from Australia
3.7
/5
rDev
+1.4%
look: 2.75 | smell: 4.5 | taste: 3.75 | feel: 2 | overall: 3.75
Pours dark brown with a quickly fading head.
Nose shows brown sugar, figs, plums, fruit cake and golden syrup. Nice!
Somewhat similar flavours, but less complex. Quite sweet, big brown sugar and golden syrup notes along with a little fruit.
Body feels watery. Too highly carbed too.
Jul 31, 2013

GONZALOYANNA from Spain
3.48
/5
rDev
-4.7%
look: 3.75 | smell: 4.5 | taste: 3 | feel: 3.25 | overall: 3.25
330ml bottle. Labeled as Gruit -Commercial name for Spanish Market-. Oversized glass. Enjoyed on jun´13. Pours dark amber headed by beige, close & creamy crown. Fairly good retention. Lacing rings on sides are left. Aromatic profile is great: candies, slight fresh mint, hints of ripe tangerine & subtle molasses as well as anise & framboos hues. Toasted malt flavor at first sip & crispy upfront are followed by aniseed sugar notes. Full to medium body. Moderate carbonation. Toasted malt sensation rounded by ripe fruit in the middle. Oily to watery texture. Dried nut astringency lingers into a long sweet finish. ABV is felt as a growing gentle warm sensation on the aftertaste.
Jun 15, 2013
IPA35 from Netherlands
3.83
/5
rDev
+4.9%
look: 4 | smell: 3.5 | taste: 4 | feel: 3.5 | overall: 4
A dark brown beer with a off white head. Poured with yeast.
Interesting aroma, dark malts and a difficult to describe herbalish aroma. Caramel.
A soft, sweet beer. Different fruits and spices.
Not very intense or anything but nice and balanced and better than the aroma. Only a slight bitterness.
Mouthfeel is medium, not too carbonated.
Overal a nice beer, something different.
Feb 16, 2012

Radome from Florida
4.19
/5
rDev
+14.8%
look: 3.5 | smell: 4.5 | taste: 4 | feel: 4 | overall: 4.5
Poured from a 33 cl bottle into a goblet.
A - Beer is a medium brown with red highlights when held to the light. Tiny bubbles rise through it continuously. The head is initially thick and tan, then fades to the tiniest ring around the glass.
S - The aroma is incredibly earthy and savory. Old leather, mushrooms, maybe a hint of vinegar. It reminds me of aged English strong ales, like Harviestoun Ola Dubh. These smells are overlaid on top of spicy Belgian yeast and bready malt.
T - The tastes follow the aromas. Mushrooms, prunes, some mild spice, round malt. The finish is sweet and the alcohol is evident. This is very reminiscent of an abbey dubbel.
M - The body is medium to heavy. The carbonation is evident but does not affect mouthfeel very much. Very little bitterness. Alcohol is evident but not burning.
O - I really enjoyed this beer. Without knowing that it was a gruut, I would not suspect that it was not brewed conventionally, with hops. The character it gets from the herbs and spices is similar to tastes and aromas I've seen in aged beers of several types, such as Flemish browns, English old ales and even abbey dubbels that have been on the shelf a while.
Oct 14, 2011
benfons from Belgium
3.6
/5
rDev
-1.4%
look: 4 | smell: 4 | taste: 3.5 | feel: 3 | overall: 3.5
Beer without hops
A: nice dark brown colour with a red hint, decent beige head (great sound when i poured it)
S: sweet coffee, hint of caramel
T: again the coffee but slightly burned, a hint of pear and orange
M: pretty thin, slightly undercabonated; achohol is fine, sticky
O: Good beer, not a great one
Sep 28, 2011

skypup from Germany
4.35
/5
rDev
+19.2%
look: 4.5 | smell: 4.5 | taste: 4.5 | feel: 4 | overall: 4
Purchased at several variations of Gruut and a glass at Beer and Gin House, Ghent, Belgium
.33L bottle served in Gruut glass
A: cloudy brown with a thick pillowy head
S: light carmelized malt with nutty and herbal undertones.
T: Carmalized, roasted malt with herbal, spicy and sweet aftertaste
M: mild carbonation, full bodied. Can't really taste the 8% alcohol
D: I like this beer, and I find it more drinkable than most Belgian browns, though not as complex.
Sep 12, 2011

Brabander from Netherlands
3.88
/5
rDev
+6.3%
look: 4 | smell: 3.5 | taste: 4 | feel: 4 | overall: 4
Wow, this is a nice beer!
I bought this beer at the bierloods in Adegem when i was there in july 2011. Best before may 2012.
Poured in my Struise glass this beer looks very nice. Deepdarkred fluid with a very decent head with tiny bubbles.
Good smell and a very decent taste makes this beer very drinkable. Spices should be in it but i can't tell what.
Jul 31, 2011
RuudJH from Netherlands
4.24
/5
rDev
+16.2%
look: 4 | smell: 5 | taste: 4 | feel: 4 | overall: 4
Very good beer. I've been impressed with this brewery a few times now. One of the good stuff from Belgium today, imo.
Dark brown, with a light brown head.
Smell is a lot of chocolate, roasted nuts, beautifully rounded with an espresso aroma. A slight tart fruity scent as well, with nuttmeg and clove as spice. Complex.
Taste is similar, but more faint than indicated by the aroma.
Mouthfeel is quite watery. It's extremely smooth, with a very clean aftertaste, that lingers slightly bitter.
Good one in this style.
May 20, 2011
redsonja from Netherlands
3
/5
rDev
-17.8%
look: 3 | smell: 3 | taste: 3 | feel: 3 | overall: 3
A; not mutch of a head brown in color
S; roasted malts some spices
T; the taste is that of roasted malt with some bitterness but no spices here?
M; the roasted malts are gone quik some bitterness stays a little bit longer
O; not that impressive a typical belgian dubbel the taste is gone quik for a spiced beer the spices are not there.
May 06, 2011
Gruut Bruin from Gentse Gruut Brouwerij
Beer rating:
84
out of
100
with
28
ratings