Pale Ale
| YellowBelly Brewery & Public House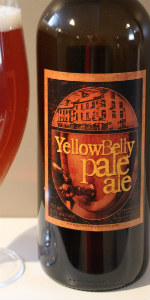 BEER INFO
Brewed by:
YellowBelly Brewery & Public House
Newfoundland and Labrador
,
Canada
yellowbellybrewery.com
Style:
American Pale Ale (APA)
Alcohol by volume (ABV):
4.50%
Availability:
Year-round
Notes / Commercial Description:
No notes at this time.
Added by Derek on 07-15-2008
Reviews: 6 | Ratings: 15

3.46
/5
rDev
-3.1%
look: 4 | smell: 3 | taste: 3.5 | feel: 4 | overall: 3.5
Yellowbelly's Pale Ale manages to play a standard performance in the American Pale Ale game. The appearance is standard among pale ales, with a scent that again reaches par, but no further. The taste is a bit bland, with some fresh malty flavours coming through. This is followed by a smooth mouthfeel. All in all, this beer is quite good among pale ales, though I wouldn't say it is anything to rave about. Goes good with their fish & chips.
★
447 characters

3.67
/5
rDev
+2.8%
look: 3.5 | smell: 4 | taste: 3.5 | feel: 4 | overall: 3.5
YellowBelly Pale Ale is too golden to technically be considered either yellow or pale. Funny that. From a visual standpoint, however, it is still stunning to look at. Its somewhat toasty complexion appears almost shady bronze, despite immaculate clarity and plenty of luster. Although the first pour was flat, a high tide of tan foam flooded the glass with the second.
That scent of bready malt and zesty hop leafs has got to be one the smells I relish most in this world. With deep breaths and closed eyes it conjures to mind pure, sweet, sticky wort. The beer is so clean that you'd think it was lagered; there's no sign of yeast. The flowery, airy nature of the hops might have suggested dry-hopping if it were any less subtle.
Unless you are, like me, one of the last few beer geeks that still appreciates a simple but well-crafted pale ale or lager, chances are there's not much in this no-frills, bready malt taste profile for you. On the other side of that coin, however, most beer drinkers will greatly appreciate that the taste is characterful and flavorsome, but not too bold or peculiar.
Although labelled a pale ale, YellowBelly Pale drinks a lot like an authentic German Kölsch. It has a bounty of clean, bready pale malt and a small rash of hop pungency. Water minerals are crisp whereas yeast esters (and other fermentation bi-products) are non-existent. It is a flawlessly brewed beer that's drinkability is beyond reproach.
A message to the people at Yellow Belly Brewery: don't give up your day job, because you're obviously darn good at it. This kind of style is harder to brew than it would seem. A beer like this is brilliant and simple and brilliant because it's so simple. In a marketplace where Molson dominates, this little brewery must be a godsend to anyone with actual standards.
★
1,820 characters
3.83
/5
rDev
+7.3%
look: 4 | smell: 3.5 | taste: 4 | feel: 3.5 | overall: 4
a... Yellow hue with a quick head of mixed big and small bubbles that in the the bottled form neither seem to build high enough or hang long enough. Nothing but a wisp within a minute.
s... Slight hop, little lemon and a honey nut undertone.
t... some simple malt, hints of a fruit (not sure of which) but not a strong citrus more like a weak orange jam, only starts so show a bitter profile before sliding into a sweetness and then gone.
m... slight to medium in body but needing a slightly more aggressive head and retention. finishes dry with little aftertaste.
d.. Seeing as I have 8 or 9 pints and 6 litres a week of it, i guess it speaks something to it's drink-ability. Strong local showing.
★
703 characters
3.06
/5
rDev
-14.3%
look: 4 | smell: 3 | taste: 3 | feel: 3 | overall: 3
Yellow Belly Brewery has 4 standard labels for consumption on-premise and distributes these only within the St. John's metropolitan area in 1 liter swing cap bottles. The ales are English inspired and hearkens back to the strong English and Irish traditions still strong and present in St. John's, Newfoundland. You may overhear an accent that sounds like a conversation in Waterford, England. Although labeled here as a APA the aim is a English Ale. The brewery uses Canadian two-row and crystal malts in addition to Canadian grown fuggles and east kent hops. Yeast used is WYeast London Ale III.
This beer is pretty much average in most senses, and quite unremarkable as a APA style, and rather average for a common English Ale.
I note that the recipe has been slightly improved sine 2009 to enhance head characteristics and add a more pronounced body.
This is not necessarily a beer to go out of ones way for but on the "Rock" there are not many choices especially when considering the most consumed beer is Coors Lite. As such, this brewery is an oasis in the desert of beer appreciation.
I purchase the beers mostly for the bottle to further my home brewing endeavors. Cost is $8.50 CAD including $2.50 refund for the 1 liter bottle.
Other labels include:
Wexford Wheat (a filtered heffewiezen -- not kristal!);
St. Johns Stout, abbreviated as SJS, 4.6 ABV; and
Fighting Irish Red ale.
See also the Quidi Vidi Brewing Company:
http://beeradvocate.com/beer/profile/2281
★
1,479 characters

3.52
/5
rDev
-1.4%
look: 3.75 | smell: 3.5 | taste: 3.5 | feel: 3.5 | overall: 3.5
This brew is a very clear, dark, deep gold with an amber/brown tint, and a modest, creamy, off-white head.
It has a hoppy aroma up front... it doesn't smack you over the head, but it's citrusy enough. Right behind it, and especially as it warms up, it has a bit of butterscotch / brown butter coming through... uh oh... is it diacetyl, or is it just caramel / crystal malt?
Thank God... it's not diacetyl. The crystal / caramel malt is def. there, adding some caramel / toffee / darker sweetness. The hoppiness / citrus slant is subdued, unfortunately. It's not "off", it's just not where I wanted it to be... it builds to more of a grassy / green / hops flavour. It's got more caramel/crystal malt than I like for the style... which is OK, just not what I like the most.
The bitterness is pretty low, with a light mouthfeel that's smooth & slightly creamy. The carbonation isgentle / low.
I appreciate this one a lot more than others that have a strong crystal/caramel slant... I rather like this one, though I'd prefer other APAs with less crystal/caramel & maybe a bit more hops.
★
1,086 characters

3.55
/5
rDev
-0.6%
look: 3.5 | smell: 3.5 | taste: 3.5 | feel: 4 | overall: 3.5
Although the hopping wasn't blatantly American & it's fairly malty, I thought it was lacking the fruity esters of a British Pale Ale, so I've added it as an APA.
A: Don't let the illustration on their website fool you, this isn't a pansy blond... it's a nice amber with an off-white head. Very little retention or lacing.
S: Earthy-orange, biscuits & nuts.
T: Earthy-orange citrus & rind/marmalade, biscuity malt, slight spicing, hints of nuts. With some more fruity esters, I'd call this a good British Pale Ale.
M: Moderate body & carbonation, well-attenuated with a dry finish (though maltier than most Newf'nland brews).
D: A decent drinker.
★
650 characters
Pale Ale from YellowBelly Brewery & Public House
3.57
out of
5
based on
15
ratings.