E Street Ale
| Bold City Brewery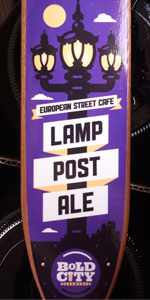 BEER INFO
Brewed by:
Bold City Brewery
Florida
,
United States
boldcitybrewery.com
Style:
American Amber / Red Ale
Alcohol by volume (ABV):
not listed
Availability:
Year-round
Notes / Commercial Description:
No notes at this time.
Added by cjgator3 on 01-28-2009
Ratings: 15 | Reviews: 6
3.73
/5
rDev
+18.4%
look: 4 | smell: 4 | taste: 3.5 | feel: 3.75 | overall: 3.75





3.7
/5
rDev
+17.5%
look: 3.5 | smell: 3.5 | taste: 4 | feel: 3.5 | overall: 3.5
This beer is obviously not what it is listed as. Had many times but review after recent beer tasting event from which only a couple beers I had yet to review were available.
A: Cloudy orange-gold body with about a finger of had that rapidly dissipates.
S: Grains and breads. Simple but not too bad.
T: wheats, grains and pale malts with sour fruits and clove notes.
M: medium body with moderate to high carbonation. semi dry finish.
Overall: I actually think this is one of the better beers from this brewers original offerings. Drinkable and nice fuller than expected body for the style.
593 characters

2.26
/5
rDev
-28.3%
look: 3 | smell: 2 | taste: 2 | feel: 3 | overall: 2.5
A - standard gold, quickly dissipating head
S - A number of Bold City's beers have a roasty quality to them, if I'm identifying that flavor component correctly, that I don't like. This one has it in the aroma. Also something slightly sweet, like when you eat Sugar Smacks cereal or sweet coffee and then later smell it in your pee. Speaking of pee, there's also malty, sour undertones of a row of urinals - you know that permanent smell when you walk into a public bathroom in an out of the way place and there are no air fresheners.
T - Sort of like a "normal" macro but with more wet cardboard notes. Not really getting the roasty from the aroma. A nice hint of sweetness and barely-there citric tartness on the tongue in the aftertaste.
M - Nothing notable to say
O - Reads much more like a macro than a micro. So in that respect it's not good beer by craft standards, but it's something you'd drink in quantity with no real problem in a setting such as a ballpark or a pool hall or whatever. It's not bad enough to be distracting if you're used to drinking macros.
1,072 characters
2.7
/5
rDev
-14.3%
look: 2.5 | smell: 2.5 | taste: 3 | feel: 2.5 | overall: 2.5
Poured on-tap at the Bold City Brewery, the beer was served up in a pint glass. The beer is a lightly hazy orange-gold color with a thin film of off-white head. The nose is slightly sour, with roasted characteristics, but overall muddled. Crisp and sharp in mouth, with an increased carbonation feel to it. There are pale malt flavors, with slightly toasted notes. The aftertaste is slightly sour and fairly sharp, and the finish lingers a bit too long for my personal tastes. Middle of the road brew, but would likely make a good transitional beer for a BMCer.
561 characters
3.88
/5
rDev
+23.2%
look: 4 | smell: 3.5 | taste: 4 | feel: 4 | overall: 4
Serving Type: Bottle
Poured nicely with a nice color (blonde)
Good aroma. Couldn't quite put my finger onto what it was though.
First taste was fruity at the end but as I continued, the fruitness wore off but I sincerely liked it a lot. Not heavy and very drinkable to what I'm use to.
288 characters

3.36
/5
rDev
+6.7%
look: 4 | smell: 3 | taste: 3.5 | feel: 3 | overall: 3.5
A - Pours with one finger of white foam that dissipates quickly and leaves little lace. The body is a clear, gold color.
S - A light grainy aroma with just a touch of hops.
T - light malt up front with some grainy notes and little sweetness. The flavor holds steady though to the finish with just a hint of hop bitterness.
M - medium-light body, moderate carbonation and a dry finish.
D - Not bad for what it is, but it is a blonde ale, not an amber. There is very little flavor here and what is present is very light and un offensive. Still, its drinkable and probably a better beer than killer whale.
606 characters

3.5
/5
rDev
+11.1%
look: 3.5 | smell: 3.5 | taste: 3.5 | feel: 3.5 | overall: 3.5
A: Very copper colored beer, that is clear, no yeast and poured from a growler into a mug it leaves a nice 3 inch head
S: Very bread like, with a sour clove Wang, no hops detected in Smell
T: again with the sour clove taste, its not unpleasant but its strange. dark bread taste, no hops really tasted at all.
M: Very smooth, creamy feel to it as it goes down, no real bad after taste
D: Fairly lite, easy to drink, goes down easy
433 characters
E Street Ale from Bold City Brewery
3.15
out of
5
based on
15
ratings.