Prickly Moses Otway Ale
| Otway Estate Winery & Brewery
BA SCORE
79
okay
12
Reviews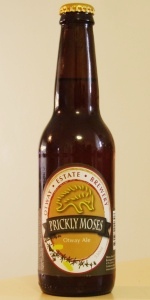 BEER INFO
Brewed by:
Otway Estate Winery & Brewery
Australia
otwayestate.com.au
Style:
English Pale Ale
Alcohol by volume (ABV):
4.90%
Availability:
Year-round
Notes / Commercial Description:
No notes at this time.
Added by brendan13 on 07-07-2008
Reviews: 12 | Ratings: 15

3.13
/5
rDev
-2.8%
look: 3.25 | smell: 3.25 | taste: 3 | feel: 3 | overall: 3.25
I had a a 330ml bottle.
Appearance : golden Amber pour, a little cloudy. Very little head, in fact rather flat and pour lacing in my case.
Aroma: quite good. Some sweetness of hops aroma evident.
Flavour: nice malt caramel flavours with good carbonation but flat head took away some appeal. Mild finish more like and English ale style.
Overall: a good beer overall however the appearance let it down as if fell a bit flat when drinking.
437 characters
3.3
/5
rDev
+2.5%
look: 3 | smell: 3 | taste: 3.5 | feel: 3 | overall: 3.5
A: Pours adark copper color with a good head that fades slowly to nice lacing.
S: Aroma of roasted malt, caramel and fruit in the background.
T: Taste of roasted malt, caramel bit of fruit and a very mild sweetness. Mild bitterness and a dry finish.
F: Fairly moderate body, smooth with a decent balance.
O: Easy drinker, not bad for the style.
351 characters

3.46
/5
rDev
+7.5%
look: 4 | smell: 3 | taste: 3.5 | feel: 4 | overall: 3.5
No BB. Gift.
A pale ale from Otway... How will it stand up after others in gift pack?
Pours the biz... Amber body hazy, white head subsides to film. Good lace.
Aromas are muted and mainly of breads malts. Little hop.
Taste same but has Hint of apricot, and a little dull stale aftertaste. Full bodied flavour tho, and not bad.
Mouthfeel medium weight, some serious body going on.
A well made beer, full flavoured, but without the hop wallop you would want in an APA. More of an EPA/APA hybrid. Difficult to tell due to no BB info. I did drink cold which always confuses as well, with EPA drunk warmer.
Best Otway in pack.
628 characters

3.75
/5
rDev
+16.5%
look: 3.5 | smell: 3.5 | taste: 4 | feel: 4 | overall: 3.5
Bottle: standard brown bottle, stylish and cute bottle with an echidna :)
Appearance: light straw with 1.5cm thick head with good retention.
Aroma: floral hops and grassy overtones. Not overpowering though.
Taste: more of the floral hops (and some grapefruit I think) with good bitterness and earthy qualities.
Aftertaste: the bitterness remains slightly, but there is a touch of what tastes like licquorice.
Mouth feel: fairly low in carbonation, with a smooth flow. Not bad at all, and suits the style.
Overall: very true to the English Pale Ale style (but with slightly more carbonation). Perfect amount of hops bitterness (not like an APA) - this is a great pale ale.
677 characters
2.86
/5
rDev
-11.2%
look: 3.5 | smell: 2.5 | taste: 3 | feel: 3.5 | overall: 2.5
Bottle from a shop in Apollo Bay. From notes.
A - Poured bright and golden. One finger of white head with good carbonation, a spattering of lace and a film of retention.
S - Bready, citrus, grass. Pretty mild.
T - Grainy, hops, grass, tad of citrus, some odd wet grain flavour.
M - Good carbonation, medium body, sweet melony finish.
O/D - A fairly standard, unsuprising pale ale. Nothing pokes out as distinct or really interesting. Not bad, just not worth the $4 at all.
477 characters
3.11
/5
rDev
-3.4%
look: 4 | smell: 3 | taste: 3 | feel: 2.5 | overall: 3.5
A very fine bubble elevates to 1 finger of creamy head , that has the good manners to leave alinear lacing down my glass.
It is dark golden and clear.
The mouth feel is a surprise as it is thin and watery and this is unexpected.
in a nice way there is a cough medicine (liquorice ?) smell and flavour to the Ale , which is not in itself a criticism , but makes this an unsessionable beer.
It is low in bitterness
It is probably suited to wash down a Ploughmans Lunch
466 characters
3.38
/5
rDev
+5%
look: 4 | smell: 3.5 | taste: 3 | feel: 4 | overall: 3.5
Pours amber with a lasting white head.
Nose shows fruity hops and sweet malt in moderate amounts. Some cookie dough characters also show through.
Flavours perfectly mirror aromas and finish with a mild but well balanced bitterness.
Carbonation is mild, which suits the beers.
275 characters
3.58
/5
rDev
+11.2%
look: 4 | smell: 3.5 | taste: 3.5 | feel: 3 | overall: 4
Pours a clear medium hue orange with thin white head and active carbonation. Smells of pine hops and raw grain sweetness. Grain sweetness hits palate first. manifests as caramel. spicy hop kick at the back. medium body with low carbonation and a dry finish. nice balanced pale ale.
281 characters
3.64
/5
rDev
+13%
look: 3 | smell: 4 | taste: 3.5 | feel: 4 | overall: 3.5
This pours a hazy dark golden colour with minimal head.
The sweet toffee aroma is amazing. It struck me even as I poured the glass a good foot or so away. Nice without being too over the top.
Again the toffee on the palate. A nice roundness to the brew from both a flavour perspective and mouthfeel.
I keep thinking about Coopers Dark for some reason - maybe the sweetness. Not a pale ale in my books.
404 characters

2.78
/5
rDev
-13.7%
look: 3.5 | smell: 3 | taste: 2.5 | feel: 2.5 | overall: 3
Found this brew to my great, pleasant surprise and shock in a haunted little hotel in Camperdown, a town renowned by me for having three pubs with a choice of two on-tap beers - Carlton Draught or Carlton Sterling.
This pours with a very fine head, fed by a good steady bead. Reminiscent of Coopers Sparkling, with a similarly golden-brown colour and sediment cloud. Decent-looking beer.
Lots of hops on the nose with lots of freshly cut grass aromas, very Summery. Maybe the slightest hint of pouring cream, but probably not, at the least it's overpowered by the hops. Not bad.
Taste is very country style - lots of hops, full bodied and a bit of soil flavour. Slightly metallic edge to the middle of the palate. Otherwise, quite lacking in character. There's no layers to the palate, just a one-note flavour. Having said that, there's quite a lot of flavour, hoppiness and a nice bitter finish but the texture is rough, and there's little in the way of complexity. Drinkability suffers as a result.
1,003 characters
3.62
/5
rDev
+12.4%
look: 3.5 | smell: 4 | taste: 3.5 | feel: 3.5 | overall: 3.5
A: a little cloudy, golden, well carbonated. Only could manage 1 finger head. Retention though not too bad at all. Attractive lacing.
S: Noble floral hops straight up. Perfume. Musk. Some citrus fruits.
T: Again floral hops in taste, little grapefruit. Some earthiness. Tasty hop bitterness, did linger a little & finished a little dry. Not too complex but not bad at all
M: High carbonation spritzyness, light to medium feel.
D: Quite good, the grapefruity bitterness gives nice bite to finish & make one wanna reach for some more. Definately tasty enough.
557 characters
3.5
/5
rDev
+8.7%
look: 3.5 | smell: 3.5 | taste: 3.5 | feel: 3.5 | overall: 3.5
A - Fairly clear dark golden colour with a centimetre of white head that falls away almost immediately to a thin whisp.
S - Slight toffee note backed up by some floral & grassy notes. Touch of earthiness.
T - Sweet toffee in the taste along with the floral & grassy notes with more earthiness & also a slight spice hint.
M - Light to medium bodied with a fairly high carbonation.
D - A tasty enough beer. Not something I'd rush back to but worth a try none the less.
470 characters
Prickly Moses Otway Ale from Otway Estate Winery & Brewery
3.22
out of
5
based on
15
ratings.