Andersonville Wine & Spirits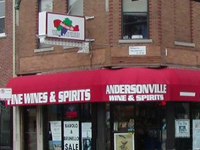 PLACE INFO
Type:
Store
5201 N Clark St
Chicago
,
Illinois
, 60640-2101
United States
(773) 769-0858 |
map
andersonvillewineandspirits.com
Notes:
No notes at this time.
Added by brdc on 06-29-2008
Reviews: 14 | Ratings: 34
4
/5
rDev
+1.8%
Convenient stop after and evening at the Hopleaf. Not a huge place, but a very nice selection of Chicago brews and other craft beer. Prices seem about average for Chicago. Grabbed a couple of nice bombers.
205 characters

4.75
/5
rDev
+20.9%
My wife and I spent a long weekend in Chicago and we were looking for some Zombie Dust,
Hopleaf had it on tap, and then we went to Andresonville Wine & Spirits, and although they
did not have Zombie Dust in stock, they had a great selection of craft beers from all over the
country.
285 characters

4.04
/5
rDev
+2.8%
vibe: 3.75 | quality: 4 | service: 4 | selection: 4.25
I live in Andersonville and it makes me very happy this store is on the strip. They recently upgraded most of the inside and expanded their beer selection. The prices are a bit high, but get over it, it's convenience. Did you go to Hopleaf? Stop by to get a night cap for home. Are you going to dine in one of the many BYOB restaurants in Andersonville? Stop here before you go. They have a huge amount of coolers, which besides lots of beer includes chilled white wine and Sake.
481 characters

3.9
/5
rDev
-0.8%
vibe: 3 | quality: 4.5 | service: 3 | selection: 4.5
Only problem I have with this place is that you are made to feel very uncomfortable the entire time you are in the store. I am a regular customer so it's not as if they don't recognize me yet they have someone standing in the back watching me the entire time I'm in the store.
276 characters
3.3
/5
rDev
-16%
vibe: 3 | quality: 3.5 | service: 3.5 | selection: 3
Great location for a liquor store (kiddy-corner to the hopleaf and acre), and amidst all of Andersonville's great dining.
Smaller place, you're always pleasantly greeted by the guys as you walk in (tip, they get a bit offended if you don't say hi). Focus is much more on wine but they have some nice offerings in the cooler. Always check the back of the store, they keep more things warm than they have cold. Often times that's where I find the good stuff.
Outside of the regular two bros, goose, half acre stuff you'll find pretty much anywhere in Chicago I've seen some Great Divide (quite happy to always see the Oaked-Yeti variations there), Gouden Carolus & rare Sam Adams stuff there. Again, always check the back of the store.
You'll pay a few more bucks, but you might walk away with something that most people are long sold out of. They are really nice guys behind the counter, but the security guy really does enjoy his job (if you know what I mean). I'm sure it would be my local place if I lived close by.
1,023 characters
3.35
/5
rDev
-14.8%
Nice little place with a relatively good selection, they often have limited release beers for longer than other places - but it might be because they're on the expensive side and not afraid to bump up their prices when something is "hot".
A buddy clued me in that they had some Bourbon County Coffee stout left - he saw it for $14 on Friday (already a healthy but reasonable markup) - I finally got around to stopping by on Tuesday after calling to verify that they have some left - and they have just just a bit left... but now the asking price is $16.
Bad on me for waiting so long. Bad on them for their cutthroat price raising tactics. I can understand it's a small shop so they have to charge a bit more - but adding an additional markup after they've already been selling it at a lower price? Boo.
807 characters

3.55
/5
rDev
-9.7%
Stopped in on a Friday Morning, looking for some items I could not get in northern wisconsin. They had a pretty good selection overall, nothing that took my breath away, but solid.
Nice selection of Belgians, lots of Bells, goose island, great lakes, very minimal 3 floyd's which was sad. So I picked up some Edmond Fitzgerald and some christmas Imperial stout (Port) that I had not seen before. It was a good store overall, but I expected more selection in one of largest metro areas in the country.
501 characters
3.85
/5
rDev
-2%
Stopped in on a recent visit to Chicago to stock up for the trip back to Mississippi. There was a good selection of a wide variety of beers. I was specifically looking for Three Floyds and some other regional offerings that we can't get in the South, along with some Dogfish Head stuff. Tons of beers in the coolers, and a pretty good selection of warm beers in the back. I was surprised to find some bottles of Abita. Service was fair and prices reasonable. If I'm ever back in the Chicago area, I'll stop back and shop here.
526 characters

3.7
/5
rDev
-5.9%
Stopped here to pick up a few local offerings to take back home. A very long store. All the craft beer was in the back and down a ramp. (What is the fasications with ramps in puclic places in Chicago?) They had a decent selction of local and regional craft brews. I managed to pick up what I was looking for from Goose Island, Three Flyods and New Belgium. I saw a lot of offerings from the Shelton Brothers line and other belgian products. They seemed to have a lot more offerings in the cooler than warm which wasn't what I was looking for. Prices were reasonable for Chicago. Service was basically non-existant.
614 characters
4.2
/5
rDev
+6.9%
I visited this place on 5/16/2009.
Like othere have mentioned, this place is across the street and down a few doors from the Hopleaf. Parking was not too hard to find, even on a Saturday evening.
This is a really long and narrow store, with the front 2/3 of the store being dedicated to liquor and wine. The coolers run along the left wall and the last 10 or so doors are dedicated to beer (and only one of those had macro stuff in it when I visited). There was also a small area in the far back end of the store labeled "craft beer" where I found a ton of warm beer in bombers, 750s, and six packs. Overall I was pleased with the selection at this place. There were many of the great quality craft beers you would see in a high end store like Binny's, but there was also some pretty rare stuff. Case in point, I saw some Gouden Caroulus stuff that I have never seen anywhere else in Chicagoland.
The prices were average to just a bit above average I would say but all in all quite fair. Service was friendly and I got the feeling I could have asked a beer geek question and received an educated response.
Highly recommended if you are in the immediate area...
1,165 characters
4.5
/5
rDev
+14.5%
This was the first place that I went to and had that "WOW" effect and probably got me into collecting. Several years ago I went and they had a DFH WWS when the distribution was still slow before they expanded their brewery. I almost fell over when I saw it. He said he had special ordered a case for some guy and had some extra. Today WWS is pretty available, but back then it was a find.
This place is still good for unusual finds. The guys are pretty into the craft brew loop and order what people want to buy. Plus its across the street from Hopleaf so its like a Hopleaf "gift shop". My brother and his boss came in from Texas and I took him to Hopleaf. Afterwards, we went across the street and bought some of what we were drinking.
739 characters
4
/5
rDev
+1.8%
Went to this store after a visit to the Hopleaf. I agree with the other reviewers that it isn't necessarily a store to seek out, but if you are going to the Hopleaf anyway its just down the block and worth stopping in. Nice, clean store that has quite a few coolers and most of the beer is there. Quite well chosen selection of available locals including a fair sample of Three Floyds. I was looking for locals, so I didn't really notice the imports. One nice thing is that they seem not to sell out of everything immediately and I actually found several things here that the Binny's on Grand near downtown had sold out of. Reasonable service, but I didn't really ask for much.
677 characters
3.8
/5
rDev
-3.3%
vibe: 3.5 | quality: 4 | service: 3.5 | selection: 4
In years past I wouldn't have entered this shop into beerfly, but after stopping in tonight, i'd say they've improved quite a bit.
The Orval and Bells posters on the front doors clue you in on their quality beer selection. It's pretty bright inside, flourescent light with long narrow aisles. Craft beer and imports are in the wall cooler about 1/3 of the way down, and continue to the end (past the deli case humidor). Southern Tier (6), Three Floyds (8), Bells (8), several Founders, many Belgian 11.2 oz. bottles occupying the majority of one cooler door. Wosyntje, Orval, Piraat, Gulden Draak etc. Rochefort 8 was $6, the 10 was $6.49, Rodenbach 750s were $9.99. They could use more Lambics, but i'm sure Lindemans is the top seller anyway. Pretty good pricing and not intentionally gouging like so many corner stores. At first glance, the back room looked like warm storage, but I found a few lone gems hiding around. Cuvee Angelique and the recently arrived ST Cuvee Series, strangely only one bottle of each. Curmudgeon was hiding back there too.
The guy at the counter was friendly and mentioned some bourbons they had when I asked. The other staff sort of silently shadow at a distance. Overall it's not a bad place to stock up on beer. If you're looking for craft singles head up Clark St. over to "In Fine Spirits".
Edit: They seem to be fond of price gouging on limited releases... expect prices to be several dollars higher than elsewhere if a beer is highly sought after.
1,490 characters
3.7
/5
rDev
-5.9%
Stopped in here after dining and drinking at Hopleaf. Noticed it by the numerous displays of craft beer singage. Long and narrow on the inside, the beer selection is smaller compared to other more reputable stores in the chicagoland area but the selection is also by no means weak. Most of the beer is in coolers which is nice to see and I'd say about 60 percent or more of the entire store's selection was single bottles with an about equal amount of american micros and belgians. Nice selection from 3Floyds that I don't normally see in Chicago and a Double Dourtmunder from Great Lakes which I had never seen before. In the back of the store are the non coolfied beers, some on the bottom shelves are pretty dusty. Also you can by a good percentage of beers by the case here, I assume you can do this at most other stores but its cool to see them all laid out. The staff mainly stayed out of my way when I was in there but the cashier seemed helpful to the person in front of me at the register so I've giving it an average rating to be fair.
Overall a nice selection, some rare finds and a nice location close to Hopleaf. If you don't live or visit near the area I wouldn't make the trek out here though.
1,209 characters
Andersonville Wine & Spirits in Chicago, IL
3.93
out of
5
based on
34
ratings.