Broue Pub Brouhaha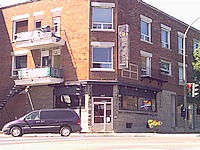 PLACE INFO
Type:
Brewery, Bar, Eatery
5860 De Lorimier
Montreal
,
Quebec
, H2G 2N9
Canada
(514) 271-7571 |
map
brouepubbrouhaha.com
Notes:
Rosemont Metro station, then take the 197 eastbound bus. Get off at De Lorimier.
Added by Goldorak on 06-29-2008
Reviews: 14 | Ratings: 23
4.14
/5
rDev
+3.8%
vibe: 4 | quality: 4.25 | service: 4 | selection: 4.25 | food: 4
It was a little bit of a trek for me out to the Broue Pub Brouhaha, taking a bus and then walking for about a half a mile, but it was well worth it. It's a slice of Montréal that most beer-tourists won't see.
It's got probably more charm to it than any other place in Montréal, although most would consider it a bit divey, but that's OK for me, I love that. From the outside it looks like just another Mom & Pop beer joint in an urban setting, and once inside it doesn't change much. There's aged seating, what appears to be a terracotta tile floor, exposed brick, wood paneling, a boring flat-black acoustic-tiled drop ceiling, "beer barrel" light fixtures, and splashes of color here and there. But there's also a fancy modern tap dispense system running the entire length of the bar, and the back bar consists of retro solid metal-door coolers which is kind of retro-cool. It's a small bar with 6 or so seats, but there's plenty of seating in the two rooms upfront and the larger room in back where they do comedy shows. I should also note the foosball table beneath a banker's light to the right of the bar near the bathrooms.
There are 5+ house beers on tap, and 15 guest beers which includes 2 casks from the likes of Dieu du Ciel, Broadway, Ho.st, Brasseur de Montréal, Dunham, and MBC. Additionally, looking at the old menu I've got, there are over 60 beers in bottles from Belgium, Denmark, Norway, Italy, France, and Germany - as well as a few others from Québec. I was impressed with their house beers, with all of them scoring a 4.0 or above out of 5.
They also offer food, including Frites, Salads, Nachos, Macaroni & Cheese, Cheese and Meat Plates, Pizza, Poutine (of course), Smoked Meats, Pulled Pork and other BBQ items, and Hot Duck Wings! I opted for the Poutine Poutiflette ($9.13/small) which included bacon, caramelized onions, and leeks with a special local cheese. It was excellent, but I probably should have had the Duck Wings too. Next time.
1,976 characters
4.16
/5
rDev
+4.3%
vibe: 3.75 | quality: 4 | service: 4.5 | selection: 4.25 | food: 4
Atmosphere: pretty standard and spacious bar area. very family type vibe from the wait staff. nice little neighborhood hangout
Quality: I only got to taste one of their own beers, it was decent. they quality of the guest taps was in line with good beer bars around the city. great quality on the bottle list.
Service: very nice and friendly staff. switched to English nicely when I asked if they spoke it. one of the few times I had questions about the beer menu situation and they were very helpful
Selection: of their brews: poor, of Quebec brews: good-great, including bottles: very good. bonus for having a randall running. Hard to not find something to drink with all they have going on. (I lucked on some Cantillon bottles)
Food: very good pountine and smoked meat sandwich. rest of the menu looked pretty good too.
Overall: in planning my trip to Montreal, I didn't see much on this place. I am glad I was staying right near it, otherwise I wouldn't have gone. One of the most affordable places I went and had a competitive beer list and food menu (as far as bar food goes)
1,085 characters

4.03
/5
rDev
+1%
vibe: 4.25 | quality: 4 | service: 4 | selection: 4 | food: 4
Hi,
It's always nice to go there, the beer is good, they have their own,
but mostly a selection of other breweries. All the good stuff from Québec.
The food is also very tasty. It's fun to go there to watch the hockey games
or every thursday, there's a comedy night with many guests. It's not pricey.
301 characters

4.06
/5
rDev
+1.8%
vibe: 4 | quality: 4 | service: 4 | selection: 4.25 | food: 4
Medium sized bar on the corner. Lots of tables and a small bar.
They have a nice varied selection of beers from across Quebec as well as a few of their own. Prices are good and they have tasters as well. The beer covers the province well, not more than a couple from any one brewer at once, a good array of styles. They also regularly do tasting and similar events and have a Randle with rotating flavors.
I got good service and there is a full menu, as well as a full bar. The menu looked good (based on what other people ordered) and the prices seemed to me to be normal for Montreal. Nice place, I look forward to going back.
638 characters

4
/5
rDev
+0.3%
vibe: 4 | quality: 4 | service: 4 | selection: 4
We like this place -- it's got more of a neighborhood feel than others in the area, and it was clear to us that locals frequent it. We have been there in the afternoon, only: it was not crowded. By the time we would leave for going out to supper more people arrived and the music changed to that more appealing to a younger crowd. (We are in our 50s.) They have a nice musical selection on the loudspeaker. It is not as accessible to visitors to Montréal as some, but we don't find it difficult when we go up. We took the Métro, which is simple when one gets the tourist passes as we do, and then caught a bus. From there it's a short walk.
642 characters
3.69
/5
rDev
-7.5%
vibe: 3.5 | quality: 3.75 | service: 3.75 | selection: 4 | food: 2.75
Had a lovely local Quebec beer and some nachos. The beer was excellent, #1 on that says menu, and great aromatic IPA. The nachos were nothing special. It was a very young crowd and I'm pretty sure at least half were jacked up on something alternative...
Not a bad place, and mind you it was 1:30am.
298 characters

3.59
/5
rDev
-10%
vibe: 2.5 | quality: 3.75 | service: 3.5 | selection: 3.75 | food: 4
+ Good craft quality, nice selection of brews including some form around the privince, good service and interesting food.
- Basic vibe and small place, remote location.
170 characters
4.75
/5
rDev
+19%
Great atmosphere and many beers to choose from. Staff is very knowledgeable. The food is great and unique (I had duck wings and seal jerky).
The only downfall, and it is a small one, is that it's a tad too loud.
Great place!
227 characters
3.86
/5
rDev
-3.3%
vibe: 4 | quality: 4 | service: 3.5 | selection: 4
Been meaning to come here for a while now and yesterday was the day.
Walking in, i can see they kept the old "taverne" feel with old school chairs and tables. The bar is a bit small but the selection was quite nice. Looks like a locals hangout (there was a guy drinking white wine at the beer) mixed with beer geeks. Extensive list of bottled imports but be prepared to fork over some cash. They always have at least 5-6 house beers plus local taps. Didn't try the food but the classics are there (pizza, sandwiches, poutine) with added flair. A must visit for this eclectic brewpub.
584 characters
3.8
/5
rDev
-4.8%
vibe: 3.5 | quality: 4 | service: 3.5 | selection: 4
This place is out of nowhere. Forget going there if you count on the bus or the metro...you kinda need a car.
The place is pretty big, alot of old tables and chairs, does the trick. Everything you need to know is on the 360 degre ChalkBoard so watch out for neck injuries.
They have a selection of home-made beers on tap and in bottle
with a few other guests on tap as well from Quebec (Troududiable, Brodway Pub, Brasseur Illimité...)
They also have a selection of imported bottles from Belgium, Germany and local Bottles as well. Prices for bottles are behind the bar sticked in tiny figures on the bottle, so you need to look out and find the bottle you want...(a menu maybe...guess not)
They serve tasting samples of every tap beer and its pretty cheap. I like to try everything I don't know about !
They have a snack menu but it's nothing fancy...
They have a big screen TV and while I was there they played little weird clips you find on the net like indian boy bands singing in english and Eskimos cooking a Husky. It was a little disturbing.
Will probably go again when I'll have a car.
Cheers lads
WS
1,118 characters

4.31
/5
rDev
+8%
vibe: 3 | quality: 4.5 | service: 5 | selection: 4
I went to the Brouhaha maybe 5-6 times so far, 4 times with Goldo and the rest with Bubba. Thanx to Goldorack I didnt get lost because the 450 (suburban area code) in me always get lost there. Ask Bubba who copiloted the venture a few times.
The Pub is located in Rosemont which is a neighborhood where nothing much happened, even if we hear lately the possible presence of a new brew pub and bars. There some changes but not as much as other places of Montreal.
The Brouhaha is set in a old Tavern, where once upon a time the ladies were forbidden to entry this temple of Alpha Men.
As for the decor and everything, we will pass on it, and I couldnt care.
The Pub offers some of its brew and some invitationals plus a large selection of rare bottles. The staffs are very friendly, and know very well their beer, actually they really want to talk about the beers and tell you their story, styles etc.. Sometime it is a shocker, but it is very good.
952 characters
3.6
/5
rDev
-9.8%
vibe: 3 | quality: 4 | service: 2.5 | selection: 4.5 | food: 3.5
First time I was here was at a post 2010 Mondial event. Had lots of fun, some good beers and a tasty ''loup de mer'' (seal?) jerky... but it was getting late and I was getting kind of drunk so a review was out of question.
Was planning on returning for a long time and finally got a chance to drop by on a cold friday night.
It was not very busy which I find great and they had the Canadiens playing on big screen which is cool.
All was good until we got to the bar and had eye contact with about 6 staff members/tenders without any of them asking what we wanted. waited at least ten minutes before someone asked us what we wanted to drink. During that night this happened many more times totaling about 45 minutes of waiting time between servings. Really annoying. Now when they did serve us they were nice and friendly so I doubt they were just being assholes. Maybe it's just the way they're trained or something.
Staff knows enough about what they're serving. Nothing special but always a big plus in my book.
Bartender let me start a credit card tab which I think should be standard but bothers many. Another big plus for me.
Lots of American and Belgian imported bottles priced a bit cheaper (didn't thoroughly check) than other brewpubs I've been to.
Enough taps to keep you busy. Lines seemed clean and staff didn't make you feel too bad for asking for samples before ordering.
Food is good, fairly priced for how much you get. Had a super tasty smoked meat sandwich but I was starving so that could be a factor. Later, got a plate of the duck wings. They tasted good and smokey but more like ordinary drumsticks than wings which I usually expect to be spicy or sweet with some kind of sauce. If I return (probably will, eventually) I won't hesitate to try some other plates. Pickles were good too.
Others mentioned it had an old tavern feel to it and although I usually like that kind of thing, there's kind of a depressing vibe here.
All in all, left more disappointed then happy (especially because we drove across the city to get there) but it is a good bar.
I still recommend it so you can make up your own mind about it.
2,144 characters
4.14
/5
rDev
+3.8%
vibe: 4 | quality: 4 | service: 4.5 | selection: 4
I used to live just down the street from this place and don't feel I checked it out enough before I moved away. I usually stop by when I'm in Montreal and have been maybe seven or eight times now.
The beer list is always decent. Usually there are one or two of their own beers (brewed in house) and a selection of a dozen or so Quebec-brewed taps, with highlights including Charlevoix, DDC, Trois Mousquetaires, Brasseurs Illimitees, Trou du Diable and Hopfenstark along with some lesser-known breweries. The taps are reasonably priced. They also have a decent European bottle selection (Trappist stuff, Cantillon, Mikkeller, etc.), though it is pricey.
Their menu is pretty basic, I've never ordered any of the food. They have pizza and nachos and some bar snacks like nuts and olives. You probably don't want to go here for the food.
Of all Montreal's "craft" style brewpubs, I really enjoy visiting Brouhaha because it's usually fairly quiet. Dieu du Ciel, Vice et Versa and the others are usually pretty full and the relatively poor location of this one means there are usually a lot less people around. It also pays off in that the bartender is usually very available and willing to give samples of whatever you'd like to try before you decide on something (which has saved me from a few would-be mistakes). If you're looking for somewhere a bit less intense but still wanting to find a good Quebecois micro list...this is your place.
1,445 characters
4.14
/5
rDev
+3.8%
vibe: 4 | quality: 4 | service: 4 | selection: 4.5
Rosemont is a pretty quiet neighborhood, by Montreal standards at least. Not easy to get to by public transportation, i.e. it's quite a long walk from a subway station, so from Rosemont station, take a bus.
Just by the outside, you can tell this used to be an old man's tavern. The fact that the lady's room is no where near the mens', which is right next to the bar area, signals to me that this was a place where women "weren't allowed" a few decades ago. Decor is still a bit spartan, but the few pieces of art on the nicotine stained walls do spruce up the place. Late 20's/early 30's crowd, mostly locals. They sometimes host shows and crappy movie nights, something other brewpubs in town don't often do.
Beer list consists of a few house selections that are usually quite good, but what really makes you come back here are the guest taps. He's got rare stuff that even Vices & Versa can't get, like Bieropholie on tap, rarities from Brasseurs & Freres or Trou du Diable. They have cider on tap, and a nice selection of import and local micro bottles at relatively decent prices. Good service from a friendly staff.
Highly recommended if you want to taste some rare Quebec brews. It's worth the detour.
1,212 characters
Broue Pub Brouhaha in Montreal, QC, Canada
3.74
out of
5
based on
124
ratings.