Santa's Little Sledgehammer
| Outer Banks Brewing Station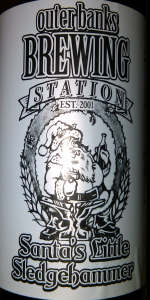 BEER INFO
Brewed by:
Outer Banks Brewing Station
North Carolina
,
United States
obbrewing.com
Style:
Belgian Strong Dark Ale
Alcohol by volume (ABV):
10.00%
Availability:
Winter
Notes / Commercial Description:
No notes at this time.
Added by TheTrevor on 06-19-2009
Reviews: 9 | Ratings: 20

4
/5
rDev
-1.7%
look: 4 | smell: 4 | taste: 4 | feel: 4 | overall: 4
Pours a light brown color that explodes into ruby highlights when held to a light. Small light tan head with limited head retention (10% abv) andd some lacing on the glass. Aroma and flavor feature maltiness, yeast and plenty of candi sugar. The aroma also contains a lot of christmas type spices, nutmeg, cinnamon,allspice, etc. These are fairly prominent but not overdone. I bought this bottle at the brewery in the winter and let it age 8 or 9 month. There is an alcohol presence but not a harsh burn, more of a warming effect with a slight bite. I was impressed with OBBS taking on such a challenging style. Overall a nice job.
633 characters
3.35
/5
rDev
-17.7%
look: 3.5 | smell: 3.5 | taste: 3.25 | feel: 3.5 | overall: 3.25
Appearance: Pours out with a clear tea brown color with a billowy head that quickly fades though it leaves quite a few dots behind
Smell: Ginger, cardamom and juniper, with fusel alcohol tones
Taste: Spice forward, with the ginger, cardamom and juniper elements overwhelming the caramel base; burnt sugar and fusel alcohol juts forward, after the swallow, bringing a rather boozy and harsh finish
Mouthfeel: Full bodied with low to moderate carbonation; a lot of warmth in the gullet
Overall: A year old (I believe) and it has not held up well, though I am not sure how good this was to begin with; unbalanced, overly spiced and way too boozy
646 characters
4.04
/5
rDev
-0.7%
look: 4 | smell: 4.25 | taste: 4 | feel: 3.75 | overall: 4
Thanks to jtd1969 for sharing this one with me.
A - dark brownish amber with a soft, white head that has little retention
S - nutmeg, allspice, candy sugar
T - baked apples, candy sugar, cinnamon, allspice, alcohol
M - medium bodied though thin at times, well carbonated
The best part of this beer is its hidden ABV and decent drinkability. The malt character is close to what I would like from a Quad, but the spices used dominate and take away from the rest of the flavors. I think I would like this beer a bit more if it were amped up and turned into a Quad. I still think this is definitely worth a try though.
619 characters
4.58
/5
rDev
+12.5%
look: 4.5 | smell: 4 | taste: 5 | feel: 4.5 | overall: 4.5
Smoky aroma has tones of apple, molasses and burnt licorice plus just a hint of coffee. It pours a barely translucent dark mahogany, like cola with a bit of red in it, with a rather thick and persistent light tan head that leaves some good lacing. Flavor is - Holy Toledo, I think Dasher just kicked me in the tongue! This brew commits assault and battery on the tastebuds with a fairly fierce alcohol bite, as well as firm caramel, molasses, licorice and roast malt notes that reverberate like a fortissimo chord played by the entire orchestra. Hints of cloves, apple and cinnamon round out the scrumptious flavor. Smooth texture has above-average body and a fair amount of lively fizz. Apparently this is available only in North Carolina, and only during the winter holidays. This beer is worth a trip to the Tar Heel State! I saw it at both Tasty Beverage in Raleigh and Brusin' Ales in Asheville.
902 characters

3.77
/5
rDev
-7.4%
look: 3.5 | smell: 4 | taste: 4 | feel: 4 | overall: 3
A-Deep, reddish-copper with a medium tan head that reduced to a thin cap and left spotty lace.
S-Intensely spicy with notes of juniper, ginger, orange zest dark candi sugar and sweet caramel malt. Very gin like with the significant juniper aroma.
T-Quite gin-esque on the palate with a healthy dose of spiciness and licorice in the finish. Candi sugar and malt sweetness helps balance out the spicy bill.
M-Medium body and quite smooth with LONG lingering spicy notes.
D-An interestingly good beer and I appreciate the effort in attempting to do something a bit different. Despite this the flavours become a bit overwhelming and I doubt I could drink too much....certainly wouldn't want to down an entire bottle on my own.
726 characters
4.38
/5
rDev
+7.6%
look: 4.5 | smell: 4 | taste: 4.5 | feel: 4.5 | overall: 4.5
Pours a deep dark red with a frothy 2-finger head. Excellent retention and lacing. Very nice looking glass.
Strong caramel nose with candy sugar and Belgian yeast. Very strong nose.
Fairly thick, sweet hit followed by strong malt flavors. Cherries up front and thick chewy bread in the middle. Hint of bitters in the finish, but tart cherry takes over and lingers for a very long time. More sweet than dry, however.
Feel is just right. Thick without overpowering. Only a hint of syrup.
This is 10%. The taste doesn't begin to hint at the abv, but you definitely feel it by the end of the pint.
Another very nice beer from the folks at OBX.
645 characters

3.93
/5
rDev
-3.4%
look: 4.5 | smell: 4 | taste: 4 | feel: 4 | overall: 3.5
500ml bottle from Chip's in Kill Devil Hills.
Pours clear reddish-copper with a huge, lasting light beige head.
Aroma is spices, mainly ginger, coriander, and cinnamon, with orange peel with sweet caramel malt.
Flavor is sweet and spicy with cinnamon, nutmeg, allspice, and ginger, as well as orange peel and sweet caramel malt. Not much hop character at all.
Medium-full and smooth on the palate.
This is drinkable. A surprisingly solid beer from OBBS. Very unique for sure. Good pairing with carrot cake for dessert.
524 characters
4.32
/5
rDev
+6.1%
look: 4 | smell: 4.5 | taste: 4.5 | feel: 4 | overall: 4
Growler from OBBS, as part of their Christmas in July celebration.
Dark crimson, nice steady firm sheet of belgian lace. Tons of spice jumping out of my tulip glass. Ginger snap cookies, cinnamon, cardamon, black strap molassas, and star anise. Flavors of dried plum, raisin, anaise and gingerbread. Finishes with a lingering blend of all the spices above, along with some warming phenol notes. Mouth is full with just enough carbonation. The 10% alcohol is very well integrated here, just felt in a warming of the throat down thru my chest. This is killer stuff. Christmas in July for sure!
Huge thanks Bob, for the suprise growler hook up straight from your trip back from the Outer Banks. This alone would be worthy of a trip back this winter.
750 characters
4.2
/5
rDev
+3.2%
look: 4.5 | smell: 4.5 | taste: 4.5 | feel: 3.5 | overall: 3.5
This beer poured a deep brown with ruby highlights and a two-finger tan head that left some significant lacing. The smell fruity with lots of sugary sweetness and a some of the additional spices they added. I'm picking up what might be a little cinnamon or anise. The taste is basically a reflection of the smell, starting off with some candysweet malt that gives way to some raisiny and other dark fruits with some spices in the finish inlcuding what is probable licorice. The alcohol is masked remarkably well and is just present in some gentle warming in the back end. The mouthfeel is fairly thick with some moderate carbonation. This beer is right up my alley, and I wish I grabbed more than one bottle while I was in the area. The spices may be a bit too prominent for some purists, but I found them to be a nice change of pace.
834 characters
Santa's Little Sledgehammer from Outer Banks Brewing Station
4.07
out of
5
based on
20
ratings.