Horny Goat Oktoberfest
| Horny Goat Brewing Co.
BA SCORE
75
okay
15
Reviews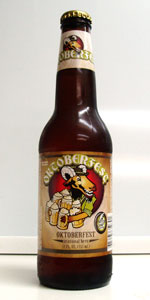 BEER INFO
Brewed by:
Horny Goat Brewing Co.
Wisconsin
,
United States
hornygoatbrewing.com
Style:
Märzen / Oktoberfest
Alcohol by volume (ABV):
6.00%
Availability:
Fall
Notes / Commercial Description:
A traditional marzen-style lager. Light in body to increase drinkability at appropriate Oktoberfests. Crafted with you in mind.
Added by BeerFMAndy on 10-10-2010
Reviews: 15 | Ratings: 67

3.55
/5
rDev
+19.9%
look: 3.25 | smell: 3.75 | taste: 3.5 | feel: 3.5 | overall: 3.5
I am almost certain that my (usually) local, in-person trader, tone77, dropped this off for me in furtherance of The CANQuest (tm). It is a tad past Oktober, but it being Super Bowl L Sunday, it is a Fest!
From the CAN: "Seasonal Beer"; "Carefully Crafted Famously Fun."; "Drink Responsibly"; "This is a malt forward beer with caramel and biscuit qualities. We use German Noble hops throughout the boil because they are low in alpha acids. This means we [CAN] add large amounts with out [sic] exceeding our bittering target, leaving the beer very balanced, but with a great deal of hop flavor in the middle of the beer."
The Goat has never looked Hornier, so I Crack!ed him open for a bit of release. Things were very calm upon the opening, but rather than taking a ChANce on roiling things up, I went with a gentle Glug. A swirl in the glass raised a finger of fizzy, tawny head with limited retention. Color was a lightly-hazy Deep Amber/Light Copper to Copper (SRM = > 13, < 17) with amber highlights. Nose was very sweet with caramel & so I give them credit for truth in advertising. Mouthfeel was medium. The taste was very sweet & redolent with caramel, but it is hard to dun them for it when a) they copped to it & b) that was what they were shooting for. Finish was likewise sweet & I really could have used more of those "biscuit qualities" to help balance things out. In total, it was just a bit too sweet for me get behind. It was not a bad beer, but not to my taste.
1,480 characters
3.21
/5
rDev
+8.4%
look: 3.25 | smell: 3.5 | taste: 3 | feel: 3.25 | overall: 3.25
Horny Goat Oktoberfest has a medium, off-white head, a mostly clear, copper color, some lazy, ascending bubbles, and almost no lacing left behind. The aroma is of spiced bread or caramel, oddly. Taste is of syrupy, malty bread crust, with noticeable metallic or grassy hop bitterness. Mouthfeel is light to medium, and Horny Goat Oktoberfest finishes crisp with high drinkablility.
RJT
387 characters
3.14
/5
rDev
+6.1%
look: 4 | smell: 3 | taste: 3 | feel: 3.25 | overall: 3.25
A: Pours a crystal clear medium to dark copper in color with moderate amounts of active visible carbonation and some faint amber + orange highlights. The beer has a two finger tall dense foamy sudsy beige head that reduces to a large patch of medium thick film covering the majority of the surface of the beer and a thick ring at the edges of the glass.
S: Light to moderate aromas of bready + toasted malts and earthy + herbal hops.
T: Upfront there is a moderate flavor of bready and toasted malts with minimal amounts of sweetness. That is followed by a light flavor of earthy + herbal hops which impart a light to moderate amount of bitterness which does not linger for long.
M: Just shy of medium bodied with slightly heavier than moderate amounts of carbonation. Smooth.
O: A somewhat Americanized version of an Oktoberfest, not quite the same malt flavors/aromas and hop profile that I am used to experiencing. Not bad, easy to drink but not one of my favorites in the style so I probably won't be grabbing it again. I guess I'm more of an Oktoberfest traditionalist.
1,078 characters
3.26
/5
rDev
+10.1%
look: 3.75 | smell: 3.25 | taste: 3.25 | feel: 3 | overall: 3.25
16oz can. Pours a clear rusty amber with a medium off white head. Aroma and Taste is sweet toasted barley, grains, some yeast and fruity notes. Palate is a medium body with mild carbonation. Finish is sweet toasted malt, yeast and fruity, some light grassy notes, mild bitterness. Nothing really stand out here,tends to be on the sweet side but still a pleasant drinking brew for the style.
390 characters
3.06
/5
rDev
+3.4%
look: 4 | smell: 3 | taste: 3 | feel: 3 | overall: 3
Poured from a 16 oz. can. Has a dark bronze color with a 1/2 inch head. Smell is very mild, a bit of malts. Taste has some toasted malts, not much else. If a light version of this style were made, I imagine it would taste something like this. Feels watery in the mouth and overall, nothing offensive here, but just a bland and boring beer.
339 characters
3.47
/5
rDev
+17.2%
look: 3.75 | smell: 3.5 | taste: 3.5 | feel: 3.5 | overall: 3.25
my first beer from these guys. first impression is that this may be a little gimmicky, labeling and all look pretty goofy. the beer is crystal clear and looks exactly the right color, orange rusty with a white head on it. the smell is a little bland, but its the right munich type malts and plenty of lager yeast doughy aromas. the flavor is real clean in the back for how much malt sweetness it first presents. notes of maple syrup and yellow squash are there, and a slight tinny metallic property where hops should be as it finishes. not the most artfully made example of the style out there on the market, but a reasonable beer overall. a good gateway craft type, its familiar enough to BMC guys but definitely a step up. still not particularly impressed, but its cool to see something from these guys for sale in colorado now.
830 characters

2
/5
rDev
-32.4%
Dark caramel color, beige head. Somewhat sweet nose, but somewhat plastic-y and mineral-y. There's a fair amount of noble hop taste that's almost minty, with a astringent malt backbone. Medium body, but a bit creamier than I like my Oktoberfest lagers. It was kinda a mess. Glad I was able to share the whole 4 pack with coworkers and not be stuck with any.
361 characters
3.31
/5
rDev
+11.8%
look: 3.75 | smell: 3.25 | taste: 3.25 | feel: 3.5 | overall: 3.25
Golden honey orange in color with a slight chill haze. Poured with a short, soapy white foam that reduced to a wispy cap and left wet lacings on the glass. Grain and light toasted bread aromas up front with sweet malt and buttery aromas at the back end. On the lighter side of medium bodied with a thin buttery feel up front with assertive carbonation through the middle. Grainy toasted malt flavor throughout with buttery flavors in the middle and floral hop bitterness from the middle to the end. Finishes crisply but not cleanly with a buttered toast finish.
561 characters

2.82
/5
rDev
-4.7%
look: 3 | smell: 2.75 | taste: 2.75 | feel: 3.25 | overall: 2.75
Poured into a shaker pint glass.
Look: A normal caramel copper color. A cream colored head recedes to a light film, a few splotches of lacing.
Aroma: Malty, faint sweet caramel, crackers.
Taste: More on the cracker toasted bread side of things, some sweetness from malts.
Mouthfeel: Slightly dry, carbonated.
Overall: There's just something off about this.
363 characters
2.9
/5
rDev
-2%
look: 2.75 | smell: 3.25 | taste: 2.75 | feel: 2.5 | overall: 3
LOOK: 12 oz twist off cap. Pours a light orange copper color with a white head that recedes to a ring. Clarity is decent with this German style lager. About par for the course on the look, retention being a bit low however.
SMELL: White bread, grains, and alittle caramel going on in the nose. Has a generic beer aroma aside from light caramel on the back end.
TASTE: Upfront there is some toasty malt and caramel, tasting like a light American take on an Oktoberfest. Little to no hop profile, there is a faint bitterness, maybe the slightest citrus and finishes bittersweet, mostly sweet. Toffee flavor hides in the background, along with some buttery diacetyl.
FEEL: A light body and medium carbonation on this brew. A bit thin and watery, and the finish lacks a true malty ending.
OVERALL: This is a more mainstream take on the style, but is not terribly different from a lot of others on the market. One of the better offerings from the Horny goat line, this is OK.
974 characters

2.56
/5
rDev
-13.5%
look: 3.5 | smell: 2.5 | taste: 2.5 | feel: 2.5 | overall: 2.5
12 oz bottle poured into a pint glass.
Pours a robust brown coloer with a full finger of off white foam. Aroma is a bit off, there is a some sourness in the nose.
First sip is.... not great. There is a sour/lactic off flavor, with a bid of a metallic aftertaste. It has a lingering harsh aftertaste. There is no crisp finish, or malty sweet flavor. It just tastes off.
I was a bit skeptical when I saw the branding of this beer, and unfortunately the beer lived up to my impressions. Glad I only bought a single.
515 characters
3.29
/5
rDev
+11.1%
look: 4 | smell: 2.5 | taste: 3.5 | feel: 3.5 | overall: 3.5
OOOHHH MEEE SOOO HORNY!!! The horny goat octoberfest is much better than the D rating that is currently presented on BA in my opinion. The appearance is a nice amber with thin white head that didnt lace all that well. Smells typical of most octoberfests....sweet malt, etc. The taste was heavy with the sweet malt and was quite nice. The mouthfeel was smoot and well worth the try.
381 characters
3.03
/5
rDev
+2.4%
look: 3.5 | smell: 3 | taste: 3 | feel: 2 | overall: 3.5
Picked this one up at HyVee in Madison in the $1 bin. Might be a little past it's prime, but I haven't had it so I figured I'd give it a shot.
Poured an orangish amber color with a good amount of head on it.
The smell was pretty weak overall. But there was some caramel in there.
Taste was pretty average. Not bad though.
Mouthfeel was a little off. Can't put my finger on it but it wasn't the smoothest drinking beer.
I'll give this beer another shot this fall when it's fresh. As it was, I could have drank a few more without a problem, but it's probably better when it's fresh.
586 characters
1.39
/5
rDev
-53%
look: 2.5 | smell: 1 | taste: 1.5 | feel: 1 | overall: 1.5
12 oz twist off.
It pours a clearish amber with a fizzy white head.
It doesn't have a smell.
It tastes like bad cornbread.
The mouthfeel is thin and watery.
Drinkability is bad, glad I only have 1 bottle.
This is an oktoberfest? I almost mistakened it for Natty Light Oktoberfest Edition.
295 characters
2.01
/5
rDev
-32.1%
look: 4 | smell: 3 | taste: 1.5 | feel: 1.5 | overall: 1.5
12 oz bottle poured into a Sierra Nevada imperial pint. No date or info.
The masochist in me began doing cartwheels when I saw this in the singles section of the new Woodman's by my house today. Siiigh.
A - Crystal clear and golden amber orange in color with lots of carbonation. A stiff two-finger, off-white head has good retention with some decent lace left behind.
S - Caramel and Vienna malts start it off the right way. Maybe this won't be so bad. It's got a follow-up of mineral water that isn't entirely appealing though. Just a touch of floral hops. Not bad, but very average.
T - Now THIS is the Horny Goat I know: Tinny, downright metallic flavors overwhelm everything and are incredibly off-putting. It overshadows the lightly toasted Vienna malts in the background. Slightly medicinal hints as well. Just awful.
M - Crisp and smooth with a dry and metallic finish that lingers and gives the feeling of chewing on aluminum foil. Ugh.
D - It started out ok! While I shouldn't be surprised at it's outcome, I was half hoping it was decent like their Red Vixen. Unfortunately it's completely undrinkable for how metallic it is. Drain pour.
1,154 characters
Horny Goat Oktoberfest from Horny Goat Brewing Co.
2.96
out of
5
based on
67
ratings.