Vëte Öl
| Carlson Craft Brewery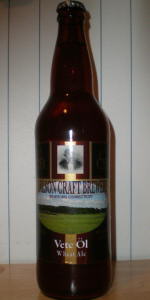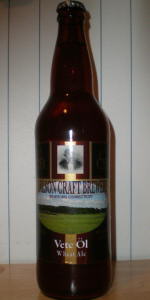 BEER INFO
Brewed by:
Carlson Craft Brewery
Connecticut
,
United States
Style:
American Pale Wheat Ale
Alcohol by volume (ABV):
5.00%
Availability:
Year-round
Notes / Commercial Description:
Vëte Öl is an American Style Wheat Ale made with 100% Organic Barley and Wheat malt from the Gambrinus Malting Co.. Cascade and US Tettnang hops provide the American hop character to balance the malt.
Added by Jason on 07-05-2008
This beer is retired; no longer brewed.
HISTOGRAM
Ratings: 12 | Reviews: 11
Reviews by bjohnson:
3.95
/5
rDev
+3.7%
look: 3.5 | smell: 3.5 | taste: 4 | feel: 4 | overall: 4.5
Cloudy straw to dark yellow/amber color with a thin wispy white head. Nice lacing left on the glass. Light citrus aromas with a touch of wheat and biscuit. Light and fluffy mouthfeel with a crispness from the hops that leaves the mouth with a dry bitterness. Very drinkable. Another solid brew from Carlson--nothing flashy or extreme--just a solid pale wheat ale.
363 characters
More User Reviews:
4.2
/5
rDev
+10.2%
look: 4 | smell: 4 | taste: 4.5 | feel: 4 | overall: 4
Review from BeerAdvocate magazine Vol. II Issue IX:
The bottle conditioning yields a very active carbonation, which helps produce an epic four fingers of head. Lacing is pretty amazing with stickage all the way down the glass. The crystal-clear golden color shows that the clarity dropped very bright. Dry bready malt with a chalky yeast in tow, mild pear fruitiness and subtle hop make up the aroma. Just as crisp as it is smooth, which adds to the refreshing quality and moderately sized body. The wheat kicks off everything with a fresh flavor that stays bready from start to finish. Nutty yeast melds well with the wheat flavor. Earthy herbal hopping drops a balancing bitterness on the palate. Light fruitiness middle to end, with pear juice and apple skin present. A little grainy and herbal in the semidry finish.
Lots of flavor here, its unfiltered and bottled-conditioned characteristics really shine. This rivals many of the other American Wheat Ales that are more readily available in the US.
1,005 characters

3.53
/5
rDev
-7.3%
look: 4 | smell: 3.5 | taste: 3.5 | feel: 3.5 | overall: 3.5
Pours a cloudy burnt orange with a large white head with good lacing. The smell has wheat,orange,pepper.lemon,and some banana. The smell is decent,but it's not too strong. The taste is abit thin,but you can taste the wheat,lemon,and pepper. Not bad,but not all that great. The m/f is light with the flavors mixing OK.Not a bad beer,but like I mentioned,it's somewhat thin.
372 characters
2.86
/5
rDev
-24.9%
look: 4 | smell: 3 | taste: 2.5 | feel: 3 | overall: 3
L: Pours a nice straw yellow color with a tall and thick white head that laces the glass nicely as it fades slowly. There is a bit of yeast sediment at the bottom of the glass as well.
S: Smells of sweet wheat malts and then a big hoppy bitter finish.
T: The taste is similar to the nose. Big wheat malt up front followed by a big hoppy finish. The aftertaste was really bitter as well.
M: Very smooth and fresh feeling with the right amount of carbonation.
D: OK drinkability. The hops just didn't seem to fit this one. I think it would be better with a more citrisy hop flavor to it.
585 characters

3.62
/5
rDev
-5%
look: 3.5 | smell: 4 | taste: 3.5 | feel: 3.5 | overall: 3.5
Picked up both offerings at Coastal in Branford; very excited to see Carlson up and running. Good looking bottle. Color is a very hazy brown with a nice white head. Clean aroma, slightly citrusy. Taste is a little hoppier than expected; not unpleasant, but I personally prefer very little hop character in my wheat beers. As the bottle warms the wheat flavor becomes a little more apparent and my appreciation for this beer grew. Overall a nice offering from a new brewery; I wish them a lot of success.
503 characters
3.68
/5
rDev
-3.4%
look: 4 | smell: 3.5 | taste: 3.5 | feel: 4 | overall: 4
A medium straw colored body. Multiple inch foam like white head took a long time to recede. Only a slight haze allowed the loads of carbonation bubbling to be seen nicely. Large lacing clumps dot the glass.
A very nice wheat aroma up front reminded me of a loaf of bread. A slight lemon finish keeps this one clean and refreshing in the nose. Extremely light note of plastic.
Taste is a refreshing blend of light lemon taste and a rich biscuit grain. Second sip provided a sharp hit of white pepper flavors. A nice balance of flavors.
Nice viscosity on the tongue. Beer clings and the tastes shift slightly as the carbonation pushes through.
A very nice brew. A nice pair to a light pasta salad on a warm day. Cheers to the folks at Carlson. A great addition to brewing in Connecticut.
789 characters
3.75
/5
rDev
-1.6%
look: 4 | smell: 4 | taste: 3.5 | feel: 3.5 | overall: 4
Super cloudy dense amber with a foamy white head. Smells like a wheat beer for sure. Floury.
Taste is very husky wheat and lemony hops that bite a bit harsh at first, but as it warms up the balance seems to improve and the hops mellow a bit. Bitter dry finish. Easy drinking stuff. I will get more.
Glad that it will be carried nearby at Mountview and Southington.
364 characters

3.7
/5
rDev
-2.9%
look: 3.5 | smell: 3.5 | taste: 4 | feel: 3.5 | overall: 3.5
This is a solid, refreshing, if not astonishing American wheat. A good start from a new brewery.
Pours hazy golden with a huge fluffy head. Slight wheaty aroma. Strong malty and wheaty taste, lemony with a sneaky hop bitterness. As it develops in the mouth, a slight apricot or papaya character comes through. The Mouthfeel is clingy with a sting of carbonation. The aftertaste thin but clingy, leaving a nice hop bitterness on finish.
436 characters

4.45
/5
rDev
+16.8%
look: 4 | smell: 4 | taste: 4.5 | feel: 4.5 | overall: 5
This one pours a cloudy straw yellow into my Weihenstephaner glass - wanted to be able to fit the entire 22. A slow pour yields a moderate head that quickly disappears. Aroma immediately after the pour was citric, with hints of fresh lemon and a sourdough breadiness.
Taste gives a similar citric twang and then ushers in the viscous wheat body. An interesting hop finish pops in and out - in aroma as well as you move on here and this one warms a bit. Slightly bitter and lovingly dry, the finish hovers around and around inducing another sip - tart again.
This beer screams 'Drink Me' and does not stop. Not the most over the top by any means - but that is a good thing.
676 characters

3.91
/5
rDev
+2.6%
look: 4.5 | smell: 3.5 | taste: 4 | feel: 4 | overall: 4
22 oz. bottle.
Appearance: Upon pouring, cloudy darker yellow hue is present. Bright white moderate head - approximately one finger. Subsided after a minute or two.
Light yeasty smell - similar to that of bread dough right after pour, but more fruity (citrusy) smell after warming.
When tasting, a bit more hops than you would anticipate hit you up front initially. Then malty notes are apparent before finish. Hops seem to mellow with time.
Good mouthfeel. Carbonation coats/sticks to your tongue.
Nice light bodied beer. Overall more complex than most wheat brews. Looking forward to trying Carlson's Bärnsten Öl next!
631 characters
4.08
/5
rDev
+7.1%
look: 4.5 | smell: 4 | taste: 4 | feel: 3.5 | overall: 4.5
Carlson Craft Brewery, Vete Ol, Wheat Ale (Tasted 09/08/08)
22 oz. bottle: poured into a nonic.
Appearance: Hazy, deep golden hued beer with a initial half-finger, meringue head that fades down into a bubbly millimeter cap with a ring of foam around it, impressive retention. It's a beauty!
Odor: Sweet, sticky lemon and orange aromas with some soft, tangy wheat in the background.
Flavor: Sweet, tangy wheat and citrus combo hits first and remains to some extent. Hop bitterness is grassy, firm and constant, complimented by a bit of spice from the yeast, it's strong enough to raise an eyebrow, but in the grand scheme of things, not outrageous. Bready malt flavors begin to come out strong right before the finish, which is moderately clean. Slight tang and bitter hop flavors linger and fade.
Consistency: Creamy, smooth medium to light body, hop and tannic astringency is present, but overall the malt dominates.
Notes: Pouring the yeast adds a bit of heft to the body, cutting the bitterness down a bit and rounding things out.
1,036 characters
Vëte Öl from Carlson Craft Brewery
Beer rating:
3.81
out of
5
with
12
ratings