Bärnsten Öl
| Carlson Craft Brewery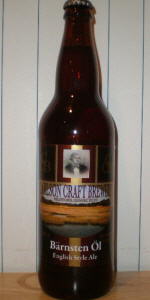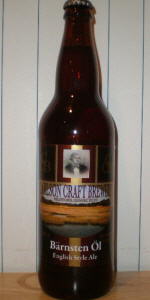 BEER INFO
Brewed by:
Carlson Craft Brewery
Connecticut
,
United States
Style:
English Pale Ale
Alcohol by volume (ABV):
4.60%
Availability:
Year-round
Notes / Commercial Description:
Bärnsten Öl is a beer that falls into no particular style and can be best described as an English Style ale. It was created to be liked by most everyone with moderate maltiness and bitterness. It is made from 90% organic barley malt and wheat from the Gambrinus Malting Co.. We use English and Continental hops to create its hop signature.
Added by Jason on 07-05-2008
This beer is retired; no longer brewed.
HISTOGRAM
Ratings: 13 | Reviews: 12
Reviews by bjohnson:
3.9
/5
rDev
+8%
look: 4 | smell: 4 | taste: 3.5 | feel: 4 | overall: 4.5
Pours a cloudy dark straw color with thin fizzy head. Looks like a perfectly poured English pint. Wispy bubbles make up the well retained head. Lacing is almost perfect. Huge toasted malt notes with hints of caramel sweetness. Malt dominant in the nose--very nice. Light grassy hop twang with a subtle bitterness in the finish. Smooth across the tongue with a touch of silk and oil. Definitely a high quality session beer. Well made.
433 characters
More User Reviews:
3.68
/5
rDev
+1.9%
look: 4 | smell: 3.5 | taste: 3.5 | feel: 4 | overall: 4
Review from BeerAdvocate magazine Vol. II Issue IX:
A head-y beer to say the least. Quick to foam, so pour with care. The sediment on the bottle stays in place, and the clear, true golden-amber color shines in the light. The massive, towering head leaves some stickage on the glass. Grainy flour, chalky yeast and a mild fruitiness in the back on the nose. Slick medium body with enough crispness to get by; carbonation is a little prickly. Big apple skin, nutty yeast and an herbal hop bitterness teeter toward somewhat eclectic complexities. Malt character is dry with a biscuity flavor from start to finish. Ends far on the dry side with light yeast flavors.
While not your typical easy-drinking session ale, it makes up with its depth of flavor and subtle complexities. It's big and bold enough to throw at the heartiest aged cheddar, toasted chestnuts and dark bread. Give Carlson props for at least trying this beer--it is definitely worth a go.
953 characters

3.2
/5
rDev
-11.4%
look: 3 | smell: 3 | taste: 3.5 | feel: 3 | overall: 3
Pours a darkish burnt orange with a small white head. The head is real small with no lacing. The color is good,but no head? The smell is alittle on the weak side with carmel,floral scents,and malt. The taste is like the smell, carmel,malt,and floral flavors,but little else. The taste isn't bad,not somewhat thin. The m/f is light with the thin flavors mixing not all that well. Not really all that great,but I'm willing to buy another and try it again.
453 characters

4.32
/5
rDev
+19.7%
look: 4 | smell: 4.5 | taste: 4 | feel: 4 | overall: 5
Not a bad start!
Bomber from New England Bev. These weren't there two weeks ago, and the beer's from Branford so I was legally obligated to purchase a bottle. The brewing date is marked with a Sharpie; oh, what local charm! :)
Clear, neutral golden pour with a just over a half an inch of a short-lived head. Aroma is nothing but sweet, gentle malt. Not a particularly bubbly beer.
Taste is laid back, with a very bready malt backbone and a well-balanced, crisp bitterness.
I really can't go on and on about this beer, but I have to admit that it's absurdly drinkable. Looking forward to more from Carlson.
612 characters
2.74
/5
rDev
-24.1%
look: 4 | smell: 2.5 | taste: 2.5 | feel: 3 | overall: 3
L: Pours a nice amber color with a medium sized and very thick tan colored head that laces the glass alot as it fades slowly and never really settles over the beer. A decent amount of yeast sediment at the bottom of the glass.
S: Smells of very nice sweet malts and then a big hoppy bitter end to the nose.
T: Very nice sweet malts up front and then followed by a hoppy bitterness that is OK but doesn't seem to go with the malts. The aftertaste is a bit bitter and sour.
M: It was fresh and smooth with the right amount of carbonation.
D: It was OK, the bomber was a bit monotonous by the end but it was drinkable.
615 characters
2.85
/5
rDev
-21.1%
look: 2.5 | smell: 2.5 | taste: 3 | feel: 3 | overall: 3
I had never heard of this brewery when I saw this bottle in the beer store, and I am always happy to support local breweries. That said...
Pours a light copper color into my pint glass. A rather thin head that fades quickly and leaves a thin white ring around the glass. Not a very strong aroma. Light malt and light hops, but no real dominant aroma...balaned but weak. The taste is much the same. Very subdued and not at all strong. Some sweet malts and hops come through with a touch of bitterness. Light mouthfeel and a little carbonated. It drinks very easy. Overall it's just not a real strong attack on the senses, but it's a good beer if you want something a little more subtle and easy to drink.
704 characters
4.62
/5
rDev
+28%
look: 4 | smell: 4.5 | taste: 4.5 | feel: 5 | overall: 5
I grabbed a bottle of this brew at my local beer shop. Pouring at cellar temp into a snifter. the beer pours a hazy chestnut with a thin surface layer of eggshell white head. Aroma is light caramel and fruit (peaches) I also get some nice citrus notes more orange than grapefruit.
the 1st sip reveals an average body with gentle mild carbonation that rolls across my palate.
Flavor is similar to nose with some caramel and a bit of grainy malt, again a little fruit. Rolls to an earthy and citrusy bitter hop finish. This is a very easy drinker that would be an excellent session beer. Interesting to keep you from getting bored with it yet the low ABV and light body keep it refreshing and light in the belly.
Very nice brew, I cant wait to get my hands on the Old Ale when it is released!
790 characters

4
/5
rDev
+10.8%
look: 4 | smell: 4 | taste: 4 | feel: 4 | overall: 4
Orange color with a thin white head. Pleasant citrusy aroma. Flavor is nicely balanced. The hops are predominant, but not overpowering; nicely balanced combination. Very easy drinking; a great session ale. For a first offering from a new brewery, it's quite impressive; definitely better than the wheat ale.
307 characters

1.93
/5
rDev
-46.5%
look: 2.5 | smell: 2 | taste: 2 | feel: 2 | overall: 1.5
I was in CT when the first two beers from Carlson were released. I asked the store clerk which was better and I got a funny cringe and a reluctant recommendation to try the Barnsten Ol. There were no negative comments from the clerk, but I got the idea that he would have recommended 98% of the other beers before this one. I normally try to avoid bad ratings when it comes to new and/or small operations, but I saw that this was an A- on here and felt that wasn't doing any service to the community and probably not honest feedback for the brewer. You can't grow if you think that this beer makes the cut for what encourages return customers or good word of mouth at the store and pub level.
The label was top notch, so I know that effort was going into these releases. But what was inside was flat, watery and something that I couldn't even get through the 8 ounce taster glass that I had poured myself. There was nothing in the aroma, taste or body of this beer that would ever compel a second purchase or spark any interest in trying the other release. Sorry, but this tasted like a homebrew gone wrong.
1,109 characters
4.15
/5
rDev
+15%
look: 3.5 | smell: 3.5 | taste: 4.5 | feel: 4 | overall: 4.5
Hazy amber with a thin white head. Smells mostly of doughy malt and a bit of citrusy hops. There's also a slight fruitiness.
The taste is great, nicely balanced malt and hop with a medium mouthfeel. Caramel, a bit of toast, wheat , slightly sweet...hops are in good proportion, but bitter is toned down.
This reminded me of Southampton's Burton Ale.
Very good. Extremely drinkable. The low ABV is a big plus. I will definitely be looking for more of this and would love to taste it on cask.
Nice job, Carlson.
510 characters

3.5
/5
rDev
-3%
look: 3.5 | smell: 3.5 | taste: 3.5 | feel: 3.5 | overall: 3.5
A bit of a disappointment after trying Carlson's American Wheat.
Pour a hazy amber with thin head and almost no aroma. The flavor is very malty, a little too sweet. The hops are a mix - a little bit citrusy, a little piny and there is a slight bitterness down the throat. The mouthfeel is clingy, bordering on viscous, with a little sting of carbonation. There is nothing wrong with this beer, but not one I would travel out of the way for.
441 characters
4.05
/5
rDev
+12.2%
look: 4 | smell: 4 | taste: 4 | feel: 4.5 | overall: 4
Carlson Craft Brewery, English Style Ale (Tasted 08/18/08)
22 oz. bottle: poured into a nonic pint.
Appearance: The beer pours out a hazy golden color with a small but firm head that fades down into a white cap on top of the beer with a solid ring around the edges.
Odor: Rich, sweetbread malt aromas, plums and tobacco and earthy hop with some coarse grainy notes and mineral & buttery aromas in back.
Consistency: The first thing I notice about this beer is the minerally texture, it feels almost like a cask ale, impressive for a bottled product. Slightly creamy, medium body with a bit of tannic astringency.
Flavor: Pretty straightforward in the flavor department, mild, semi-sweet malty notes, tannic tobacco flavors and a firm but clean bitterness that creeps in slowly, providing balance. Finish is clean with a burst of fruity flavors from the yeast and some earthy hop flavor.
Notes: Beer gets a little more flavorful as it warms. Malt takes on somewhat of a graham cracker flavor that rolls into the finish, fruitiness increases.
A little rough around the edges, but an impressive drinkable pale.
1,109 characters
Bärnsten Öl from Carlson Craft Brewery
Beer rating:
3.61
out of
5
with
13
ratings