Gammal Öl
| Carlson Craft Brewery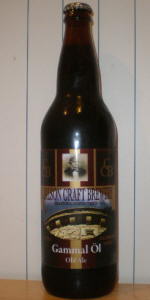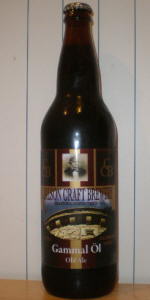 BEER INFO
Brewed by:
Carlson Craft Brewery
Connecticut
,
United States
Style:
English Old Ale
Alcohol by volume (ABV):
5.60%
Availability:
Limited (brewed once)
Notes / Commercial Description:
No notes at this time.
Added by Walken on 10-16-2008
This beer is retired; no longer brewed.
HISTOGRAM
Ratings: 8 | Reviews: 7
Reviews by bjohnson:
4
/5
rDev
+3.4%
look: 4 | smell: 4 | taste: 4 | feel: 4 | overall: 4
Pours a dark burgandy almost plum color with a thin white fizzy head that dissipates rather quickly but hold nicely on the edges of the glass. Apparently the carbonation issues have been figured out as this one is perfect. Nutty, fig, slight chocolate and peate. Reminds me a lot of a scotch ale. Sweet caramel malt notes coupled with figs, nuts, slight chocolate and a bready crisp finish. Very clean and refreshing on the palate with a light mouthfeel. A bit low in alcohol to be an old ale, but quite tasty and easy drinking.
528 characters
More User Reviews:

4.15
/5
rDev
+7.2%
look: 4 | smell: 4 | taste: 4.5 | feel: 3.5 | overall: 4
Warning, this one was a GUSHER...I was psyched when I saw the previous high ratings, and the date of bottling marked on the label (October, 2008). When it started foaming out of the bottle, I was ready, based on the earlier reviews. I let it settle/foam for a bit in the sink and then tried a pour, HUGE head, so I'm thinking infection/drain pour. More waiting/more settling, now I'm gonna try it. Surprise #2, its delicious! Cloudy, murky brownish dark amber. Darker tan wild and fluffy lace. Smoke, chocolate and cafe au lait in the nose. Tasty chocolaty brew, lots of dark roasted grains, dusty dry dark chocolate and light smoke. Complex and packing a nice level of depth and interest. I'd like to know if all other bottles have had similar issues that I encountered.
771 characters

4.35
/5
rDev
+12.4%
look: 4 | smell: 4 | taste: 4.5 | feel: 4.5 | overall: 4.5
Good to see another CT brewery. Slightly murkly chestnut colored wth a two inch high finely bubbled head of thick off-white foam. No carbonation gusher issues.
Aroma of toasty malts, hints of tea, ripe fruit and cinnamon.
Flavors of roasted malt, cocoa, fig, smokey bark, cinnamon and brown sugar. A sharp burnt coffee finish punctuates, some hop bitters poke through. Pretty complex, and well balanced.
Rich and creamy mouthfeel, pretty full. Finishes dry and crisp, just a bit powdery and tannic.
Very drinkable, lots of flavors here. Low ABV for an old ale, but this is a good beer.
589 characters
2.52
/5
rDev
-34.9%
look: 2 | smell: 2.5 | taste: 2.5 | feel: 3 | overall: 2.5
L: Huge Gusher. Had to pour this one over the sink. Very early homebrew in appearance. The head is a very large and thick tan colored head that takes a long time to fade. Small dots of yeast in the head as well. As for the body, it's a nice amber-brown color with a decent amount of yeast sediment at the bottom.
S: Smells of sweet malts, hints of hops, and then some alcohol at the end of it. I thought it was going to be stronger than it is.
T: Tastes of sweet malts, hints of hops, some caramel, and then a hint of alcohol at the end of it.
M: Raw, right amount of carbonation.
D: Not very for me. I didn't think the flavors were too balanced, and the fact that it blew up like one of my first homebrews didn't make it any more appealing.
741 characters
4.05
/5
rDev
+4.7%
look: 4 | smell: 4 | taste: 4 | feel: 4.5 | overall: 4
Deep,dark amber with a huge tan head...pour this one slowly! Rises out of the glass....nice lacing.
Smell is a bit of burnt caramel and flour.
Flavor is a mix of sweet caramel malt, dried fruits,dough, cola and chalky grain. There is a tangy ,lime rind hop bite that comes in quickly and lasts to a clean finish.
Carbonation is a bit high, but OK ,and the body is medium...just right.
Pretty drinkable.
A lot of flavor and a low ABV...I'll want more of this.
459 characters
3.42
/5
rDev
-11.6%
look: 3 | smell: 3.5 | taste: 3.5 | feel: 3 | overall: 3.5
bottle sample from rustychiles.
poured in a hurry into a coffee cup since it was foaming wildly. actually, it looks like a weak cup of coffee (yellow shade of nutty brown) with a huge frothy nut cream colored head. it appears a bit thin.
lots of spice (nutmeg especially) in the aroma along with dusty dryness, wood, earth, perfume-y flowers and toasted nuts.
after a pummeling of dry earthy spices the flavor reveals malty caramel, toasted walnuts and their skins, faint chocolate notes and dry grassy herbs. medium body with a slick texture and foamy over carbonated mouth feel. perhaps the abundance of foam in the mouth makes it seem thinner.
7/3/7/3/14/3.4
666 characters
4.48
/5
rDev
+15.8%
look: 4.5 | smell: 4 | taste: 5 | feel: 3.5 | overall: 4.5
Carlson Craft Brewery: Gammal Ol, Old Ale
22 oz. bottle, poured into a goblet.
Appearance: Bottle foams over as soon as the cap comes off, a little bit of beer had to be sacrificed to get it under control. Pouring is slow, the beer foams up like Duvel. Either I didn't wait long enough for it to settle after the car ride (4 hours in the fridge) or the carbonation on this batch is a little wonky. I'll have to check this beer out again (oh darn) just to be sure. When all is said and done, there's a cloudy dark amber beer in my glass with a half inch cap of foam that sticks to the sides of the glass.
Odor: Ripe strawberry and plum, earthy/spicy hops in the background. Very subdued nose.
Consistency: Carbonation is pretty intense at first, after letting the glass sit in the fridge for a few, it calms down a bit. There's a nice fruity acidity and roasted edge to this beer. Medium body.
Flavor: Wow, Sweet toffee hits first, then the fruity strawberry and roasted malt, reminiscent of black coffee. There's an underlying spicy hop flavor present, bitterness is there, but clean, the roasted malts provide most of the balance for this beer. Roast flavors lean a little toastier, more nutty into the finish, a nice toasted grain flavor lingers on the palate.
This beer really impressed me at OctoBARfest. I'm glad to see it bottled, as I've always been a fan of old ales in the vein of Old Peculier. It's nice to have something like this being brewed in CT. Carbonation issues aside, this is one hell of a beer, I'd encourage everyone and their mother, especially those who enjoy English inspired ales to try this.
1,621 characters
Gammal Öl from Carlson Craft Brewery
Beer rating:
3.87
out of
5
with
8
ratings