Horseshoe Bend Pale Ale
| Grand Canyon Brewing Company
BA SCORE
78
okay
11
Reviews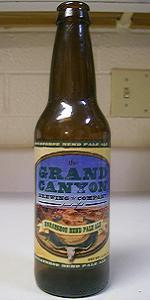 BEER INFO
Brewed by:
Grand Canyon Brewing Company
Arizona
,
United States
grandcanyonbrewingco.com
Style:
American Pale Ale (APA)
Alcohol by volume (ABV):
5.50%
Availability:
Rotating
Notes / Commercial Description:
13.5 IBU
Added by aristeros on 09-26-2009
Reviews: 11 | Ratings: 31

3.33
/5
rDev
+5.4%
look: 3.5 | smell: 3 | taste: 3.5 | feel: 3 | overall: 3.5
Bottle poured into a tumbler, Horseshoe Bend Pale Ale is bronze with fizzy sand colored head that leaves very light, scattered lace.
Smell is vegetable hops, compost, herbal.
Taste is mild biscuit and caramel malt with a touch of spicy and herbal hop flavor, moderate bitterness. Not bad, pretty modest flavor profile but no major issues, just kind of generic.
Mouthfeel is dry, crisp, thin body.
Drinkability is fine, it's inoffensive, a bit subtle, but it has the key components of the style, in the English manner.
525 characters
4.11
/5
rDev
+30.1%
look: 4.5 | smell: 3.5 | taste: 4.5 | feel: 4 | overall: 4
Horseshoe Bend Pale Ale pours a clear golden color, with a thin off white head and very moderate carbonation. The aroma is understated, but there is a definite floral hop character. The taste is a pleasant bouquet of hops, even more so than the aroma. There is nice lacing left on the pint glass.
Overall, this is a solid offering from the Grand Canyon Brewery. It certainly holds its own against other better known craft pale ales. I would highly recommend this beer to anyone that can get it.
496 characters
2.34
/5
rDev
-25.9%
look: 3.5 | smell: 2 | taste: 2 | feel: 3.5 | overall: 2.5
Poured into a Pilsner glass. Medium dark orange, crystal clear color. Lot's of medium sized carbonation bubbles lead to a bright white frothy looking head. Lace sticks decent.
Smell is quite musty. Smells like a Belgian yeast strain was used. Can't get much more than soggy bread.
Taste is a lot like the smell. Why do American brewery's brew American PA's and use yeast or malts from across the pond? This is not American at all!! The tastes are musty and dank. I maybe get a hint of weak, thin citrus tastes.
Mouth is medium. Carbonation is decent. A bit watery in the back. It is just a Pale though.
Overall I really did not enjoy this. I can't stand the use of Belgian yeasts in any beer. Especial APA's. I received this as a sample from my favorite bottle shop. My advice is if it's free then give it a shot. If they are charging anything then pass on it.
865 characters
3.18
/5
rDev
+0.6%
look: 3.5 | smell: 3 | taste: 3 | feel: 3.5 | overall: 3.5
Clear golden. Thin white head, low carbonation. Typical pale ale here.
Not much hops on the nose. Pretty faint floral but nothing much to spark interest.
Hop character is minimal with bitterness probably edging out flavor. Not that it's particularly bitter. Balance is nice. Decent and clean tasting but not going to stretch anyone's taste buds.
348 characters
3.82
/5
rDev
+20.9%
look: 3.5 | smell: 4 | taste: 4 | feel: 2.5 | overall: 4
Pretty good beer. VERY heavy carbonation which gave the beer so much white head that I had to abandon the idea of using a pint glass. After just a few seconds of very gentle pouring into a tilted pint glass, the head prevented any more pouring. After a few seconds it was trying to get over the rim of the pint glass. I tried again, pouring even more gently and had the same problem. I had half a glass left so the other half completely filled two pint glasses with head. The carbonation also impacted the mouthfeel, giving it the same overly-bubbly feel champagne or sparkling wine has. The flavor was good, as was the appearance (aside from the head taking over), but it was a bit light and watery in the mouth. I would definatley have another, though!
754 characters
3.21
/5
rDev
+1.6%
look: 4 | smell: 3 | taste: 3 | feel: 3.5 | overall: 3.5
The color of the beer was very pretty and calming to look at after imagining the glory of the Grand Canyon - though I personally have never had the pleasure of visiting Horseshoe Bend, I have looked out over the south rim and basked in the awesome immensity of it. I can see the resemblance, and I think it is a great marketing strategy to provide a picture of the inspiring place plastered on the label so one can have the chance to reflect on what might get them a little closer to one of the seven wonders of the world. The color is spot on, by the way, being a bright rusty amber color, slightly hazy while still cold; and the head was much more pleasing than any of the previous ales I've tried, building beautifully with plenty of carbonation and leaving a strong lacing inside the glass.
The smell was much more malt than hops, sweet rather than bitter. There were hints of fresh baked bread and caramel floating around, though very faint. This Pale Ale was rather thick compared to other pale ales I've had, and I really enjoyed it. It left a good feeling in my mouth and the aftertaste wasn't sour because it was lacking a good build of hops, which I think it may actually benefit from should the owners choose to change it up down the line. However, being one of the simpler beers I've tried, it's just not enough to keep me occupied long enough.
1,357 characters
3.08
/5
rDev
-2.5%
look: 3.5 | smell: 3 | taste: 3 | feel: 3.5 | overall: 3
Purchased at Grand Canyon general store.
A: Pours a copper hue, darker than their IPA I purchased which is a bit surprising. Nice off white head that dies to a solid ring.
S: Light caramel malts, hints of yeasty bread, and a touch of hops.
T: Rather mild flavors. Malty for sure. Mostly light cracker grains. Subtle caramel notes with no real hops standing out.
M: Medium in body, good carbonation.
D: Not so great. Not much flavor here. Still perplexed as to why it is ten shades darker than the IPA?
506 characters

2.93
/5
rDev
-7.3%
look: 3.5 | smell: 3 | taste: 2.5 | feel: 4 | overall: 3
Tanned head topping a copper beer. Malty nose, with caramel and breadiness. Herbal notes as well.
The flavor is overly sweet and caramelized. It is also "off" somehow. Malts are running amok here, contributing to the swampy mouthfeel. Hops are far too minimally present, and there's just not enough flavor to go around.
Metallic notes in the finish do not help the overly sweet flavor. Too much Crystal malt! Not great for summer heat in Arizona, and frankly not too great for much of anything.
498 characters
2.98
/5
rDev
-5.7%
look: 3.5 | smell: 3 | taste: 3 | feel: 2.5 | overall: 3
12 Fl Oz bottle poured into a plastic cup on the return journey from the Grand Canyon to Williams on the old train system, just before we got robbed!
The beer was a clear amber, the head off-white, the head did well, it stayed the distance and tried to leave some lacing on my cup.
The aroma was more malt than hops, some caramel sweetness could be found as the beer warmed.
The flavours from the smell carry on into the beer taste, pleasant but not exciting enough for a high score. There were hints of a dry bitterness as the mouth got used to the beer.
The body seemed a little thin, but a beer I'll always remember for where I had it more than the flavours it gave me.
676 characters

3.38
/5
rDev
+7%
look: 4 | smell: 3.5 | taste: 3.5 | feel: 3 | overall: 3
A solid pour into my 25cl tulip glass produces a couple fingers worth of lightly tan colored froth. The beer is a copper-gold hue that shows a lightly hazed, bright copper color when held up to the light. Wow, the aroma smells super malty with substantial pale-toasted grain aromatics, caramelized bread crust notes and just a really fresh, super savory, artisan bread like quality. I can't say that I smell much in the way of hops, except for perhaps a hint of herbal character.
Caramelized malt contributes some body as well as a sweetness that lingers in the finish and almost gets cloying. The finish leans towards sweet-tea flavors that one sometimes gets in crystal malt laden brews. A light bitterness peppers the finish along with some oxidized-orange flavors and perhaps a hint of pine-needle accents. The body isn't bad, and if there were more substantial hop character it would likely come off as balanced, but it seems a touch too thick for my liking in a Pale Ale.
A pale ale out of the late 80s or early 90s, this is severely lacking in hop character, but for those that don't like hops then this is the Pale Ale for you. Though there is some hop character here, just not enough to satisfy this sometimes-hop-head. A drinkable enough beer, but not really a good example of the style.
1,299 characters
2.97
/5
rDev
-6%
look: 2.5 | smell: 3 | taste: 3 | feel: 3 | overall: 3
Got this one from a friend who visited Tombstone, AZ who always asks for the local stuff. Thanks, Dion! Poured into a pint glass. No freshness date.
Pours a very light amber. Almost no head. Decent lacing. Very faint nose has some red fruit and Cascade hops. Dissapointing nose.
The taste is the best feature by far. Malty taste, light carmel up front with a mild bitterness throughout. Lingers on the tongue, but this isn't the heavily-hopped beer some folks in the craft community are after. Red fruit--apples--and a semi-sweet, faintly metallic finish which was a disappointment.
Mouthfeel was okay. A bit light on the carbonation, almost like it was going flat. Smooth.
This seems like a remix of the Bright Angel Trail Pale Ale this brewery was doing in 2008. Tombstone gets little traffic, so the bottle might have been old, and it might have suffered some in transportation, but even if I'm not seeing this beer at its best it needs work.
The brewer understands the basics, and the style, but it's not really exciting or extraordinary. With more aroma hops, more bittering hops, and a general 'making this beer bigger,' I could see myself getting more into it.
1,184 characters
Horseshoe Bend Pale Ale from Grand Canyon Brewing Company
3.16
out of
5
based on
31
ratings.