Capsicum Stout
| Shooting Creek Farm Brewery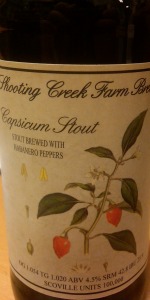 BEER INFO
Brewed by:
Shooting Creek Farm Brewery
Virginia
,
United States
Style:
American Stout
Alcohol by volume (ABV):
4.50%
Availability:
Year-round
Notes / Commercial Description:
No notes at this time.
Added by Metalmonk on 03-10-2010
Reviews: 8 | Ratings: 17
3.5
/5
rDev
-3.8%
12 oz bottle poured into a mug
A: Pitch black, one finger of very fine mocha colored foam - pretty, but gone quickly without leaving much lacing
S: Cocoa, coffee
T: Dark toasted malts up front, habanero finish that gets stronger as the glass empties
M: Lots of carbonation, creamy
O: I love stouts, but this is my first chile beer so I don't have much of a style reference to compare to. I would say it's a drinkable stout base that was kicked into above average and interesting by the hot pepper. If only the stout had just a little more creaminess or roundness to it...
576 characters

4
/5
rDev
+9.9%
look: 4 | smell: 4 | taste: 4 | feel: 4 | overall: 4
12 oz bottle poured into pint glass
This beer totally took me by surprise. Pour produced dark brown body topped by frothy 1 inch of white foam. Aroma was lactose, milk chocolate and a spicy pepper aroma. Taste---WOW! very, very hot, as in habanero hot. I must say, the chile heat blends very well with the chocolaty malt background. Mouthfeel is definitely thin for a stout and it needs to be mentioned that the 'heat' is part of the mouthfeel also---as in tongue burning. Maybe I'm nuts but for some reason, I really, really enjoyed this beer!
545 characters
1.59
/5
rDev
-56.3%
look: 3.5 | smell: 2 | taste: 1 | feel: 2 | overall: 1.5
A - Poured out an opaque, jet black color with a small, tan head of foam. Minimal lacing.
S - Peppers, lots and lots of peppers. Did not detect any stout-like aromas.
T - Tasted of fiery heat! Burning heat.
M - It's hard to say. I know it was light but it was so hot its hard to determine other mouthfeel aspects.
O - If you're one of those people that likes food that is so insanely hot that it has no flavor then you'll love this beer. Sadly, I don't consider fire to be a flavor.
486 characters
3.91
/5
rDev
+7.4%
look: 4 | smell: 3 | taste: 4.5 | feel: 3.5 | overall: 4
Since Chile Beer is a BA style, I'm rating Capsicum Stout to that style and not American Stout.
12 oz bottle poured (twice) into a Duck-Rabbit snifter. 1.5 fingers of fairly thick off-white head, dark brown color to the beer. Aroma is actually a bit muted. There's a hint of pepper and roast, but not too much.
The taste is where it gets you. This sucker is hot, but not overbearing (at least not for a chile head). Slight sweetness up front, a little hop bite near the end and a big peppery finish. Mouthfeel is just a bit thin which contributes to the lasting peppery-ness.
By the time I'm half-way done with this one, I have a slight burn on the lips from the habanero. Not the greatest base beer, but the chile really adds to this one in a very nice way. I'm going to have to play with chiles in my next homebrew, thanks to this beer!
842 characters
3.92
/5
rDev
+7.7%
look: 4 | smell: 4.5 | taste: 3.5 | feel: 3 | overall: 4.5
I just received this tonight in a trade from someone who had never even heard of me before and she was so nice and accomodating...a BIG thank you to Caroroberts!! A HIGHLY recommended trader!
A- Nice and dark cocoa colored looking stout. Nice head but creamy colored, not dark in the slightest sense.
S- Delicious nose! Creamy and solid cocoa and coffee and I can actually smell the peppers. Really looking forward to tasting this beer.
T- Here we go....Wow, that's SPICY!! Holy cow, great stout flavor, nice cocoa and coffee. This would be a stand alone beer without the peppers. Shit, those Habaneros are HOT!! It's a great beer but those habaneros are a bit strong.
M- Average for the style.
O/D- I'm a bit of a sicko so I'm really digging on this beer, but it sure is spicy/hot for long periods after having a sip. Pretty extreme, but that's kind of what i was looking for in this. Thanks Carly!
904 characters

3.93
/5
rDev
+8%
look: 4.5 | smell: 4 | taste: 4 | feel: 4 | overall: 3.5
12 oz bottle poured (extremely slowly) into a Duvel tulip - thanks for the thoughtful gift, levifunk
A - More head than any beer I've poured. This has happened with both bottles I've opened - it's not me, I swear! The massive head does shrink slightly given several minutes (which was crucial to me fitting a 12 oz bottle into a glass which could probably fit a typically-carbonated bomber) and doesn't leave much lacing. Black in color.
S - Dried hot chilis, chocolate, and a bit of lactose.
T - Roasted malts and some spice up front, which is followed by quite a bit of milk chocolate in the middle. The heat picks up in the back half and the habaneros explode in the throat upon swallowing. The latter part of this beer is like a quality chocolate bar with chilis on steroids. Earthy hops lend some bitterness to the slightly sweet, palate-shattering (for common folk) hot finish. Very enjoyable and unique, this is by far the best chili-based beer which I've consumed.
M - Spicy-hot, yet creamy. Lots of carbonation.
D - This is meant to be savored, and although I could handle a few, there's no need to be crazy.
1,122 characters

5
/5
rDev
+37.4%
look: 5 | smell: 5 | taste: 5 | feel: 5 | overall: 5
HUGE thanks to Wchesak for this special bottle... I had a bottle about 2.5 months ago and had another last night!
Poured into a tall tulip. Produces a ton of fluffy ever so slightly pink head thats sticks around for a very long time.
The aroma is spice, more spice and a bit of dark malt.
The taste is just amazing. Upfront it is a nice sessionable stout. smooth malt across the front and mid palate. then as it gets to the back the habanero kicks in and leaves the mouth a peppery spicy finish.
I had to slow my self done from drinking this one to fast.
Shared this with another friend and it was just the perfect amount!
One of my favorite brews ever!
660 characters
3.25
/5
rDev
-10.7%
look: 4 | smell: 4 | taste: 3 | feel: 3.5 | overall: 2.5
"Stout brewed with habanero peppers." Along with all the usual specs (ABV, OG, IBU) the label lists Scoville Units, at a considerable 100,000.
Not entirely pitch-black, but a severely dark brown with a light tan head that doesn't last very long. Shades of red shoot through the darkness.
Not sure I'm smelling habanero, but there is something bright and exotic here that's not necessarily herbal or hoppy or toasty. It's nice, with a milky sweetness in there too.
Flavor is definitely hot, as in pepper-hot, but basic stout characteristics remain. Roasted grain, burnt chocolate and fresh cream peek through the burn. Everything dies away quickly by the finish, which leaves your mouth feeling and tasting like a smoldering bonfire.
Good mouth, not much to say about it other than its buoyant and slick, carbonation is just about right.
Very interesting beer...not something I'd call all that drinkable, at least, not on a session or daily basis. One and done, but a decent enough infusion of heat to please any pepper-head out there. I would've liked a bulkier, rounder, creamier, stouter character along with the heat, but maybe that's asking too much of a beer that's wrestling with one serious chili.
1,210 characters
Capsicum Stout from Shooting Creek Farm Brewery
3.64
out of
5
based on
17
ratings.