Koekelaring
| De Hoevebrouwers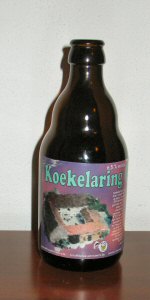 BEER INFO
Brewed by:
De Hoevebrouwers
Belgium
dehoevebrouwers.be
Style:
Belgian Dark Ale
Alcohol by volume (ABV):
6.50%
Availability:
Year-round
Notes / Commercial Description:
No notes at this time.
Added by stcules on 07-27-2008
Reviews: 14 | Ratings: 17
2.45
/5
rDev
-35.2%
look: 3 | smell: 1.75 | taste: 2.25 | feel: 3 | overall: 3.25
Color: brown, chestnut, very cloudy. Foam color ecru, low, short-term, slightly adorned with glass.
Aroma: barely, barely perceptible cocoa.
Taste: like aroma, quite gently, cocoa and milk chocolate. some caramel but also dried plums. At the finish line there was very little perceptible the ash note.
Gentian: low, short. Saturation: medium.
342 characters
3.88
/5
rDev
+2.6%
look: 4 | smell: 3.5 | taste: 4 | feel: 4 | overall: 4
Poured from 33cl bottle into tulip glass. Freshness date Sep 2011, 2 months ago. Probably OK because of the style ..
A: Dark copper with pretty decent head, and quite dense lace. Label has a picture of the place it was invented, pretty fun.
S: Soapy yeast up front. Then some floar hoppiness.
T: Rich malts, refreshing hop bitterness not at all overpowering. Belgian yeast character is clean and tight, yet spicy and interesting, leaning toward fruity esters.
M: Pretty aggressive carbonation for the style, which I like. Attenuation feels medium to me so the balance is towards easy drinking.
Overall this is a new school Belgian dark but made with a tasteful sense of balance.
683 characters

3.7
/5
rDev
-2.1%
look: 4 | smell: 4 | taste: 3.5 | feel: 4 | overall: 3.5
Poured a brownish-reddish murky body w/ a large head that dies slow and leaves lace patches. I get both sweet and dry malts, like some chocolate and roasted and bread, as well as some subtle fruits like orange and cherry. Taste is similiar as it is a medium bodied beer, not too sweet as the chocolate/caramel are balanced w/ some roasted malts and an orange/lemon citric bite as well a crispness thanks to some spices. Finishes a tad heavy for my liking and somewhat dampens the whole beer but still a decent one.
514 characters
3.23
/5
rDev
-14.6%
look: 4 | smell: 3.5 | taste: 3 | feel: 3.5 | overall: 3
Poured 11.2 ounce bottle to glass beer challis. Served cold -- low 40's F
A) Foggy reddish brown. Small off white head disappears quickly. This mixture is cloudy but clean -- no yeasties/floaties
S) Stewed prunes, root beer, some citrus and spice
T) Bitter-sweet hoppy licorice, orange juice, cooked malts, sour mash & cocoa
M) Ample carbonation but still a bit flat. Smooth with no after taste. Alcohol is barely present. Medium body.
D) The medium body and moderate alcohol make this quite drinkable. The competition amongst Belgian Dubbel's is fierce; I found this beer to be an average example of the style
615 characters

3.98
/5
rDev
+5.3%
look: 4 | smell: 3.5 | taste: 4 | feel: 5 | overall: 4
Tasted from 11.2oz bottle, this is the De Graal version. Pours slightly cloudy amber with a thick and long-lasting white head. Nose of orange peel, some spices, and light candy malt. Flavors are candy malt, spices, orange, and an enjoyable hops bitterness. The body, carbonation, and finish are all medium. This beer is very well balanced and enjoyable.
353 characters
3.8
/5
rDev
+0.5%
look: 3.5 | smell: 3.5 | taste: 4 | feel: 3.5 | overall: 4
A: It poured dark amber (near brown) in color with a finger-sized head that has a good amount of retention that leaves nice lacing on the sides of the glass. A moderate amount of carbonation is visible.
S: The smell isn't very strong, but there are some faint aromas of dark fruits and spices in the nose.
T: The initial taste has a good balance between flavors of dark fruits, spices and toasted malts; some light notes of hops are present in the finish.
M: It feels medium-bodied on the palate and there is some dryness in the finish.
D: The beer is very easy to consume and I could definitely drink more than one of these in a sitting.
638 characters

3.92
/5
rDev
+3.7%
look: 4 | smell: 4.5 | taste: 3.5 | feel: 4 | overall: 4
squat 11.2oz bottle, a less cartoony, green label covers the bottle
Very small production stuff here. Koekelaring pours a transparent rusty brown color with orange influence. A medium sized sticky off white head sits atop the brew. Bitter powdered chocolate, a very subtle note of lemon skin and its associated tartness, fresh coffee grounds and a mild but certain spiciness. An odd sweaty, metallic flavor looms in and tastes like the back of a spoon soon after the quaff is swallowed. Light in body, well carbonated, and very well balanced all around. A really nice and drinkable Belgian brown ale. Too bad it may be hard to get your hands on.
646 characters
3.95
/5
rDev
+4.5%
look: 3.5 | smell: 3.5 | taste: 4 | feel: 4 | overall: 4.5
I had out of a cool, stubby 12 oz. bottle.
A- It pours a semi-opaque amber with a good foamy, tan head and leaves a decent lace.
S- There's a caramel scent to it that immediately comes through.
T- True to the scent, the caramel is there. There's also a sugary-ness to it. It was very smooth and went down quite easily.
319 characters
4.13
/5
rDev
+9.3%
look: 4.5 | smell: 4 | taste: 4 | feel: 4 | overall: 4.5
From a brewery that started as a hobby but became a business, and which cannot now produce enough beer to meet demand in their home country of Belgium comes Koekelaring (courtesy of Twelve Percent Importers).
It's a brown ale that clocks in at 6.5% abv. The first pour without the lees disturbed delivers a clear chestnut brown body beneath a frothy head of yellowed off-white. The head retention is remarkable, and it maintains a solid lid throughout almost all of the glass. Wide mountains of lace rise high along the glass, slowly eroding into spotty curtains.
The nose is softly spicy and gently fruity with some sugar and dark caramel, and a light dusting of soft cocoa in the background.
The flavor delivers more maltiness than the aroma suggests, and it's an intriguing blend of dark caramel and soft chocolate. The fruitiness gently sways as you go to swallow. It finishes sugary sweet with a soft note of cocoa, and then slowly dries to a surprisingly dry and bitter finish with some nice spicy notes as the malt sweetness erodes. Long finish!!! I can't particularly pick out the spices, but I find what I definitely think are star-anise and cardamom. It's rich and flavorful, but not in an in-your-face-kind of way. It takes a few sips for the subtleties and complexity to emerge.
Really nicely done! Those Belgians know how to blend their spices and get them to just the right level. Worth trying!
1,413 characters

3.71
/5
rDev
-1.9%
look: 4.5 | smell: 3.5 | taste: 3.5 | feel: 4 | overall: 4
Pours a deep murky brown color with a huge rocky tan head that left some nice chunk lacing on the glass. The aroma is of slightly toasted malt, a bit of metal and candi sugar. The aroma is a bit subdued, not much coming out. The taste is of a slightly toasted malt, a bit nutty and rusty; finishing somewhat sweet from the candi sugar. A hint of tea like hops in the end. Light to moderate body with plenty of fizzy carbontion, fairly balanced leaning on the sweet side, ends slightly dry. An average BDA, but still a very nice beer. Nothing distinct but very balanced, enjoyable.
580 characters
3.38
/5
rDev
-10.6%
look: 4 | smell: 3.5 | taste: 3.5 | feel: 3 | overall: 3
First US rating! Bottle. Pours a murky brown with a small tan head. Aroma of yeast, sweet melon, and roasted nuts. Flavor is sweet malt, some roasted malt and roasted nuts. Palate is a little weak, although the beer is rather drinkable. Ok, but not great.
255 characters
4.21
/5
rDev
+11.4%
look: 4.5 | smell: 3.5 | taste: 4.5 | feel: 4 | overall: 4.5
Pours a clouded brown. Thick creme head. Nose is malty and doughy, but mild overall. Flavor is nice. Smooth dark sugars. Mature fruit tones. Doughy caramel tones. Seems like this is more malty than I am used to on my Belgian beers. Carbonation is quite full. A bit too much IMO. Liquid is thickly bodied. This is quite good stuff. I finished this beer way too quickly for my own good. Would have been better to have a gallon of it instead.
439 characters
3.7
/5
rDev
-2.1%
look: 3 | smell: 3 | taste: 4 | feel: 4 | overall: 4
Warmed up a bit out of the fridge.
11.2oz poured into my chimay goblet
a-slightly cloudy amber with a small tight tan head.
s-tart cherry. Caramel. No hops.
t- Cherry cola. Firm bitterness, more than I expected but its good. Some pepper. Slightly nutty and caramelly. Some toasty malt in the end.
m- Medium dry with a good amount of carbonation. No alcohol heat.
d-Solid beer. I could do a couple of these. Not going to ruin your pallet or have you wake up in a ditch cause of the alcohol.
497 characters
3.48
/5
rDev
-7.9%
look: 3.5 | smell: 3 | taste: 3.5 | feel: 3.5 | overall: 4
Brown color, quite dark. Light beige head, a big amount, compact.
Dark malt smell, not too sweet, pelasant. Some dark cherries, plums. In the back, some bitter chocolate.
Dusty taste, with stronger impression of bitter chocolate.
Light, but pleasant.
Light body, very drinkable.
In the aftertaste some bitterness and toasted notes.
336 characters
Koekelaring from De Hoevebrouwers
3.78
out of
5
based on
17
ratings.